Pokud je citlivá duše umělcova mučena, jeho psyché drceno v pomyslném lisu na ovoce, teprve potom ze svého nitra vydává to nejlepší a opravdové. Tato skutečnost je dlouhodobě známým faktem. Byl li takto obrazně zužován velmi senzitivní Peter Hammill v období natáčení alba Over, je celkem bez pochyb jasné, že je těchto devět písniček možné zařadit mezi jeho nejlepší díla, aniž by bylo třeba desku vytahovat z obalu. 
Kdo si chce osobně potvrdit pravdivost této teze a prožít si v textech i hudbě Peterův bolestný rozvod s Alicí (která se zamilovala do jeho kamaráda), nahlédnout na něj z různých úhlů jeho emočních stavů – od sebezpytování, lítosti, či obviňování druhé strany – má šanci. Toto album je v podstatě monotematickým uceleným pásmem různých aspektů tohoto rozchodu, ze kterého se Hammill jen velmi těžce  vzpamatovával.
Kdo do textů nechce šťourat,  tak nemusí. V tomto případě si užije 47 minut melancholické muziky s nezaměnitelným hlasem hlavního protagonisty, většinou prog folk rockového formátu s úspornými aranžemi v obsazení španělka, klavír, housle. Několik vyjímek z pravidla, které obsahují i rytmiku, tvoří úvodní post punková šleha Crying Wolf s ostrou kytarou, ve které hněv stříká všude kolem a já v ní cítím Iggyho Popa. Velmi zajímavá je i stavba Time Heals, která je složena z několika částí – začíná ponuře, zvolna přechází do pop rockové části a poté až do jakési hitové pasáže. Potemněle vznešenou (This Side Of) The Looking Glass, (ve které vždy očekávám, že Peterovi musí ve výškách každou chvíli prasknout hlasivky) zase pro změnu doprovází symfonický orchestr. Emoce klidní na závěr vrstevnatá a očistná Lost and Found převážně ve středním tempu. Oproti předchozím albům celkově stravitelnější a přístupnější záležitost.
Hammillovy poetické texty jsou však tak specifické, že tvoří naprosto vyrovnanou a pro mne těžko oddělitelnou část uměleckého díla a zcela ji pominout by bylo velká škoda.  Kdo se do nich alespoň trochu ponoří, tak nahlédne do poměrně uceleného souboru zpěvákových osobních pocitů, kterými se zaobíral během svého nelehkého období v roce 1976.
Ukázka z Crying Wolf:
"Zničil jsi vše, co jsi mohl a s hnijícími zuby, které ti vypadávají z dásní, zůstáváš osamělý
A až se nachýlí tvůj konec, který je neodvratný
Opravdu tě bude rmoutit, že nikdo neuslyší tvůj zoufalý výkřik"
Ukázka z Time Heals:
"Moje zarudlé oči si tě snaží připomenout
Je to vše, čeho jsem schopen, než začnu křičet:
"Miluji tě, miluji tě!" – Přál bych si, abych to byl jen sen…"
Ukázka z písně Betrayed:
"Přátelé – všichni mají nože,
aby vám ho vrazili do zad  z pomsty nebo zášti…"
Ukázka z písně Lost And Found, která je dle mého jakousi katarzí a vyvrcholením tohoto příběhu a Peter vítá ve svém nitru první záblesky radosti:
"Už žádná přání do budoucna,
žádné další popírání minulosti
Jsem konečně svobodný, konečně
jsem zamilovaný."
Jedinou vyjímku tvoří druhá skladba Autumn, která vypovídá o nelehkém údělu starých rodičů, kteří se dětem zcela obětovali a ti na ně v dospělosti zapomněli… Tady ručička ukazatele emotivnosti ukazuje extremní hodnoty.
Ukázka z písně Autumn:
"Teď je tu jen moje žena a já;
Měli jsme rodinu – teď už je pryč
A zůstávají jen vzpomínky …
Děti byli k našim zármutkům byli zcela hluší
A jakmile mohli, nechali nás v slzách."
Závěr: spolu s texty ucelená, autobiografická výpověď umělcova nitra obnažená až na kost. Tomu odpovídají minimalistické aranže (krom dvou symfonických opusů) i přímočarejší textová složka. Roger Waters v The Wall nechal hlavního hrdinu Pinka vyprávět příběh o osamělosti a jeho depresivních stavech. Něco v podobném duchu a velmi osobního nám tu ponechal i Peter Hammill  na své desce Over. Jedno z nejlepších jeho alb.

P.S.: Dnes má svátek Alice – kdy jindy vydat  tuto recenzi?
SKLADBY:
1. Crying Wolf (5:12)
2. Autumn (4:13)
3. Time Heals (8:42)
4. Alice (Letting Go) (5:33)
5. This Side Of The Looking Glass (6:57)
6. Betrayed (4:44)
7. (On Tuesdays She Used to Do) Yoga (3:55)
8. Lost and Found (7:11)
SESTAVA:
Peter Hammill / guitar, keyboards, vocals, multi instruments, producer
+
Nic Potter / bass
Guy Evans / drums
Graham Smith / violin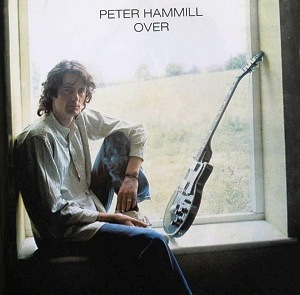 Over
9124 008
Peter Hammill
progresivní rock, alternativní rock
Charisma
1977
CD
9
CD