Marcové vystúpenie americkej kapely MojoThunder v Múzeu obchodu bolo príjemným prekvapením pre všetkých zúčastnených. Dosvedčuje to aj moja nadšená recenzia, ktorú odporúčam prečítať pred samotným rozhovorom. Ten je so sólovým gitaristom a lídrom kapely Brysonom Willoughbym. Poďme na to!
Začnime predstavením kapely. A chodil Andrew do tanečnej?
"MojoThunder je Bryson Willoughby (sólová gitara), Sean Sullivan (spev a rytmická gitara), Andrew Brockman (basa) a Zac Shoopman (bicie). Andrew je veľmi zbehlý amatérsky tanečník. 😀"
Tipujem, že ste všetci narodení v 90. rokoch. Počas tej dekády som bol dieťa a pamätám si, že rocková hudba vtedy nebola moc v kurze, a odvtedy sa to len zhoršovalo. Ako to, že vaša hudba je [aspoň podľa môjho sluchu] silno ovplyvnená obdobím z konca 60. rokov a sedemdesiatkami? A ktoré kapely vás ovplyvnili najviac?
"Páči sa nám veľa rock 'n' rollových kapiel z konca 60. a zo 70. rokov, ale zároveň platí, že sme rovnako ovplyvnení modernými kapelami ako Kings of Leon a My Morning Jacket ako sme ovplyvnení Stonemi a Zeppelinmi. Myslím, že ľudia sa príliš upierajú na nostalgiu obdobia 'keď rock bol v kurze,' ale to je iba marketing. Od 50. rokov až dodnes existujú veľmi úspešné rockové kapely. Tí, ktorí to sledujú nepotrebujú žiaden revival."
Súhlasíš s názorom, že posledná bašta gitarovej hudby v Spojených štátoch je scéna v Nashville? Určite nie tie v Los Angeles a New York City. Nashville bol vždy centrom country hudby, ale stále tam operujú veľké štúdiá ako RCA Studio A a producenti ako Dave Cobb. V Memphise stále funguje štúdio Ardent. Vďačíme Juhu za to, že gitarová hudba je stále nažive?
"Nie, Nashville je len centrom hudobného biznisu, ale hudba je odvšadiaľ. Poznáme výborné kapely z celých Spojených štátov, takže nemôžem povedať, že Juh to drží pri živote. Napríklad, kapela Robert John & the Wreck je z Kalifornie, a tá je od Juhu tak ďaleko ako sa len dá, a práve teraz sa teší veľkej pozornosti."
Do dnešného dňa MojoThunder vydali 2 single a EP s názom Loose Lips v roku 2019, nasledované debutovým albumom Hymns from the Electric Church v roku 2021 a živákom Alive, with Friends z tohto roku. Kapela je vcelku produktívna. Ako vyzerá váš typický proces skladania piesní? Má kapela hlavných autorov, alebo všetci prispievajú nápadmi a potom okolo nich spoločne improvizujete?
"Ďakujem, snažíme sa zostať aktívni. Pre debutový album som zložil väčšinu hudby ja a Sean napísal väčšinu textov. Keď sme mali základnú kostru piesne hotovú, následne sme okolo nej ako kapela spoločne džemovali, aby sme zistili čo funguje najlepšie. Pre náš nadchádzajúci album to bol mix individuálneho a skupinového skladania piesní."
Musím povedať, že sa mi páči zvuk vašich nahrávok. Má to tú kvalitu klasických albumov a zároveň využíva možnosti súčasných technológií. Nahrávate zvyčajne v klasickom štúdiu? A hráte v štúdiu spoločne ako skupina (ako zvykli kapely v minulosti)? Bol debutový album nahraný na pásku alebo digitálne?
"Všetko nahrávame spoločne v jednej miestnosti s úmyslom dať to hneď na prvý pokus. Keď máme solídne nahrávky všetkých piesní, tak sa k nim vrátime a počúvame, aby sme zistili, či nie je niečo potrebné nahrať znova. Ja obyčajne nahrávam rytmické party spoločne s kapelou, a neskôr sa vrátim a hrám všetky sóla. Seanove vokály sú mixom izolovaných nahrávok a toho, čo sme nahrali spoločne v miestnosti. Na pásku nenahrávame. Milujeme nahrávanie v jednej miestnosti ako kapela, ale zároveň si užívame výhody moderných nahrávacích softvérov."
Očividne chápete, že tie najlepšie gitarové zvuky sú vo svojej podstate čisté, na hranici skreslenia a ten praskot vychádza skôr z preťaženia koncových lámp, než napálenia predzosiľňovača. Niektorí to volajú "skreslený čistý zvuk" alebo "čisté skreslenie." Zdá sa, že Les Paul a SG sú vaše obľúbené gitary, ale ktoré gitarové zosiľňovače zvyčajne používate, ak nehráte na tie, ktoré si prenajímate na turné? Používate rovnaké vybavenie v štúdiu aj naživo? Ktorý pedál by si si zobral na pustý ostrov?
"Sean a ja obaja hráme na aparáty Fender. Tu v Spojených štátoch používam rovnaký zosiľňovač, aký som mal na európskom turné. Sean niekedy hrá na Vox. Doma má menšiu verziu [Vox] aparátu, ktorý používal na turné. Takže sme v zásade používali to isté vybavenie. Ak by som bol uväznený na pustom ostrove, tak by som si asi zobral so sebou ladičku. 😀"
Nedávno ste absolvovali svoje prvé európske turné. Zároveň ste prvýkrát hrali mimo USA. Máš nejaké pamätihodné zážitky z koncertov? Ako by si porovnal americké a európske obecenstvo?
"Celé to bola úžasná skúsenosť. Každé miesto bolo svojím spôsobom jedinečné a krásne, a všetko sa nám náramne páčilo. Bolo vzrušujúce vidieť a stretnúť toľko veľa ľudí. Európske obecenstvá sú tie najsrdečnejšie, pre aké sme kedy hrali. To množstvo podpory, akej sa nám dostalo bolo nečakané a ohromujúce. Všetci sa dostavíte na koncert, spievate a ste neskutočne priateľskí. Je očividné, že Európa skutočne miluje hudbu."
Aká bola vaša prvá reakcia, keď ste dorazili do Múzea obchodu v Bratislave a uvideli stan a hostinec hneď vedľa? Hrali ste na turné ešte aj niekde inde pred sediacim publikom? Kde v Európe mali najlepšie pivo?
"Bolo zaujímavé byť v hostinci v Múzeu obchodu. Ako keby sme vstúpili do stroja času a všetci sme si tú možnosť užili. Väčšinu koncertov sme odohrali pred stojacim publikom, a pokiaľ si dobre spomínam, ani v Bratislave nesedelo príliš veľa ľudí. 😀 Ťažko povedať kde mali najlepšie pivo. Budeme sa k tomu musieť vrátiť nabudúce a snáď na túto otázku nájdeme odpoveď."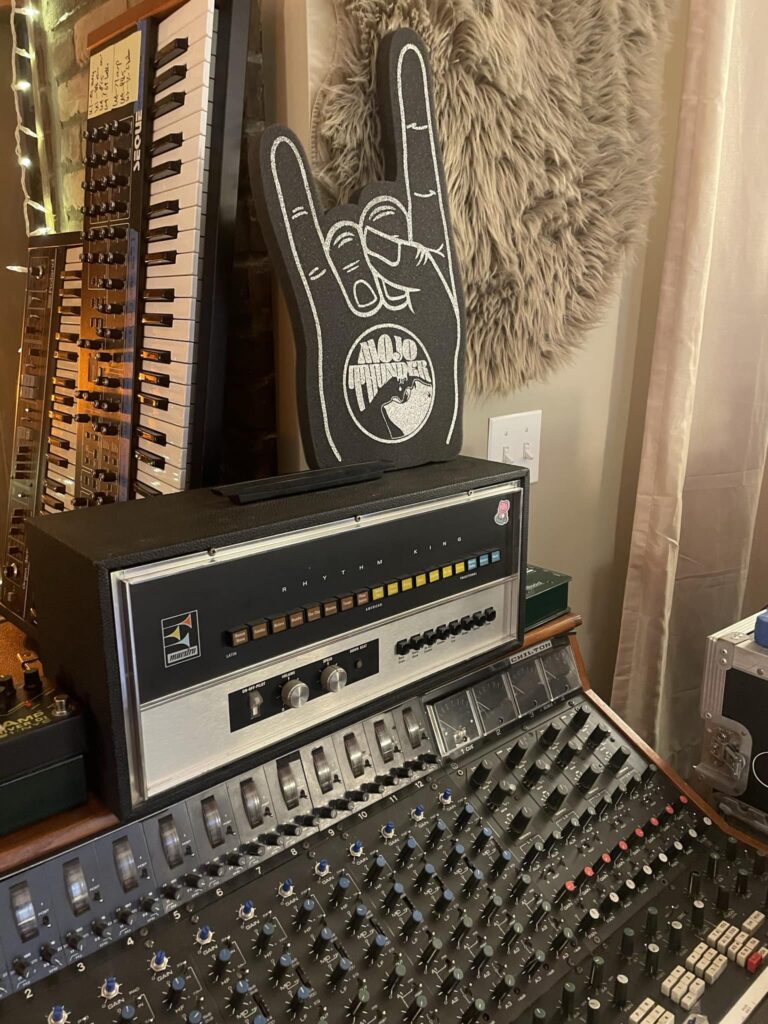 Posledná otázka. Čo má MojoThunder ešte v pláne tento rok a kedy vás opäť uvidíme v Európe (a dúfam, že aj v Múzeu obchodu v Bratislave)?
"Náš predbežný plán je vrátiť sa do Európy na jeseň roku 2024. Veľmi radi by sme prišli späť do Múzea obchodu! Práve pracujeme na novom albume a nevieme sa dočkať až si ho budete môcť všetci vypočuť."
Chcel by si niečo dodať na záver?
"Striehnite na náš druhý album. Sme veľmi hrdí na prácu, ktorú sme doň zatiaľ vložili a myslím si, že to bude náš dosiaľ najlepší výtvor. Môžete nás sledovať na YouTube a sociálnych sieťach (@mojothunderofficial). Máme veľmi radi, ak sa ľudia zapájajú v našej komunite, tak nám napíšte komentár, dajte páčik, nepáčik, palec nahor alebo čo."
Oficiálne linky kapely
Facebook
Instagram
Twitter
YouTube
Apple Music
Spotify
♦ Debutový album aj živák si je možné zakúpiť v digitálnej forme na stránke kapely, oba stoja smiešnych 9 €.
♦ Na Bandcampe si je možné zakúpiť okrem debutového albumu aj EPčko a prvé dva single.