AMS 198 CD /2012/
Gruppo 2001 patří k takové té italské klasice z první poloviny sedmdesátých let a svého času to byla jedna z mála profesionálních skupin pocházejících ze Sardinie. Na kontě má několik singlů (debutovala v roce 1971) a také jedinou "velkou" desku – L'Alba di domani, vydanou v roce 1972.
Album vychází z typicky italského melodického stylu a většina poloakustických skladeb má folkovej základ. Pro podobně klidnou a zasněnou hudbu se vžil terminus technicus pastorální a výstižnější charakteristiku bych těžko pohledal. Tenhle žánr já rád a připomíná mi to tvorbu krajanů Celeste, Errata Corrige, Pierrot Lunaire, Delirium a díky výtečně sezpívaným vokálům také Madrugada.
Všech deset písniček je velmi melodických a do art rockových vod je posouvají především klávesové nástroje, které obsluhuje frontman Piero Salis. Několik kompozic má krapet komplikovanější strukturu a vůbec nejlepší (a nejambicióznější) je hned ta úplně první – šest a půl minuty dlouhá Maggio. To je prog rock jak vyšitej, kterej se může pochlubit snad všemi prvky v té době obvyklými. Běhy kláves, štiplavou kytarou, úsečně riffující flétnou aj mellotronem. Z podobného soudku jsou tu ještě velmi pěkné Era bello insieme a te a titulní  L'Alba di domani, ovšem pochválil bych i závěrečnou a sotva minutku dlouhou drobnůstku Sa danza. Svižnou verzi lidového tance s klávesami připomínajícími zvuk akordeonu.
Tu jemnější část desky zastupují písničky Una bambina… una dona, kraťoulinká Paesaggio, mellotronem podkreslená Padre Vincenzo, nebo Denise. Ta jediná je s textem v angličtině, jinak je to komplet italsky. A tak to má být. Libozvučná italština zní báječně a charismatické vokály zasluhují absolutorium.
Původní album vyšlo u labelu King, ale nebyl o něj zájem a tak zcela zapadlo. Piero Salis se vydal na sólovou dráhu a zbytek kapely tak nějak přežíval až do konce sedmdesátých let, než to definitivně zabalil. Dnes je tomu přesně naopak a ceny originálních výlisků šplhaj do závratných výšek. Nabídka na Discogs začíná na částce 550 €, ale jinak se to pohybuje kolem tisícovky. Reedic na CD moc není a v současnosti nejdostupnější budou ty od AMS, nebo japonskejch Belle Antique. Rozkládací vinyl replika od AMS je pěkná, s texty písní vytištěnými uvnitř obálky a osmistránkovým bookletem. Ten sice nabídne jen fotky středových štítků původní LP, ale je tu aj sleeve note v italštině a anglině od Daniele Nuti.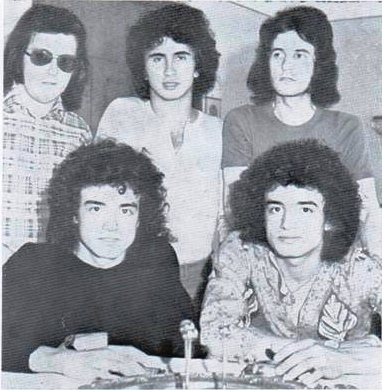 Není to nic převratného, ani dosud neslyšeného. Prostě příjemnej a melodickej prog-folk-rock, kterej se báječně poslouchá. Během přehrávání CD mi to občas trochu lupne a tak si myslím, že je udělané z vinylu. Nicméně, zvuk je dobrej a nemám k němu výhrady. Albu samotnému bych vlepil tři a půl, ovšem to tady nelze. Tož za tři. A jsem rád, že ho mám.
SKLADBY:
01. Maggio (6:19)
02. Una bambina… una dona (3:37)
03. Era bello insieme a te (5:08)
04. Paesaggio (1:35)
05. Volo d'angelo (4:11)
06. Padre Vincenzo (4:23)
07. Denise (3:08)
08. L'Alba di domani (3:50)
09. Sa danza (1:11)
Bonus track:
10. Messaggio (3:22)
SESTAVA:
Piero Salis – tastiere, voce
Pietro Carrus – chitarra
Ciccio Solinas – chitarra
Paolo Carrus – basso
Tore Corazza – batteria
L'Alba Di Domani
Gruppo 2001
Prog rock
King Universal
1972
LP
9
CD: AMS - AMS 198 CD /2012/