CD Mercury – UICY-94526  /2010/
Prakticky po celá sedmdesátá léta to Le Orme hrnuli frekvencí jedno album ročně a Contrappunti (1974) je už šestou plackou v pořadí. Pořád je to špičkovej, klávesově orientovanej art rock, ale výrazně temnější a komplikovanější, než jeho dnes už klasičtí předchůdci Collage, Uomo di Pezza a Felona e Sorona. Hudební publicisté z něj byli docela nadšení, ovšem veřejnost už méně a z komerčního hlediska nastal mírnej ústup z pracně vybudovanejch pozic. Dalo by se tak označit jako "punto di svolta", čili bod zvratu…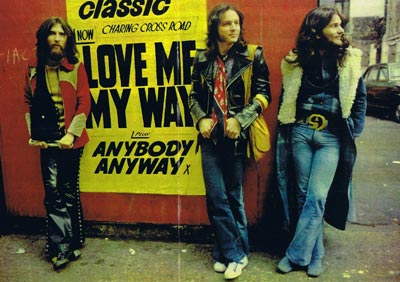 Fakt je to docela oříšek, kór v porovnání s předcházejícím, daleko přístupnějším albem Felona e Sorona. Trvalo pár poslechů, než jsem se s ním srovnal a nakonec tomu pomohla aj jeho klasicky krátká stopáž. Určitě mi dáte za pravdu, že půlhodinka hudby je k opakovanému poslechu vhodnější, než monstrózní dílo v trojnásobné délce. Netvrdím, že je to výjimečnej zářez v diskografii Le Orme, spíš lehkej nadprůměr, ale to není zase tak úplně málo.
Na úvod je tady instrumentální exhibice Contrappunti, kterou vnímám jako poklonu vyseknutou legendárnímu triu Emerson, Lake & Palmer. Na žádném z předcházejících alb mi je Le Orme nepřipomínají tak, jako tady a jsou to virtuózní bakchanálie. Technicky dokonalé, jenomže tomu chybí aspoň dvacet deka duše a tak je tady dokonalej protipól v podobě melodramatické Frutto acerbo. Krásné, subtilní písničky s procítěným zpěvem tak, jako to umí jenom Aldo Tagliapietra a Le Orme.
Následující Aliante je už opět kompletně instrumentální. Bubeník Michi Dei Rossi spustí děsivě složitej, nepravidelnej rytmus a teprve po půl minutě se k němu připojí klávesy s jednoduchou, ale o to půvabnější melodií. Nerozumím přesně hudebnímu termínu "kontrapunkt", ale možná právě ten vystihuje náplň kompozice. Rytmus a melodie jsou tady v kontrastním protikladu a přesto se to báječně poslouchá. První strana desky končí pochmurnou a tmavými odstíny vymalovanou skladbou India. Podle dostupnejch zdrojů by mělo jít o kritiku indické vlády, respektive její snahy zařadit svou zemi mezi jaderné mocnosti a odpovídala by tomu aj její tíživá atmosféra. Ovšem těžko říct, protože ten metaforickej text by se dal vyložit všelijak…
Druhou stranu původního vinylu rozjíždí pohádkově krásná La fabbricante d'angeli, obsahující všechny nejpodstatnější markanty Le Orme pěkně pohromadě. Půvabnou melodii, křehký zpěv, zvukomalebné plochy a hlavně – emoce. Bonusem navíc je špičkovej instrumentální doprovod a z toho, co tady předvádí Michi Dei Rossi jsem dočista paf. I přes závažné textové poselství, kritizující provádění tajných potratů je to nádherná píseň, kterou řadím k vrcholům alba.
Jeho závěr tvoří dvojice skladeb Notturno a Maggio. Základ první jmenované je v souhře piana a syntezátorů a i když za horizontem na chvilku zaburácej kotle, přijde mi poněkud bezradná a nudná. Tam, kde končí navazuje téměř devět minut dlouhá Maggio, která nabízí od každého něco. Jak urputné, komplikované laufy s prvky disharmonie, tak kouzelně melodické pasáže s hřejivou atmosférou a dojímavým zpěvem.
Nahrávka střídá lepší momenty s těmi malinko slabšími, ale obsahuje (minimálně) tři kousky prvotřídní jakosti a jsem rád, že ji mám. Bodově mi to vychází na tři a půl, ovšem vzhledem k rozsáhlé a našlapané dgf Le Orme to hodnocení zkrouhnu směrem dolů. Ovšem, zcela výjimečně…
Cedlo od Mercury/Universal obsahuje čtyřstránkovej booklet z tvrdého kartónu, arch papíru s informacemi v japonštině a OBI. Kupoval jsem ho před lety na německém eBay, v kompletu s několika dalšími tituly Le Orme a byl přesvědčenej o jejich pravosti. Ovšem nedávno jsem  na discogs zachytil informaci, že by mohlo jít o ruské padělky a teď teda nevím. Nechápu, jak by to v tom Rusku mohli takhle udělat, protože ty nosiče vypadají naprosto perfektně. Cédéčka jsou lisovaná, se správným číselným kódem na spodní straně kotouče a tak si říkám, jestli to není nakonec jedno. Hrajou parádně a víc už toho vlastně nepotřebuju.

SKLADBY:
1. Contrappunti /A. Tagliapietra, G.P. Reverberi, T. Pagliuca/ – 5:54
2. Frutto acerbo /A. Tagliapietra, T. Pagliuca/ – 3:34
3. Aliante /A. Tagliapietra, T. Pagliuca/ – 3:22
4. India /A. Tagliapietra, T. Pagliuca/ – 3:11
5. La fabbricante d'angeli /A. Tagliapietra, T. Pagliuca/ – 4:48
6. Notturno /A. Tagliapietra, T. Pagliuca/ – 3:53
7. Maggio /A. Tagliapietra, T. Pagliuca/ – 8:49
SESTAVA:
Aldo Tagliapietra – voce , basso , chitarra
Tony Pagliuca – tastiere
Michi Dei Rossi – batteria , percussioni
inoltre:
Gian Piero Reverberi – pianoforte
NOTES:
Edizioni Esedra, La Chiocciola
Finito di registrare nei mese di agosto 1974
negli Studi Phonogram di Milano.
Producer [Produzione] – Gian Piero Reverberi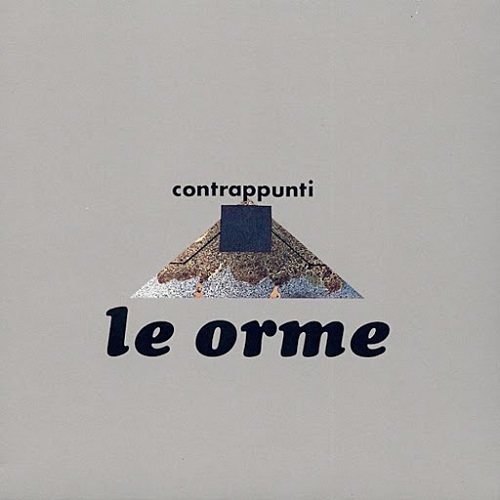 Contrappunti
Le Orme
Prog Rock
Philips
1974
LP
7
CD Mercury – UICY-94526 /2010/