Kapela Death, jedna z nejpřednějších formací technické linie smrtícího kovu, představila deskou Symbolic před pětadvaceti lety (bože, jak ten čas příšerně letí) veřejnosti své nejvyspělejší, nejucelenější a nejfamóznější dílo. Dle mého skromného úsudku, už jej svou poslední plackou The Sound Of Perseverance, ani deskou Chuckova bočního projektu Control Denied nikdy nepřekonali.
A domnívám se, že jej nepřekonala ani žádná z dalších kapel provozující svou muziku na profesionální bázi, v podobném stylovém slohu, s touhou posunout výrazové prostředky, s nimiž pracuje na další úroveň. Symbolic zůstal a stále pevněji se domnívám, že i navždy zůstane tím NEJLEPŠÍM, co mohl člověk v mantinelech, ač maximálně rozšířených, tohoto odvětví nabídnout. Tato deska mne totálně uchvacovala v době svého vzniku a uchvacuje mne stejnou silou a působivostí i dnes.
Cestu k ní si mistr Chuldiner dláždil pomalu, avšak velkými kvalitativními skoky. Album Human pozvedlo kapelu do nejvyšší možné (technické) ligy. Individual Though Patterns šlo o pár centimetrů ještě dál no a Symbolic? Symbolic rovnou skočil na samotný Olymp a zůstal nesesazen. I když já sám podobné muzice už spousty let absolutně neholduji, tento výlisek mám zařezán v krvi jako málo co jiného. Znám každičký tón, sloku, refrén, přechod, vyhrávku i (a to hlavně) sólo.
Před pár dny jsem si desku pustil dvakrát po sobě. Poprvé na domácí aparatuře, podruhé v mp3 na výletu přírodou. Zatímco první poslech (ač z technického hlediska o mnoho kvalitnější) mne neustále "nabourávala" až příliš čitelná hra/nazvučení Hoglanovy baterie (předně pak dvou-kopákové kulometné palby), což mne odvádělo od toho, co mám na Symbolic nejraděj, a to jsou mistrné kytaristovi prvky, harmonie a sóla, druhý pokus s nadstavbovým přírodním efektem, už byl přesně podle mého gusta, a znovu mi po letech dokázal navodit stavy jen těžko popsatelné.
Pokud bych měl říci něco k obsahu alba, tak asi toto:
Úvodní stejnojmenná skladba mě přijde sic v pořádku, ale jen taková rozehřívací a ještě ne tolik propracovaná oproti tomu, co bude následovat vzápětí. Navíc je zbytečně dlouhá a konec mě malinko nudí. Jenomže, s příchodem asi nejlepší písně (ale kdo přesně určí, která z následujících perel je ta nej:-) Zero Tolerance se vše otočí o 180 st. a následuje plejáda těch nejcharismatičtějších kompozic, jaké kdy Chuck za svou krátkou kariéru složil. Každá položka je úchvatná a jedinečná. Každá obsahuje neuvěřitelné množství geniálních riffů, vyhrávek, kytarových harmonií a výměn, funkčních přemosťovacích prvků a naprosto dech beroucích závratných sól. Kapela šlape jako hodiny, Hoglan do toho mydlí sic občas dost rychle, ale pořád neskutečně technicky. Basa i druhá kytara jsou tu spíš k doplnění party, ale i u nich se několik zaznamenání hodných míst najde a předpokládám, nehrát zde tito lidé, nahrávka by možná nebyla tak geniální (i když Steve DiGiorgio by k zahození rozhodně nebyl).
Empty Words, Sacred Serenity, rychlejší 1,000 Eyes, Without Judgement a Crystal Mountain, představují spolu s dříve jmenovanou Zero Tolerance středobod nahrávky a to vůbec nej v tomto slohovém ranku. Obrovské kouzlo působivosti je i ve zvuku a charakteru jednotlivých nástrojů, které posluchač poslouchá. Není to jen dojem, či žádná imprese, je to skutečný stav dokonale provázaného a zaranžovaného (jestli podobný slovosled mohu použít, přec tu nejsou žádné, nebo jen minimální klávesy a zvuky, vše tlačí instrumentálně nabušená čtyřka plus zpěv) dílo, ve kterém se desítky a desítky motivů na sebe vzájemně přilepují, proplétají, doplňují a jeden šikovně podpírá druhý.
Malinko mne mrzí, že Chuck častěji nesměřuje svůj pohled k akustickým břehům, protože když se tomu tak na několika místech děje, skrze svérázně atmosféricky použitý zvuk jeho nástroje, stoupá posluchačova mysl do nebe jako při poslechu Stairway to Heaven. Žel bohu, tuto svou maximální pozitivitu nemohu použít u posledních dvou tracků, jelikož jsem jim ani za pětadvacet let nedokázal přijít na jméno. Tyto položky pro mne znamenají sestup o tři třídy dolů a takřka ničím mne nikdy nedokážou zaujmout. Nevím jak to na těchto dvou pozicích cítí ostatní, ale já se zde neuvěřitelně nudím a tak si vždy kladu otázku, jestli i pan Chuldiner cítil, že ony skladby doznali znatelný úbytek invence a obsadili s nimi tak raději příčky poslední.
Už nemá cenu se albu Symbolic recenzentsky více zaobírat a klanět. Vše potřebné jsem řekl, zbytek je na vás, konzumentech, posluchačích, kriticích…
SKLADBY:
1. Symbolic 6:32
2. Zero Tolerance 4:49
3. Empty Words 6:22
4. Sacred Serenity 4:25
5. 1,000 Eyes 4:27
6. Without Judgement 5:27
7. Crystal Mountain 5:06
8. Misanthrope 5:03
9. Perennial Quest 8:20

NOTES:
Recorded and mixed at Morrisound Recording, Tampa, FL, USA.
Mastered at Sterling Sound, New York, USA. 
SESTAVA:
Chuck Schuldiner – guitar, vocals
Bobby Koelble – guitar
Kelly Conlon – bass
Gene Hoglan – drums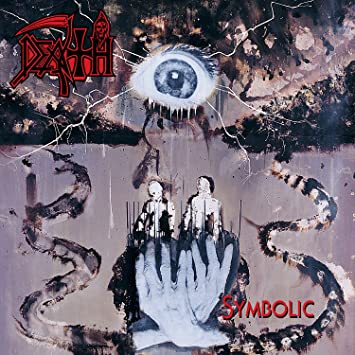 Symbolic
Death
Death Metal
Roadrunner Records
1995
LP, CD
9