V dnešní době nadprodukce je  velmi jednoduché se nechat zahltit nahrávkami. Celkem statečně (ne vždy vítězně) se s touto skutečností snažím bojovat. Antonyho žebříčkům jsem však podlehl a zkoumal jeho oblíbené loňské nahrávky.
V sekci STONER jsem byl ubit riffy a celkem nijak blíže mě nic neoslovilo. Naopak z chlívečku RETRO již první vlaštovka  vylétla v podobě norského vlnobití – tamějšího obhroublého spolku Ring Van Möbius. Tato země je domovem a jakousi zárukou dobré muziky všech žánrů – kvalitním nekomerčním jazzem počínaje a třeba prog rockem konče.
Trio Ring Van Möbius přišlo vloni s debutovým albem – Past The Evening Sun, které obsahuje pouhé tři skladby. Netřeba zoufat, hned úvodní Past The Evening Sun čeří vlny bezmála 22 minut, je rozdělena do šesti částí  a nápadů obsahuje na celou desku. Je to osobitá směska temného severského přístupu k progresivnímu rocku (Änglagård) s příměsí VDGG i King Crimson. Milovníky retro stylů potěší použití všemožných historických klávesových nástrojů – moogu, mellotronu či hammondek, hutných linek a sól saxofonu.
Nechybí psychedelické pasáže a jestli budete hledat kytaru, tak ji prostě nenajdete. Jediné, nad čím přemýšlím, je klip – pořízený na, jak jinak, tu nejdelší skladbu. Takže Queen jsou odsunuti na druhou kolej. 🙂
Klip je natočený v takové podivně zpomalené podobě s dějem, který tu jejich retro masku poněkud parodizuje, až dle mého shazuje. Několik dnů jsem na něj nekoukal a poté si pustil jen samotnou muziku a ta zaujala velmi…
SKLADBY:
1. Past The Evening Sun (21:39) :
– a. The Pathfinder
– b. The First Curse
– c. The Constant
– d. In Retrospect
– e. The Second Curse (Convulsion)
– f. Terminus
2. End Of Greatness (5:53)
3. Chasing The Horizon (11:55)
SESTAVA:
Thor Erik Helgesen – Hammond L100, Fender Rhodes, Clavinet D6, Moog Satellite, Korg MS20, composer
Håvard Rasmussen – Fender Baryton bass, effects
Dag Olav Husås – drums, timpani, percussion, effects
+
Karl Christian Grønhaug – saxophone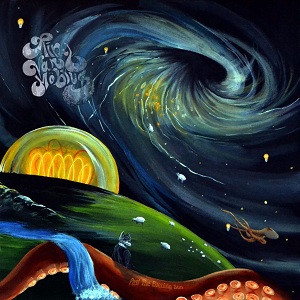 Past The Evening Sun
Ring Van Möbius
retro progressive rock
Apollon Records: PROG
2018
CD, LP
3
internet