Sotvaže album spatříte, uhrane vás skvěle výtvarně pojednaný nápad na obalu, který už nezapomenete. Jásavými barvami a prokreslením portrétů hlav členů Canned Heat reaguje na psychedelické období… 
EVIL WOMAN – Úderné blues ve středním tempu rozvíjí klasické téma, ve kterém výtečně frázuje 145 kg vážící obr Bob Hite – opravdový mědvěd, ale jinak velmi mírný člověk. Elektrická kytara Wilsona v pozadí, ale sólující Vestine a opět Wilsonova foukací harmonika dodávají to správné stylotvorné napětí. Skvělá záležitost. Možná se teď dopustím protimluvu: když jsem o něco později slyšel coververzi této skladby od britských Spooky Tooth, tak jsem byl ohromen, jak se skladbou naložili oni. Spooky Tooth tomu dali ještě další rozměr s elektrizujícím napětím a famózním Harrisonovým hlasem. Ale i tak, Spooky Tooth – nespookytooth, Canned Heat odvedli výtečnou práci.
MY CRIME – Klasické bluesové téma, riff Muddyho Waterse Manish Boy, vděčně slouží a nejen této skladbě. Nádhera! Vidím tu zakouřenou tančírnu, pocintané stoly, tlustý barman buřinkou nalévá páchnoucí derivát whisky, ohmataná Sue vysouvá z výstřihu svoje šestky a za odřeným klavírem sedí černoch s doutníkem a hraje svoje blues. Tak i tohle jsou Canned Heat!
ON THE ROAD AGAIN – Legendární skladba, která skupinu proslavila po celém světě. Skladba se stala opravdovým hitem. Wilsonův útlý a čistý vokál koresponduje s indickým předivem v pozadí, foukací harmonikou a minimalisticky se opakujícím bluesovým tématem, se strojově přesnou rytmikou. Velmi autentická podoba hudby postavené na feelingu bez rafinovaných harmonií. Píseň byla zařazena i do repertoáru pražských bigbítových kapel, jejichž repertoár byl křtěn blues. Ostatně kdo by si nechtěl vyzkoušet tohle hypnotické téma zahrát také? Orientální opar v pozadí s kytarovými flažolety vás téměř ukolébá.
WORLD IN A JUG – V dalším příspěvku přináší skupina spojení rocku a boogie. Uprostřed se Vestine s bzučivým dozvukem kytary vmísí do koncepce a Taylorova baskytara šlape ve velmi přesném tempu jako hodinky. Parra na bicí vůbec neohromuje nějakými ďábelskými breaky a naopak stojí na základním rytmu. Disharmická kytarová vazba skladbu uzavře.
TURPENTINE MOAN – Zvuk nahrávky se zúží, najednou postrádá jasnost, jakoby byla nahrávaná v krabicí od bot. Velmi stylotvorné, ve snaze přiblížit se černošskému soundu v intepretaci. Boogie dusá jako víno, ohýbané kytarové tóny z pozadí a dokonce silně upozadněný klavír s přesně frázujícím Hitem nedělají z hudby vědu, ale zcela spontánně a přirozeně si pohrávají s tématem.
WHISKEY HEADED WOMAN No. 2 – Mluvený úvod otevře další číslo a přináší vděčnou textovou bluesovou tematiku (musím to napsat vulgárně, abych byl stylový i já) – chlast a baby. Kytarové sólo ústrojně vstoupí mezi sloky a drolivé bicí přerušuje jenom spojovací můstek, který rozhodí melodii, ale to vůbec nevadí.
AMPHETAMINE ANNIE – Do hudby Canned Hedat vstoupily i psychotropní látky (bohužel to mělo tragické následky), ale v téhle době pouze vnímáme téma s přesně řízeným rytmem v boogie stylu, které koloruje Vestinova kytara. Annie, která "ujížděla" na amphetaminu, posloužila jako příklad tomu, co psychedelické časy po "roce lásky a míru" přinesly do estetiky života svobodomyslné mládeže. Chaotické hlasy dovytvářejí atmosféru písně.
AN OWL SONG – Wilson vstupuje do další stylotvorného boogie tématu, tentokrát navíc za asistence dechové sekce, která dovytváří background a atmosféru, s přesně šněrovanými Taylorovými basy, který se hlásí ke svým jazzovým začátkům.
MARIE LAVEAU – Přichází blues. Obnažené až ke kořenům se správně upozadněným klavírem a oparem dechové sekce. Vestine nerozhazuje tóny do prostoru, aby ohromoval, ale aby deklaroval danou formu. Wilsonova foukací harmonika má ten správný "zakouřený" tón, do kterého Vestine odpovídá svými tóny. Výtečná instrumentální skladba.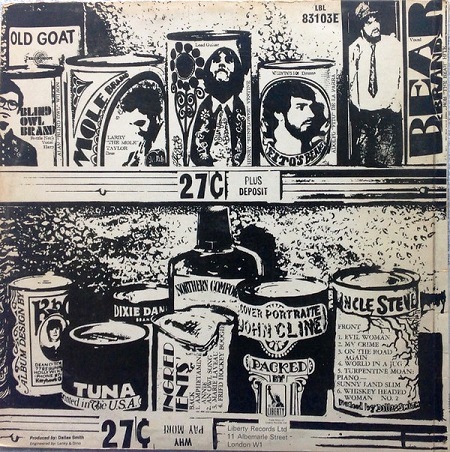 FRIED HOCKEY BOOGIE – Výlet je u konce. Do veselejšího tónu přivádějí Canned Heat šlapavé boogie, ve kterém Bob Hite deklamovaným způsobem představí posluchačům jednotlivé členy kapely s jejich přezdívkami a individuálními "razítkovanými" vstupy. Tohle se nedá komentovat, to se dá jenom poslouchat. Pohrávání si s detaily ukazuje, že při nahrávání vládla pohoda a kamarádská soudržnost (Jestliže hráli pražští Abraxas svoje "nekonečné boogie", tak kdo ví, třeba přišla inspirace až z Los Angeles – tohle boogie je také nekonečné). Emocionálně naladěni posluchači a vyznavači tohoto stylu to ale přivítali a dokázali na tom "ujíždět". Gradování tématu v závěru je jenom logickým vyústěním…
Pět hvězdiček je zcela legitimní záležitostí!
SKLADBY:
01. Evil Woman (Larry Weiss) 3.02
02. My Crime (Canned Heat) 4.03
03. On The Road Again (Jim Oden) 5.02
04. World In A Jug (Hite) 3.31
05. Turpentine Moan (Canned Heat) 2.59
06. Whiskey Headed Woman No. 2 (Canned Heat) 2.58
07. Amphetamine Annie (Canned Heat) 3.39
08. An Owl Song (Wilson) 2.48
09. Marie Laveau (Vestine) 5.19
10. Fried Hockey Boogie (Taylor) 11.09
SESTAVA:
Bob "The Bear" Hite – vocals
Adolfo "Fito" De La Parra – drums
Larry "The Mole" Taylor – bass
Henry "Sunflower" Vestine – guitar
Alan "Blind Owl" Wilson – guitar, vocals, harmonica
+
Frank Cook – drums [Uncredited]
Sunny Land Slim – piano on 05.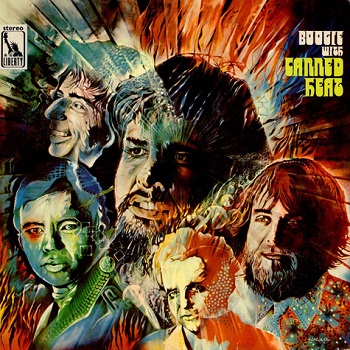 Boogie With Canned Heat
Canned Heat
Blues Rock, Boogie Rock
Liberty
1968
LP
10