Zásadný, "prelomový" album jednej z najvýznamnejších skupín v celosvetovom merítku. Aj keď, žiaľ, pre art rockerov a progresivistov "prelomový" v tom zlom slova zmysle. Genesis tu začínajú ukazovať zásadnú transformáciu. Z nepokojného oceánu hľadačstva neobjavených hudobných plôch sa presúvajú do plytkejších vôd ľúbivejšej muziky, s nebezpečnou tendenciou do úplne plytkého bahna pop rocku.

A napokon zostali traja. Bez Gabriela, bez Hacketta, s neustále viac sa presadzujúcim Philom Collinsom, pričom aj u Rutherforda sú zreteľné tendencie prikláňať sa ku komerčnejšie znejúcej muzike – dokonale sa v tomto smere realizuje dodnes vo svojom bočnom projekte Mike & Mechanics. A tak na tomto albume zvyšky akej–takej progresivity počuť len z bohatých klávesových partov a z aranžérskych počinov Tonyho Banksa. Hackettove novátorské gitarové plochy chýbajú snáď úplne najviac, ukázalo sa totiž, že Mike Rutherford, čoby sólový gitarista, nepatrí vôbec do jej extraligy, ako basgitaristu ho však rešpektujem.
Napriek tomu je to ešte pekný a veľmi dobrý album! Začína sa skvelou, dramatickou Down And Out. Bezchybné sú všetky typicky pokojnejšie songy z pera Tonyho Banksa: Undertow, Burning Rope, melancholická Many Too Many, taktiež The Lady Lies – tú doslova milujem! Nepochybne výborné sú aj Rutherfordove skladby – uvolnenejšia Snowbound, dramatická Deep In The Motherlode, kompozične členitejšia Say It's Alright Joe. Album končí štvorminútovým, kolovrátkovým bývalým superhitom Follow You, Follow Me, ktorý zväčša dovtedy ešte tolerantným "Genesis–fanom" vadí ako monokel pod okom.


Cesta ku komerčne najúspešnejšiemu obdobiu je pre kapelu otvorená, strednoprúdových fanúšikov rapídne pribúda, skalní staromilci klasických Genesis však skupinu zväčša predčasne pochovávajú. Všetko je vec vkusu…
SKLADBY:
01. Down And Out /Rutherford, Collins, Banks/ 5:24
02. Undertow /Banks/ 4:45
03. Ballad Of Big /Rutherford, Collins, Banks/ 4:48
04. Snowbound /Rutherford/ 4:28
05. Burning Rope /Banks/ 7:09
06. Deep In The Motherlode /Rutherford/ 5:12
07. Many Too Many /Banks/ 3:30
08. Scenes From A Night's Dream /Collins, Banks/ 3:29
09. Say It's Alright Joe /Rutherford/ 4:19
10. The Lady Lies /Banks/ 6:04
11. Follow You, Follow Me /Rutherford, Collins, Banks/ 3:59
NOTES:
Recorded at Relight Studios Hilvarenbeek Holland.
Mixed at Trident Studios, London.
ZOSTAVA:
Phil Collins – vocals, drums, percussion
Mike Rutherford – guitars, bass
Tony Banks – keyboards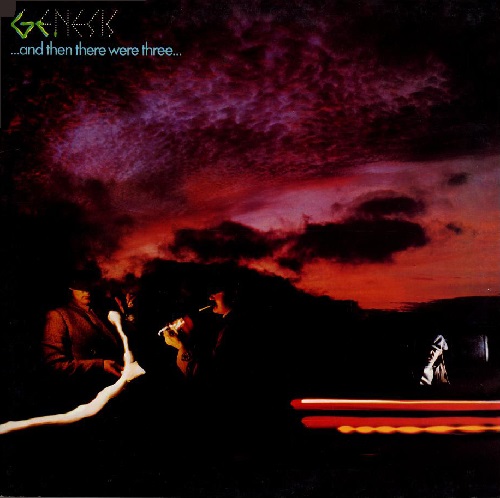 ...And Then There Were Three...
Genesis
Prog Rock, Pop Rock
Charisma
1978
LP
11