CD Warner Fonit ‎– 8573 82053-2
Flea on the Honey – Flea – Etna. Tři jména, jedna kapela s poněkud zamotanou historií…
Její původ se dá vystopovat až na Sicílii, ale celkem brzy přesídlila do Říma, kde se snažila zviditelnit intenzivním živým vystupováním. Díky příznivejm okolnostem podepsala smlouvu s labelem Delta a jako Flea on the Honey pro něj v roce 1971 natočila svoje první dlouhohrající album. Firma chtěla kapelu prodat jako jednu z mnoha anglickejch partiček, hledajících štěstí v Itálii a tak trvala na textech v angličtině. A aby to vypadalo ještě věrohodněji, nechala na obálky desek vytisknout místo pravých jmen jen narychlo vymyšlené anglické přezdívky. Kýženej úspěch se však nedostavil, skupina si tedy zkrátila jméno na údernější Flea a už o rok později se na pultech prodejen objevilo album Topi o uomini. To se nahrávalo pro společnost Fonit a i když je mnohem lepší a vyzrálejší svého předchůdce, moc se neprodávalo. Posledním pokusem prorazit se stala jazzrocková a čistě instrumentální placka Etna, ale ta už byla jen onou pověstnou labutí písní a Flea on the Honey/ Flea/ Etna zmizeli v propadlišti dějin.

Sedmatřicet minut dlouhé album Topi o uomini obsahuje čtyři skladby, přičemž ta titulní vypl(e)nila celou první stranu původní vinylové desky. Je to takovej mix hard a progresivního rocku s vokály v italštině a trochu mi to připomíná tvorbu krajanů Osage Tribe, nebo debut neapolských Osanna. Hlavními nástroji jsou kytara, basa a buben, které čas od času doplňují klávesy, foukací harmonika, nebo ságo.
Jednoznačným vrcholem alba je výše uvedená Topi o uomini, aka důraznej a seksakramentsky hlučnej virvál s několika nečekanými zvraty. Nejraději mám ten v čase 05:34, kdy se původně svižné tempo zlomí do zemitého a těžkotonážního hard rocku ve stylu Led Zeppelin. Při takové stopáži pochopitelně nechybí dlouhá instrumentální vsuvka plná štiplavejch kytarovejch sól a ukončená (13:41) machrovačkou na buben. A když už mluvím o těch bicích, ty jsou výborné na celém albu. Agostino Marangolo hraje jak pánbů a není divu, že se o pár let později prosadil jako bubeník legendárních Goblin…
Po energické Amazzone a piedi je tu daleko rozvážnější Sono un pesce. Její první polovina je pěkně melodická a povznášející, ovšem ta druhá se překlopí do psychedelické zhuleniny a tu už koušu docela těžko. Mimochodem je to jediná skladba, kterou jsem znal už z dřívějška – respektive její nabroušenou coververzi od kapely Luna Incostante, která se objevila na tribute albu Zarathustra's Revenge. Ovšem bez oné psychedelické vložky. Posledním kouskem na albu je třaskavá L'angelo timido a šmitec.
O několik odstavečků vejš jsem se zmínil o jisté podobě s albem Arrow Head souputníků Osage Tribe. Obě mají podobnej zvuk a obě charakterizujou virtuózní bicí, vyhulená basa a foukačka. Myslím, že obsahově o něco pestřejší a zajímavější je Arrow Head, ovšem album Topi o uomini hraje o chlup líp.
Původní výlisek je velmi vzácnej a v současnosti nejnižší nabídka (na discogs) začíná na částce 1200 €. Naštěstí je tu celá řada reedic a v současné době nejdostupnější je asi ta z roku 2004. Já jsem si koupil nedatované vydání od Warner Fonit, což bude nejspíš repress edice z roku 1989. Je to klasicky v plastu a čtyřstránkový booklet obsahuje pouze sestavu a tracklist.
Zásadní nahrávka italského rocku to sice není, ale je dobrá a fandům (především) hard rocku by se mohla líbit.
SKLADBY:
1.  Topi o uomini   (20:22)
2.  Amazzone a piedi   (4:10)
3.  Sono un pesce   (6:31)
4.  L'angelo timido   (5:51)
SESTAVA:
Antonio Marangolo – tastiera, pianoforte, armonica
Carlo Pennisi – chitarra, mandolino, voce
Elio Volpini – basso, sassofono soprano, voce
Agostino Marangolo – batteria, vibrafono, percussioni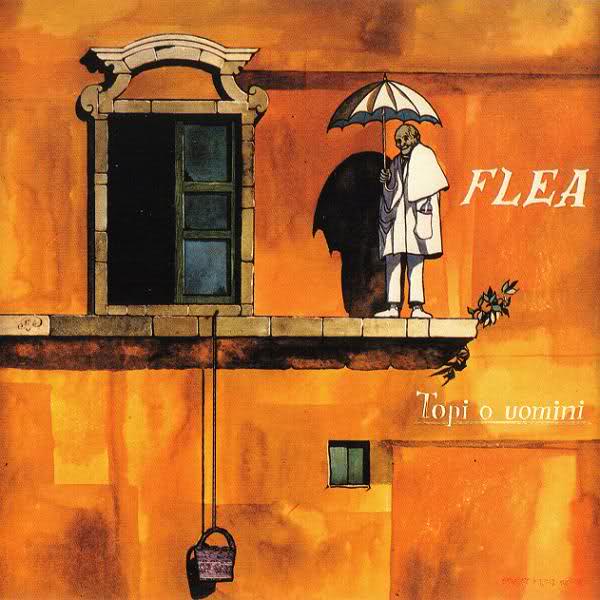 Topi O Uomini
Flea
Hard rock
Fonit
1972
LP
4
CD: Warner Fonit ‎– 8573 82053-2