CD Sony Music, RCA  88875000422    /2014/
Album La Grande Casa bylo čtvrtým a na dlouhou dobu posledním zářezem v diskografii italskejch Formula 3. Následoval rozpad sehrané sestavy a až do reunionu koncem osmdesátých let se kolem kapely rozhostilo hluboké ticho… 
Od vydání předcházejícího a velmi ambiciózního art rockového opusu Sognando e Risognando uběhl sotva rok, ale obě nahrávky jsou až překvapivě rozdílné. Produkce se tentokrát ujal spolupracující textař Mogol a posun – a vlastně i návrat – od art rockové okázalosti a dlouhých propracovaných skladeb ke kratším, "písničkovějším" celkům nejspíš zaskočil nejednoho fanouška. V nahrávání všech tří předcházejících alb se hodně angažoval producent, skladatel, zpěvák a tehdejší popová hvězda Lucio Battisti, ovšem tentokrát jeho jméno v seznamu autorů chybí a do skládání hudby se tak větší měrou zapojili členové kapely. Svůj potenciál rozvinul především kytarista Alberto Radius a nejspíš právě proto je tohle album daleko kytarovější, než jeho symfonickej předchůdce. Prim však nehraje elektrika, alébrž akustika, která spolu s klávesami a vokálními harmoniemi vytváří těžko popsatelnej, křehce zasněnej sound.

Album je to tradičně krátké (tehdy to byl u italskejch kapel nepsanej standard) a na plochu sotva třiceti minut se nevešlo víc, jak šest kousků. Takovým pomyslným vrcholem je pro mě v pořadí třetí skladba Liberta' per Quest'uomo, která se může pochlubit neskutečně pompézním – dalo by se říct až bombastickým – refrénem. Ta postupná gradace je přímo ukázková a sborovej zpěv spolu s tlukotem tympánů mě dokážou vystřelit až někam do art rockového nebe. Prostě symfonická paráda, ovšem zbytek materiálu není o nic slabší. Velmi pěkná je hned úvodní Rapsodia di Radius, která mi svou melodií a posmutnělou, melancholickou náladou připomíná další italské velikány Le Orme, nebo titulní La Grande Casa. Za jedinej slabší článek bych označil snad jen až příliš jednoduchej a rozpustilej popík La Ciliegia non e 'di Plastica. Přímočarou (a tak trochu praštěnou) písničku vhodnou do rádia a tak nepřekvapí, že se objevila i na samostatném singlu.
Reedice od Sony Music obsahuje klasickej čtyřstránkovej booklet, s reprodukcí původního obalu a tracklistem. Výbava nic extra, ale zvuk to má naprosto špičkovej. Klóbrc dolů. Desku hodnotím mezi třemi a čtyřmi, ovšem výbornej zvuk a především skladba Liberta' per Quest'uomo mě nutí zarovnat to skóre směrem nahoru.
SKLADBY:
1. Rapsodia di Radius (5:21)
2. La Ciliegia non e' di Plastica (4:33)
3. Liberta' per Quest'Uomo (5:33)
4. La Grande Casa (5:27)
5. Cara Giovanna (4:58)
6. Bambina Sbagliata (4:44)
SESTAVA:
Tony Cicco: drums, percussion, vocals
Gabriele Lorenzi: keyboards, bass, vocals
Alberto Radius: guitars, bass, vocals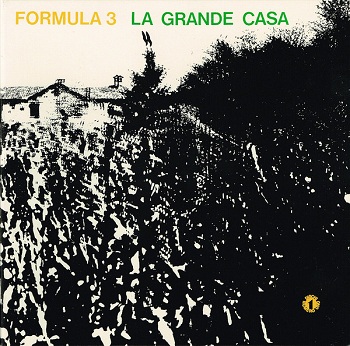 La Grande Casa
Formula 3
Psychedelic Rock, Prog Rock
Numero Uno
1973
LP
6
CD Sony Music, RCA 88875000422 /2014/