Album Then Play On si troufnu označit v britské éře Fleetwood Mac za nejlepší. Kapela se zdařile vymanila ze svých začátků, kdy byla hodně pod vlivem převzatých bluesových standardů amerických reprezentantů daného žánru a také vykrystalizovala jejich vlastní tvorba, která se dostala v r. 1969 pravděpodobně na jejich vrchol. Pro znalce daného stylu jsou Fleetwood Mac významnou hudební jednotkou, která dovytvářela na britských ostrovech hudbu šedesátých let a vedle Bluesbreakers, The Yardbirds, Traffic, Cream, Ten Years After (abych jmenoval alespoň některé jejich souputníky) zaujímá čestné místo. Ne nadarmo se o nich tvrdilo, že to byla skupina tří sólových kytaristů. Mezi nimi měl ovšem zcela zvláštní postavení Peter Green, který zůstával nadále čitelným…
COMING YOUR WAY – ostrý akordický úvod elektrických kytar a zběsilý útok etnických rytmů bubnů dodá skladbě patřičné napětí. Kytarista Kirwan si skladbu zazpíval s jistým napětím v hlase za kytarových ornamentů dovytvářejících atmosféru skladby. Náhlý zlom přinese prokreslení tématu, v němž přicházeji ke slovu všichni tři kytaristé kapely za mocných úderů do činelů. Osobitý úvod!
CLOSING MY EYES – dumavé kytarové téma náladotvorných kytar přináší podmanivý Greenův hlas s akcentovanými a rozkládanými akordy. Fleetwood používá tympány a nemůžeme přeslechnout krásné dynamické odstíny zachycené v písni, do níž se připojuje i tklivá akustická kytara svými čistými tóny. Velmi vroucná a procítěná skladba pohrávající si s danými motivy. Má svou gradaci a napětí se přenáší do pěveckého vyjádření i přeznívání kytar.
SHOW-BIZ BLUES – Green dokázal do této skladby vložit hodně emocí. Od prvního zakvílení až po rychlý nástup úderné kytarové hry, za doprovodu Fleetwoodovy tamburíny a ohýbání kytarových tónů dokreslují celkovou dynamičnost s protahovanými tóny akustické kytary, kde mu asistuje i Jeremy Spencer. Green výtečně frázuje a zastřený hlas deklaruje jeho odpor k poměrům v showbusinessu. Velmi osobní a emocionální příspěvek!
MY DREAM – Kirwanova náladotvorná skladba dává příležitost kytarovému prokreslování nálad v daném tématu. Velmi osobitá a tklivá skladba, v níž kytary Greena, Spencera a Kirwana vytvářejí zajímavý útvar melancholie a snění, které se jim podařilo vložit do harmonií. McVie a Fleetwood jsou v rytmice úsporní a nijak nevybočují z daných mantinelů. Příjemná instrumentální záležitost.
UNDER WAY – v podobných náladách je zkomponovaná i Greenova skladba. Nese v sobě pečeť psychedelického soundu. Také Fleetwood čeří náladotvorný sound svými bubenickými akcenty a přechody. Kytarové prolínání má ovšem dynamicky širší odstíny…
OH WELL – výtečný úvod na akustickou kytaru a postupně se přidávají další elektrické kytary. Green, Spencer a Kirwan zde mistrovským způsobem deklarují propojení blues s rockem ve velmi sugestivním provedení. Fleetwood zde popřává prostor razantní rytmice a dalším perkusivním nástrojů a skladba se žene vpřed jako hnána větrem. Nádherně proaranžovaná záležitost s náladotvornými kytarami v patřičné údernosti a v harmonickém vrstvení… Přichází ovšem zlom. Všechno utichne a do tématu vstoupí dumavá akustická kytara, které odpovídá tajemný sound elektrické kytary a nečekaně také flétna, což dovytváří impresivní obraz nějaké snové krajiny. Green do ní dokonce doaranžoval i violoncello, což přináší až chmurné napětí. Nečekaně se také objevuje Spencerem hrané klavírní téma s mírně patetickým koncem. Skladba ovšem ještě není u konce a přichází její další část. Akustická kytara ve španělském stylu s vyprecizovanými tóny je vzápětí následována mocnými tympány, činely, violoncellem a dalšími kytarami. Dramatický sound se nakonec promění ve smírný a zklidněný závěr… Nejsilnější skladba na albu a jedna z vůbec nejdůležitějších pro Fleetwood Mac v britském období!
ALTHOUGH THE SUN IS SHINING – písničkové blues odlehčuje předešlé napětí. Základní akordy a Kirwanův hlas je podporován Greenem. Vzniká příjemná melodie umírněného typu. Výtečné kytary kolorují v soundu estetické příjemno a hodně uhlazené hlasy, což byl pravděpodobně záměr. Příjemná balada s tíkající rytmikou…
RATTLESNAKE SHAKE – údernější a ostřejší téma rozčeří zvuk a Greenova skladba vrací Fleetwood Mac jakoby k předešlé tvorbě. Jeho výtečně frázující zastřený hlas má napětí a sekundují mu ostré kytarové doprovody a řezavé sólo, včetně sutivých perkusí znázorňujících chřestýší varovný signál před útokem. Dusavá rytmika kráčí bezpečně v základech skladby a vám zalezá do uší opakující se kytarové téma s rozeznívanými tóny…
SEARCHING FOR MADGE – také McVie přichází se svým příspěvkem v rychlejší skladbě, kde se jeho baskytara výrazně hlásí ke slovu za Fleetwoodovy podpory a elektrické kytary vykrývají prostor. Uprostřed dojde k nápadnému ztišení a zmateným hlasům, následně se celá skladba rozběhne ve velmi rychlém tempu vpřed. Green rozehrává výtečné kytarové téma za asistence jeho spoluhráčů a útočných rytmů Fleetwoodovy baterie. Zcela určitě nejvýraznější nejrychlejší skladba na albu, poukazující na instrumentální potenciál exponované kapely. Závěr se nese ve znamení kytarového breaku a vlny smyčců a přeznívajících tónů kytary. Ale ještě nejsme u konce. Rychlé rockové téma se rozbíhá až do samého závěru.
FIGHTING FOR MADGE – Fleetwood dodal další skladbu (instrumentálku), v níž se téma předešlé skladby po kytarovém úvodu opět vrací a kytaristé popřávají prostor svým hráčským schopnostem ve velkém stylu, jakoby si chtěli vynahradit spíše poklidnou atmosféru předešlých skladeb. Úžasný tah na branku a vzájemné přeskakování energie vytváří uhánějící šlapající parní stroj se závěrečným zachechtáním.
WHEN YOU SAY – pomalá až líná píseň dumavého typu vypravěčského charakteru, kde kytary dotvářejí svými přehlednými tématy atmosféru pod vokální projev. Působí jako specifický typ ukolébavky spíš folkového typu. Harmonicky proměnlivá, v závěru mírně zrychluje a opakuje schéma dokola. Netypické…
LIKE CRYING – osobité blues, kde kytary prokreslují téma a sborový hlas tomu dodává mírně žalující atmosféru a kytarové téma je velmi precizně vystavěné, třebaže je jednoduché a přehledné. Nádherný příklad toho, že i v jednoduchosti může být skrytá síla a osobitost…
BEFORE THE BEGINNING – další procítěná skladba z Greenovy dílny. Typická pro Fleetwood Mac ve své hledačské progresivní poloze. Tympány, klouzavé a tříštivé zvuky kytarových tónů, dusavá baskytara a přeznívající tóny dalších kytar. Velmi barvitý hudební obraz. Tímto způsobem nikdo v Británii hudbu nedělal. Velmi originální a impresivní pro toho, kdo chce naslouchat kytarovým ornamentům ve zvláštním sevření tajemné rytmiky.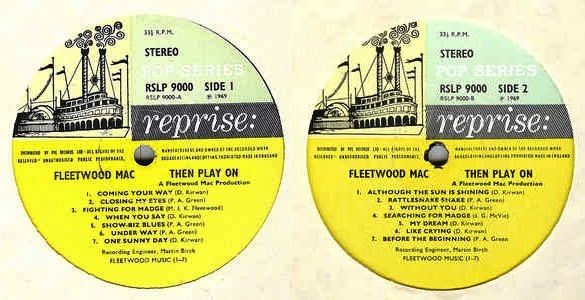 Then Play On je podle mého soudu vlajkovou lodí Fleetwood Mac a díky zajímavým aranžmá a osobitému soundu mám licenci označit kvalitu plným počtem hvězdiček!
Po tomto albu se stala zásadní věc. Aniž by Peter Green signalizoval nějak své úmysly, rozhodl se opustit skupinu. Byla to nečekaná okolnost. Fleetwood Mac byli na vrcholu své popularity, těšili se i přízni hudebních kritiků a očekával se další vývoj pozitivním směrem. Skupina Greenův odchod přežila a pokračovala dál. Začala ovšem opouštět základní linii a jejich typický sound se postupně vytrácel…
SKLADBY (CD Reprise Records, Europe /1990/:
01. Coming Your Way /Danny Kirwan/ 3:47
02. Closing My Eyes /Peter Green/ 4:50
03. Show-Biz Blues /Peter Green/ 3:50
04. My Dream /Danny Kirwan/ 3:30
05. Under Way /Peter Green/ 2:51
06. Oh Well /Peter Green/ 8:56
07. Although The Sun Is Shining /Danny Kirwan/ 2:31
08. Rattlesnake Shake /Peter Green/ 3:32
09. Searching For Madge /John McVie/ 6:56
10. Fighting For Madge /Mick Fleetwood/ 2:45
11. When You Say /Danny Kirwan/ 4:22
12. Like Crying /Danny Kirwan/ 2:21
13. Before The Beginning /Peter Green/ 3:28
SESTAVA:
Peter Green – vocals, guitar 
Danny Kirwan – guitar, vocals
Jeremy Spencer – vocals, guitar
John McVie – bass
Mick Fleetwood – drums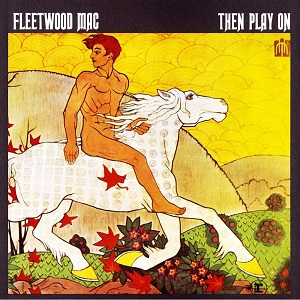 Then Play On
Fleetwood Mac
Blues Rock
Reprise Records
1969
LP
13
CD - Reprise Records, Europe /1990/