Od roku 1970 hraje Eric Clapton sám za sebe. Svůj majstrštyk Layla and Other Assorted Love Songs sice ještě vydal pod hlavičkou Derek and The Dominos, ale to je jediná výjimka potvrzující pravidlo. Na druhou stranu je zázrak, že při svém hektickém životním stylu, který vedl počátkem 70. let, vůbec dokázal dát dohromady materiál na album 461 Ocean Boulevard.
To neukazuje Erica jako kytarového boha, kterým byl v minulé dekádě, ale jako interpreta, který si dokáže napsat kvalitní původní repertoár spíše klidnějšího charakteru a doplnit ho několika zdařilými, a možná i překvapivými coververzemi. Úvodní píseň Motherless Children zatím nenaznačuje, že by v Claptonově hudebním uvažování měla nastat nějaká změna. Skladba s výrazným kytarovým motivem se žene vpřed jako dobře seřízený závodní stroj a už se těším, že v podobném duchu se bude nést celé album.
Jenomže hned druhou skladbou Give Me Strenght se výrazně zvolní a ke slovu se dostává Claptonovo jemnější já. Klávesy zlehka podbarvují výraznou melodii hranou na dobro a ke mně se pomalu vkrádá představa unaveného večera někde na malé pláži. A nálada se nemění, Clapton se vymaňuje z bluesové škatulky a nasazuje píseň Jamese Otise Willie and the Hand Jive a stává se tím jedním z propagátorů reggae mezi širší posluchačskou obcí. Společně se zpěvačkou Yvonne Ellimanovou je podepsán pod písní Get Ready, příjemným duetem, v němž se uplatní vokál mé oblíbené Máří Magdalény. Ta Erica podpoří i v další pecce, jíž je Marleyho I Shot the Sheriff, opět výrazný reggae kousek. V těchto okamžicích se již slušně pohupuji a mé srdce zvolna odlétá někam do prosluněného Karibiku.
Je na čase trošku přitvrdit písní I Can't Hold Out a ukázat, že kytarista blues hrát nezapomněl. Následují dvě písně, které jsem si zamiloval hned při prvním poslechu. Tou první je skladba Please Be With Me, jemná záležitost odkazující svou křehkou krásou a dokonalým souzvukem tří hlasů v refrénu až někam k triu Peter, Paul & Mary. Po ní zazní asi nejlepší Claptonova skladba na celém albu, píseň Let It Grow. Tento hymnus má asi vše, co od dokonalé písně požaduji, tedy silnou melodii a vynikající vokální a instrumentální výkony.
A dojde i na Claptonova milovaného bluesmana Roberta Johnsona a jeho Steady Rollin' Man. Na závěr se blýskne svým skladatelským uměním i kytarista George Terry. Jeho Mainline Florida je svižný kousek s výrazným riffem podobně jako na začátku alba. Kruh se uzavřel.
Na CD verzi z roku 1988, již mám k dispozici, je místo deseti skladeb o jednu navíc. Jedná se o Claptonovu jemnůstku Better Make It Through Today, která je vložena na místo druhé písně Give Me Strenght. Tato je přesunuta až na samotný závěr a tuto verzi desky uzavírá.
Musím se přiznat, že k desce 461 Ocean Boulevard jsem si dlouho hledal cestu. Nejdříve jsem si ji pouštěl velice zřídka, neboť jsem nemohl strávit tu proměnu, kterou Clapton ve svém pojetí hudby učinil. Leč s postupem času jsem si zvykl a mám toto album velice rád. Jenom mě mrzí, že zde není tolik prostoru pro Claptonova sóla. Na druhou stranu to ale ještě není takový průšvih jako některá pozdější jeho alba.
Skladby:
1. Motherless Children
2. Give Me Strength
3. Willie And The Hand Jive
4. Get Ready
5. I Shot The Sheriff
6. I Can´t Hold Out
7. Please Be With Me
8. Let It Grow
9. Steady Rollin´ Man
11. Mainline Florida

Sestava:
Eric Clapton – zpěv, kytara, dobro
Yvonne Elliman – zpěv
Dick Sims – klávesy
George Terry – kytara, zpěv
Carl Radle – baskytara
Jamie Oldaker – bicí, perkuse
Al Jackson, Jr. – bicí
Albhy Galuten – syntezátory, klavír, clavichord
Tom Bernfield – doprovodné vokály
Marcy Levy – harmonika, doprovodné vokály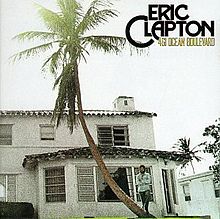 461 Ocean Boulevard
Eric Clapton
Rock
Polydor
1974
LP
10+1
CD Polydor – 811 697-2