Pred 52 rokmi vymyslel Mark Hanau geniálny názov pre progresívny album, ktorý zároveň nesie prvenstvo v edícii "picture disc". Bol to názov pre skupinu Curved Air z anglického Londýna, ktorá vydávala debutový album Air Conditioning v roku 1970. Slovo, ktoré pozná v angličtine, alebo hocakom preklade už pomaly batoľa a bude to asi najviac frekventovaný výraz pre dýchateľný vzduch na otepľujúcej sa zemeguli.
Mimochodom rok 1970 znamenal aj LP debuty pre Atomic Rooster, Argent, Gentle Giant, Kraftwerk, Supertramp, Hawkwind, Gravy Train, Uriah Heep, Redbone a mnoho ďaľších. Ako to už na Rockovici býva, je slušné spomenúť začiatky kapely Curved Air / Krivý vzduch v hlbočizných začiatkoch anglického progresívneho londýnskeho rocku na konci 60-tych rokoch minulého storočia. Často v tomto období začínam svoje recenzie a ten začiatok je väčšinou rovnaký. Najprv boli mladí hudobníci-samouci v rôznych skupinách, často sa premiešavali, až nakoniec vytrysklo živé striebro ako láva zo sopky a dobrá, niekedy skvelá skupina začala svoju úspešnú kariéru. Curved Air neboli výnimkou a pôvodne to bola skupina s názvom Sisyphus. Huslista (klasické hudobné vzdelanie) Darryl Way a hráč Kráľovskej hudobnej akadémie Francis Monkman sa spoznali v predajni hudobných nástrojov. Dali sa dohromady a pozvali k sebe klavíristu Nicka Simona, basgitaristu Roba Martina a hráča na bicie Floriana Pilkington-Miksa. V roku 1969 vznikli Sisyphus.
Kapela v divadle Mercury Theatre v Notting Hille hrala naživo v divadelnom predstavení. Začínajúci manažér mužskej skupiny Mark Hanau (fotograf a dizajnér) poznal Roya Guesta (manažér) a ten poznal mladú talentovanú speváčku Sonju Kristinu Linwood z predstavenia muzikálu Hair v inom londýnskom divadle (spievala tam dva roky). Skontaktoval sa s ňou a od januára 1970 sa Sonja Kristina stala členkou skupiny, ktorá si po jej príchode zmenila meno na Curved Air. Medzitým odišiel zo skupiny Nick Simon. Názov Curved Air navrhol Monkman. Pochádzal z LP platne A Rainbow in Curved Air (1969) vtedy populárneho Terry Rileyho a Monkman bol jeho obdivovateľom. Tento album Američana Terryho Rileyho (nar.1935) je veľmi dobrý a kto si ho chce vypočuť vrele odporúčam. Je to priekopnícky album modernej elektronickej hudby, fúzie experimentu a minimalismu s prvkami rôznych hudobných vplyvov od jazzu-cosmic efektov-world music. Sú tam použité vtedy novodobé nahrávacie techniky ako overdubbing, páskové slučky a oneskorenia, rôzne zvukové efekty. Terry Riley inšpiroval albumom napríklad Pete Townshenda z kapely The Who pri skladbe Won't Get Fooled Again. Skladba vyšla ako singel v júni 1971, UK Charts No.10, je na perfektnom piatom albume skupiny Who's Next.

Žena v kapele? Osud kapely v tomto prípade po príchode ženy (veľakrát príchod, znamenal rozpad) nabral smer k vytúženému úspechu. Sonja Kristina sa stala neskôr sex idolom a jej hlas bol poznávacím znamením progresívnej londýnskej skupiny. Vedela sa hýbať a svoje prednosti dávala v značnej miere na koncertoch patrične najavo. Niet divu, že sa stala hnacou silou kapely a bola aj jej hovorkyňou. Neskôr pri prvom rozpade kapely v roku 1972, kedy skupina ako celok vyhorela a začal autorský a hudobný boj medzi Wayom a Monkmanom, sa snažila kapelu udržať.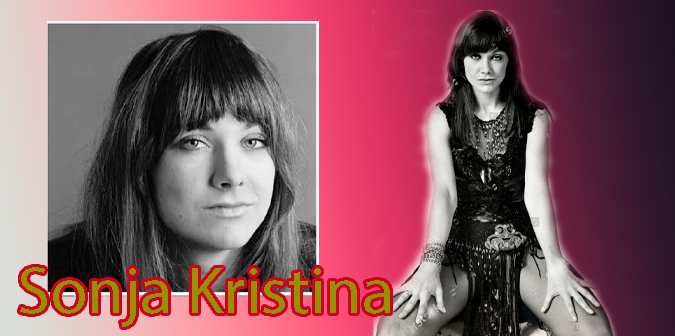 Od začiatku roku 1970 kapela intenzívne skúšala nový repertoár, niektoré skladby však pochádzali ešte z obdobia Sisyphus. Zvuk bol iný, progresívnejší a v rodinnom dome Roba Martina sa skĺbil rockový, klasický a ľudový hudobný materiál s pomocou elektrofonických nástrojov do nevídaného klbka. O kapelu zrazu bola bitka medzi vydavateľstvami, boli zaujímavou predkapelou rôznych známych skupín (napr. Black Sabbath). Na koncertoch mali svojho vlastného zvukára Shauna Daviesa, lebo používali zvláštne nástroje (husle a iné klasické nástroje) a iba on mohol zabezpečiť dobrý koncertný zvuk. Netrvalo dlho a skupina Curved Air u Warner Bros natočila svoju prvú LP, kde dostala už pred nahrávaním 100000 libier ako preddavok, čo bolo vcelku neobvyklé. Už v novembri 1970 vyšiel debutový album Air Conditioning. Bola to vôbec historicky prvá LP platňa, ktorá vyšla ako obrazový disk (picture disc) hudobnej skupiny vo Veľkej Británii v limitovanej edícii 10 000 kusov. Album dosiahol v rebríčku UK No. 8 a bol vydaný singel It Happened Today.
Curved Air – Air Conditioning (1970)
Na albume je trošku cítiť vplyv obľúbeného Jimmyho Hendrixa dvojicou Way/Monkman a ich záľubou v africkej hudbe skĺbenou s ich klasickým hudobným vzdelaním.
Strana A:
1. It Happened Today
(Francis Monkman, text Sonja Kristina Linwood) – 4:55
Otváracia a zároveň singlová skladba skupiny na debutovom albume. Dnes je skladba veľmi názorná v progresívnom psychedelickom zvuku a hoci Sonja Kristina na mňa nepôsobí dojmom svetovej speváčky s významným hlasovým rozsahom jej mladícky a oduševnený spev má niečo eroticko inšpiratívne a pocitovo nádherné. Už prvý jednoduchý riff na elektrickej gitare plne podporovaný masívnym klavírom a doprovodnou rytmickou sekciou basa-bicie napovedá, že to nebude čistá rocková pieseň, ale zvukový priestor dostanú aj iné hudobné nástroje. Neviem kam by som zaradil mladú vtedy 19-ročnú speváčku, možno po vypočutí ďalších skladieb k Annie Haslam z populárnej prog skupiny Renaissance, aj keď Annie je vyššia spevácka kategória. Rytmická rýchla pieseň je naozaj výborným úvodom albumu. Zaujímavým nástrojom je klavír, ktorý vlastne udáva rytmiku a akcenty. Basová gitara je trošku potlačená a vynikne iba v niektorých momentoch. Bicie sú v tejto piesni rytmickým jednoduchým nástrojom, hoci občas prejdú do brejku a zvýraznia rytmus úderom na činelu. Sólová gitara verne kopíruje speváčkyn hlas a skladba sa nesie v dramatickom slede, ktorý naruší romantická husľová virtuozita klasicky vzdelaného huslistu. Pekný, výnimočne dobrý zvrat. Páči sa mi to.
2.Stretch
(Darryl Way, Monkman) – 4:05
Huslové výšky s piskotom, trošku viac pre moje citlivé uši ako by som si želal. Potom organová vložka s kostolnými zvonmi, ktoré ukončí výbuch. Nastane túžobné ticho a začínajú husle v štýle andersonovskejj flauty zo známej kolchoznícke skupiny. Rocková tutovka s husľami ako dominantou a gitarou v pozadí, bicie zase iba ako rytmická jednoduchovka, dokázal by búchať aj náš "Jano z ulice". Potom zase prechádzame do kakofónie so zmesou čudesných tónov a potom znovu gitarový riff a hudba s melódiou sa presadzuje k životu. Odviazaná radostná pieseň.
3. Screw
(Way, Linwood) – 4:03
Tretia skladba je pomalšia, rozjímavejšia, husle, spev a cinkajúce rytmické bicie. Hudobný motív je zaujímavý a pomalý, potom sa rozvinie do rýchlejšieho údernejšieho tempa a kapela naberie na mohutnosti. Prvýkrát významnejšie bicie s mohutnou husľovou a klávesovou podporou. Viac priestoru pre inštrumentálnu časť skladby. Dvaja huslisti predvádzajú svoje umenie. Zvláštne skĺbenie rockovej progresívnej muziky s klasickým hudobným nástrojom. Tajomný hudobný motív mi navodzuje atmosféru starého filmu s detektívnou zápletkou.
4. Blind Man
(Way, Rob Martin) – 3:32
Paličkový taktový úvod prerušený gitarovou akustickou vsuvkou v tempe úvodu s magickým spevom Sonji Kristiny. Vzdušná zvuková skladba s peknou melódiu. Viac echa pridáva hĺbku priestoru a nástroje so spevom sa vznášajú nad nami. Husle krásne a citlivo podporujú pieseň. Je to zatiaľ u mňa najlepšia pieseň albumu. Páči sa mi odviazanosť, radosť a čistota tónov. Má to výborný feeling a už vidím ako speváčka vrhala viacvýznamové pohľady do publika. Určite nikto z prítomných nebol slepý (blind man), to mi verte. Všetci čumeli ako kura na otvorené vráta. Ja by som tiež, ak by bola tá možnosť.
5. Vivaldi
(Way) – 7:26
Nie som znalcom Vivaldiho a okrem "4-ročných období" ma jeho hudba nezaujíma. Takže neviem posúdiť ako blízko sa Way dostal pod jeho kožu, alebo inak sa k nemu priblížil. Pre túto huslovú dvojicu Way/Monkman to musela byť významná osobnosť a venovali jej na debutke dve skladby. Jedna sedemminútovka mi práve hrá. Ak by som nepoznal názov skladby určite by som ju zaradil medzi rockové pokusy so zvláštnym prednesom. Po úvodnej paľbe sa rozozvučia sólujúce dvojhusle, neviem kto je kto. Pozretím do nástrojového obsadenie skupiny a vidím, že na husle hrá iba Darryl Way sám, takže zrejme musel dohrávať druhé husle do stopy, alebo Monkman použil klávesy? Neviem. Tak ďaleko som sa ku kapele nedostal a zatiaľ ani netuším čo je to za Vivaldiho skladbu a odkaľ čerpali inšpiráciu. Autor hudby je však Way, takže iba paródia na Vivaldiho? Po perfektnej predohre nastáva skreslený zvuk, neviem, či je to gitara, alebo zbustrované husle. Prikláňam sa ku gitare, ale Way mal elektrofonické priehľadné husle a tak som na pochybách. Záver je mohutnou bodkou celej kapely bez spevu a virtuóznym záverom prvej strany LP.
Strana B:
6. Hide and Seek
(Way, text Sonja Kristina Linwood) – 6:15
Zvláštna skladba, zdá sa mi zložitá a viacvrstvová. Akoby každý hral svoju vlastnú nôtu, ale dohromady to má pekný súzvuk. Vivaldi sa pobral kade ľahšie a som rád, že počujem znovu rockovú skupinu s miernym dôrazom na zmeny rytmu, hudby a zafarbenia zvuku. Strieda sa všetko možné a som ešte radšej keď počujem speváčku s vokálnou podporou Waya stojaceho za ňou. Husle tiež skončili niekde v kúte a gitary sa prebudili k životu. Páči sa mi zvuk bicích, neviem presne definovať na čo bubeník búcha pri "rezkých úderoch"(fľaša, dáky zvonec s malým dozvukom?), ale jeho hra je pekná, svižná a dynamická. Táto skladba je aj po rokoch obľúbeným číslom Sonji Kristiny. Má byť prečo.
7. Propositions
(Monkman) – 3:04
Hudobne nie veľmi vydarená skladba. Pokus o jazz-rockovú pieseň s už spomínaným zvláštnym zvukom skupiny. Inštrumentálna vsuvka je nápaditá zvukovo efektná s priehrštím zvukovým kúziel kapely a zvukára. Verím, že museli dlho vymýšľať a so svojím soundom boli nadmieru spokojní. Je to rýchla vec. Vzletná, vzdušná, číra a neviem ešte aká by mohla byť. Nie je to skladba na prvé počutie, ponúka veľmi veľa možností chápania, nálady a citlivého prístupu.
8. Rob One
(Martin) – 3:22
Dramatická zmena nálady albumu. Rozjímavá, pekná melodická skladba s krásnymi husľami v dominantnej časti skladby. Nie nadarmo sú husle nástrojom, ktorý vie vylúdiť slzu v oku a radosť srdca pri rôznych životných situáciách. Páči sa mi to , je to krása sama o sebe. Všetky nástroje, ktoré sa pridali v skladbe sú dobré, decentné a plne súzvučia s melódiou huslí. Bez spevu, ale výnimočne dobré. Niekedy sa dá viac povedať hudbou bez slov a táto pieseň patrí medzi ne. Podľa názvu skladby je zrejmé, že to bola skladba Roba Martina, ktorú buď zložil ako prvú, alebo ju považoval za najlepšiu v tej dobe keď ju nahrával..
9. Situations
(Way, Martin) – 6:17
Predposledná skladba je pomalá. Sonja Kristina spieva svoj text s podporou vokálu v refréne. Prvá časť je temnejšia, druhá časť je vzletnejšia s iným zvukovým prejavom hudobníkov. Prvýkrát počujem bublajúcu basovú gitaru vo väčšom drive. Sólujúca gitara má zaujímavý zvuk a husle sú zvláštne skreslené, dôrazný inštrumentálny prednes, potom znovu nástup zasneného vokálu Sonji Kristiny a spomalenie do záverečnej slohy. Potom dohrávka ako z iného sveta s pochodovým rytmom bicích.
10. Vivaldi (With Cannons)
(Way, Monkman) – 1:35
Vivaldi a bodka albumu. Malo to byť inak? Asi nie. Masívny kanónový záver. Finále.
Dnes pôsobí Air Conditioning ako čudesný zjav. Atmosférická, vzdušná hudba poprepletaná klasickými motívmi a s niekedy hrôzostrašným zvukom kapely (malé sekundové momenty). Je to archaické, staromódne a zvláštne, alebo je to plejáda geniality, skrytých hudobným a duševných významov, ktoré človek objaví až neskôr? Neviem na to odpovedať, lebo LP nepočúvam často, skôr výnimočne a sporadicky. Nemám ani picture verziu ( kvôli nedobrému zvuku na týchto platniach). Zaobstaral som si japonské vydanie, ktoré má ten zvuk snáď najlepší zo všetkých pôvodných vydaní.
Sonja Kristina vo svojom mladom veku už bola pri nahrávaní debutu Curved Air matkou malého syna (starali sa o neho jej rodičia) a mužskí členovia kapely riešili jej zotrvanie v skupine. Zostala pričinením jedného nemenovaného člena kapely, ako sama povedala v jednom rozhovore. Veľa skladieb pri nahrávaní albumu ešte nebola dokončená, Sonja písala texty, nemala na to príliš veľa času, ale urobila to veľmi dobre. Skvelá hudobná atmosféra priam z albumu srší a je ľahko čitateľná. Kapela nahrávala viacmenej naživo a spoločne vo veľkom priestrannom štúdiu Islands Studios na Basing Street v Londýne.
Pri nahrávaní skladieb si basový gitarista Rob Martin zranil ruku a nemohol pokračovať v nahrávaní. Preto je na albume tak málo počuť basovú gitaru. Nahradil ho v niektorých skladbách Francis Monkman, ktorý ale nebol basový gitarista a ani nie je uvedený v booklete ako hráč na basu. Po nahraní a vydaní albumu Rob Martin skupinu opustil zo zdravotných dôvodov. Kapela v čase vydania prvotiny bývala spoločne v Londýne, odtiaľ zrejme aj pochádza príjemný feeling nahrávky, jednoducho im to klapalo hudobne aj ľudsky.
Picture disc /obrazová platňa/ Curved Air bola vyrobená v Metronome Records / Hamburg. Podklad bol čierny vinyl a fotografia. Vrchná vrstva s drážkami bol číry-priezračný vinyl. Podklad však stále zachytával statickú energiu a vznikali problémy s kvalitou zvuku, čo bolo vskutku normálne, zvýšený šum, malá dynamika, praskanie. Najviac počuteľné v tichých pasážach. V Anglicku sa často tvrdí, že prvý obrazový disk vydala skupina Saturnalia – Magical Love, ale to bolo až v roku 1973. Tam je zvuk priam katastrofálny, ale hudobne je LP Saturnalie veľmi zaujímavá. Obal Air Conditioning je vizuálne úžasný, predná a zadná strana sú nádherné, kapela pri koncertoch obal často stroboskopicky ukazovala v koncertnom formáte a určite je to vizuál, ktorý predáva a je hneď dominantný. Obal vytvoril Mark Hanau rôznymi technikami, dá sa o tom napísať celá epopej. Obal Air Conditioning bol vystavený v zväčšenom formáte v londýnskom obchode s LP platňami. Museli ho odstrániť z výkladu, kvôli dopravným nehodám, lebo bol viditeľný z križovatky a vodiči mu venovali príliš veľa pozornosti a zabúdali šoférovať.
Ak by som mal objektívne zhodnotíť album Curved Air, dám tri hviezdičky z 5. Vzhľadom na zásadovosť, progresívnosť a výnimočnosť tejto skupiny v zreteli doby, hudobného smeru a dosahu na nemalú skupinu priaznivcov tejto londýnskej skupiny pridám štvrtú hviezdu.
P. S: Sonja Kristina sa stala manželkou bubeníka Stewarta Copelanda z anglickej skupiny The Police. Kristininho syna spoznal Copeland ako 6-ročného, neskôr pomáhal pri koncertoch The Police v čase ich slávy, nie hudobne.
CURVED AIR:
Sonja Kristina – lead vocals
Darryl Way – electric violin and vocals
Francis Monkman – lead guitar, organ, piano, mellotron, electric harpsichord, special effects, equipment, and VCS3 synthesizer
Rob Martin – bass guitar
Florian Pilkington-Miksa – drums
NOTES:
zvukár: Colin Caldwell
technik: Bob Potter
produkcia: Mark Edwards
obal platne, manažér: Mark Hanau
Recordet at Islands Studios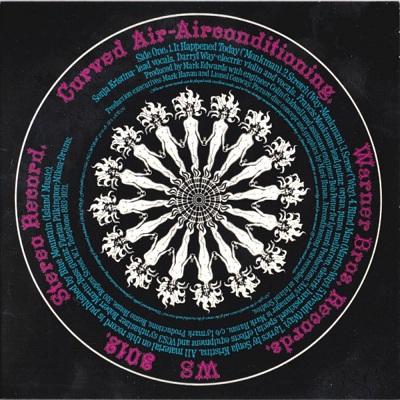 Air Conditioning
Curved Air
Psychedelic Rock, Prog Rock
Warner Bros. Records
1970
LP
10
LP Warner Bros, Records P-8029W Japan