Otisk Monterey v dějinách hudby je zcela zásadní, byť pro dnešní mladé rockery ne úplně snadno uchopitelný a zřejmý. Víkendová párty 16./17./18. června 1967 totiž ukázala, jak všeobjímajícím fenoménem je hudba a že vnímavé rockové publikum umí přijmout mimo svou i hudbu z jiného "vesmíru". Lze si jen přát, aby mezilidská i hudební tolerance panovala i na současných festivalech.
DEN TŘETÍ: NEDĚLE
Šedá a studená neděle, než ji svou odpolední tříhodinovou seancí rozzářil Ravi Shankar. Strunné ornamenty jeho sitáru měly na tisíce tvarů a spolu s hypnotizujícími tabla rytmy Ally Rakhy a tamburínou Kamaly Chakravarty, jeho tehdejší partnerky, doslova uhranuly publikum svou podmanivou vnitřní krásou. Svým způsobem Ravi Shankar během svého vystoupení takříkajíc přeprogramoval posluchačům jejich vnímání hudby. Poznání, jež bylo doposud dopřáno Georgeovi Harrisonovi a několika dalším, prostoupilo tisícovkami přítomných.
Shankar vyzařoval ve vší své pokoře a vnoru do hudby nadpřirozenou energii, jakoby sestoupil ze samotného nebe, aby v Monterey předal dále svůj životní hudební elixír – indické raga. Není divu, že režisér Pennebaker se rozhodl zařadit Shankarovu píseň coby poslední snímek svého filmu o festivalu, neboť právě jeho hudba nejlépe metaforicky vyzařovala mír, lásku, květy a hlubokou spiritualitu poselství festivalu. Hudební katarze, zbavující publikum tíhy světobolu.
"Miluji vás všechny, a jsem vděčný za vaši lásku ke mně. Co vlastně dělám na pop festivalu, když moje hudba je vážná?," zamyslel se nahlas před závěrečnou kompozicí Dhun In Dadra And Fast Teental. Ovace po jejím odehrání nebraly konce. Vědomí rocku se definitivně rozšířilo o raga a exotické duchovno.
BLUES PROJECT předvedli v podvečer komplikovanou progresivní formu blues s rozvernou flétnou Andyho Kulberga, bezmála kosmickým kytarovým vazbením Steva Katze i mohutnými hammondkami Johna McDuffyho, nahradivšího Ala Koopera. Šlo o poslední koncert kapely v tomto složení. Svým pojetím blues skupina BLUES PROJECT předběhla dobu, alba Dvůr Karmínového krále a Then Play On se ještě vznášela v časoprostoru.
Jak jsme si připomenuli minule, musela Janis Joplin kvůli filmařům narychlo znovu na pódium. I když napodruhé to prý nebylo úplně ono, filmový záznam hovoří zcela jasně, Janis ovládla Monterey.
BUFFALO SPRINGFIELD byli naprosto profesionální, ale současně poněkud nevýrazní, s výjimkou skladby Bluebird, kdy se kapela oprostila od sladkého zvuku a přiložila pod kotel více smolného dřeva.
THE WHO se honosili statusem britské megahvězdy, při absenci Fab Four a STONES dokonce největší možné. Šlo o jejich první vystoupení v Americe. Nabubřelé vystoupení se neslo v duchu "kdo je víc než já!". Daltrey s plédem po babičce točil mikrofonem nad hlavou a byl všude, pódium mu bylo malé. Keith Moon ztrácel a lámal paličky o stošest a Townshend drtil a znásilňoval kytaru až do úplné likvidace, kdy málem umlátil sám sebe. Pouze John Entwistle zachovával jakés takés dekorum a soustředil se pouze na hru.
Tak trochu arogantní destruktivní divadlo, jež zámořské pacifisty příliš neoslovilo, spíše zaskočilo. Samozřejmě, všichni tak nějak něco podobného čekali, ale výsledek poněkud čpěl kalkulem a samoúčelností.
To, co Shankar dokázal šeptem, k tomu potřebovali GRATEFUL DEAD volume nadoraz. Nejvlivnější koncertní skupina západního pobřeží byla v Monterey doma. Jejich nedělní vystoupení se stalo mistrovským dílem psychedelické improvizace, podezděné neústupným rytmem síly hlukové stěny, do níž byla vtesávána kytarová sóla. Nikdo jiný neměl své publikum zmáknuté jako GRATEFUL DEAD s Jerrym Garciou v čele. Hippie voodoo. Dav blaženě a oddaně pohyby svých těl reagoval na všechny změny rytmu a nálad, takže se z koncertu málem stala masová taneční párty, zvláště když Phil Lesh vyzval obecenstvo: "Kdo chce tančit, tančete. Sedíte na skládacích židlích, a skládací židle jsou zkrátka skládací." Pořadatelé měli následně co dělat, aby aspoň část obecenstva udrželi v sedě a na místech.
Mohl někdo přijít po GRATEFUL DEAD a neposrat se? Ano, "Rád bych představil velice dobrého přítele, svého krajana. Brilantní umělec a nejvíce vzrušující kytarista, jakého jsem kdy slyšel – THE JIMI HENDRIX EXPERIENCE!" uvedl Brian Jones z ROLLING STONES kapelu Jimiho Hendrixe – mága s obří koulí vlasů, indiánskou čelenkou, vymóděného rudými kalhotami, růžovou bundou, žlutou vestou a bílou volánkovou košilí, až by každý cikán zbledl závistí.
Na kytaru hrál Jimi jako nikdo před ním. V jeho rukách se křičící a kvílící nástroj měnil v milenku, šulína, zbraň i oběť pyromana. Zahrál de facto své tehdejší Greatest Hits. Mezi devítkou skladeb nechyběly Foxy Lady, Hey Joe, Purple Haze ani Wild Thing s rituální paličským závěrem.
Fotografie klečícího Jimiho Hendrixe, čůrajícího benzín na hořícího zmučeného Fendera Stratocastera se stala ikonickým vyjádřením divokého rodokmenu rockové hudby.
Po krátké pauze na závěrečné dějství dorazil westcoastový předobraz skupiny ABBA, rozezpívaní MAMAS & PAPAS, rezonující svým pojetím s kalifornským sluncem, květenou i chemicky rozpínanou myslí hnutí hippies. Líbivému soundu dominoval vedle vokálních harmonií znělý hlas nekonečné Mama Cass a zvonivá akustická kytara Johna Phillipse.
Když dozněl obrovský aplaus po California Dreamin', pronesla Mama Cass směrem k davu: "Budeme mít společně tento festival každým rokem, takže můžete klidně zůstat do příště, chcete-li." Řev nadšeného publika signalizoval, že by mnozí byli ochotni opravdu sečkat na místě do příštího léta.
Na samý konec se k MAMAS & PAPAS připojil Scott McKenzie s Phillipsovou neformální hymnou onoho Léta lásky San Francisco (Be Sure To Wear Flowers In Your Hair), kterou si někdy pozpěvoval snad každý z obyvatel planety Země. Ještě zazněla Dancing In The Streets, a zvonec, Monterey 1967 konec.
RESUMÉ
Málo experimentů a přitom hodně nového. Z ryze hudebně publicistického pohledu nepřinesl Monterey Pop Festival nic převratného. Víceméně se potvrdilo, jak moc je pop a rock spjatý s odkazem blues, a nakolik formálně těží i z folku a jazzu. Zcela nepokrytě vyplul na povrch fakt, jak výrazným hnacím motorem jsou pro mladé umělce drogy, zejména LSD.
Monterey stvrdil vůdčí úlohu nepřítomných BEATLES a DYLANA coby největších inspirátorů. Naprostá většina vystoupivších umělců zažila iniciaci hudbou bájné čtyřky z Liverpoolu.
John Phillips, než uslyšel BEATLES, byl folkovým zpěvákem: "Spíš než samotná hudba mě zaujal jejich inteligentní přístup k tvorbě."
A i když se publikum ani po několika vzedmutých vlnách šeptandy kapely seržanta Pepře nedočkalo, prostupoval její duch celým víkendem. Kromě toho Monterey Pop Festival ratifikoval odklon popu od folku, což byl zejména díky Dylanovi dominující trend posledních dvou let.
Festival se tak paradoxně stal největším setkáním bývalých folkařů, nyní rockerů. Ostatně Amerika byla ve vztahu lidová hudba vs rock vždy velkoryse tolerantní. Na rozdíl od Kotlinky, kde se ešus řeže s půllitrem hlava nehlava, kytara nekytara, dodnes.
Zpětná kytarová vazba. Jedním z hlavních poznávacích znamení se v Monterey stala kytarová zpětná vazba. Namísto učesaného vybrnkávání čistých tónů se na posluchače často valila živelná lavina kamení, ohně, vichru a zpěněné vody. Rockový sound nabyl na objemu, výrazové prostředky se znásobily, kytara najednou uměla křičet i lkát, týrat i mazlit se, bodat i hladit. Byť se feedback nezrodil přímo v Monterey, nastoupil zde na vítěznou vlnu.
Klidný průběh. Nečekaným bonusem se stal poklidný průběh festivalu. Hippies ukázali že nejsou žádná necivilizovaná tlupa. Policejní šéf Monterey Frank Marinello byl natolik u vytržení, že v sobotu odpoledne poslal polovinu svých sil domů.
"Začínám mít rád hippies," řekl novinářům. "Když příště zavítám do Haight-Ashbury, uvidím spoustu přátel." Výstaviště, kde se v některých chvílích pohybovalo na 40.000 lidí, bylo klidnějším místem než při mnoha jiných akcích. Připomeňme si v této souvislosti jednu z úvodních scén filmu, kdy místní policista nervózně říká: "Musím se chránit. O hippies se hovoří hodně jako o Hells Angels či Black Panthers. Pokud sem přijde padesát tisíc lidí, bude to spousta problémů."
Neměl pravdu, na rozdíl od Mama Cass, jež nakonec pronesla z pódia: "Celý tento víkend byl splněným snem."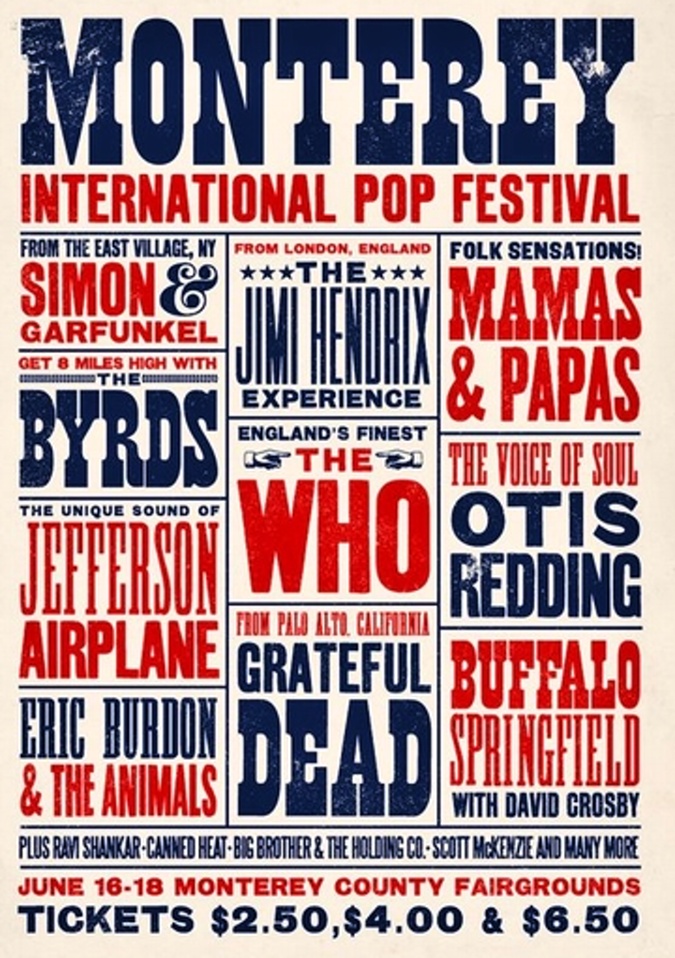 ODKAZ MONTEREY
Čím vlastně Monterey International Pop Festival byl? Jen jeden z mnoha? Měl nějaké téma či poselství, anebo šlo víceméně o náhodnou sbírku vystoupivších umělců? Šlo o setkání rockové avantgardy či jen o pozdní dadaistický výjev?
I bez fyzický přítomného (ale duchem ano) triumvirátu BEATLES, ROLLING STONES, Dylan se podařilo pořadatelům na pódium přivést reprezentativní vzorek hudební scény sedmašedesátého, nejzásadnějšího to rockového ročníku všech dob. Slovy přítomného hudebního kritika, Roberta Lydona: "Monterey International Pop Festival byl splněným snem. Zvláštním a občas hrozivý snem, jehož hlavním tématem bylo stvoření a další růst rock'n'rollu coby mladé, životně důležité a krásné dnešní hudby."
Festival představil mládež ve zcela jiném světle, než jaký vykreslovala poplašená dobová mainstreamová média. Sice drogy nalevo, drogy napravo, jak by řekl kat, zároveň ale poznání, že například marihuana rozšiřuje vnímání hudby a přináší netušené prožitky při poslechu, jak ostatně později vědecky prokázaly psychologické studie a experimenty. Podstatná byla neprostupující pozitivní energie vyzařující z davu desetitisíců teenagerů a dvacetiletých.
Monterey International Pop Festival ale zdaleka nepatřil, jak by se mohlo povrchně vnímáno zdát, jen hippie kultuře, stal se jedním ze tří festivalových majáků pětileté revoluční éry 1965-69 kdy rock umělecky i svým celospolečenským dopadem doslova explodoval a stvrdil tak úlohu nejzásadnějšího kulturního fenoménu a celospolečenského hybatele druhé poloviny šedesátých let.
Zúžíme-li pohled na samotnou hudbu, můžeme se dobrat k jedinému závěru: v těchto pěti letech je vše, čím rocková (a tedy i metalová) muzika dodnes žije a z čeho čerpá a ještě hodně dlouho, ne-li napořád čerpat bude. Sedmašedesátý je pak rokem akcelerace všeho zmíněného do kosmických výšin. A festival v Monterey pak největším tehdejším setkáním muzikantů a jejich publika.
Každý rocker by měl zažít svůj Monterey, Woodstock i Altamont.
P.S. I nejmladší vyznavači řízné rockové muziky, čili metalu, by si měli poslechnout přinejmenším dvě vystoupení z Monterey: Janis Joplin a Jimiho Hendrixe. Neříkám povinně, ta doba je pryč. Jen tak, pro radost a poznání…