Osobně používám termín progresivní rock coby zastřešující pro celou skupinu rockových subžánrů, jež v době vzniku posunovaly hranice rockové hudby směrem k náročnějším formám, ať již odvozeným od postupů tzv. klasické hudby, či inspirovaným halucinogenními prožitky.
Nemalou roli hrála v progresivní hudbě roli i studiová technika, která se stala svým způsobem plnohodnotným hudebním nástrojem. S postupujícím časem se z progrese neodvratně stala klasika, což je jen a jen dobře, zlí jazykové však tvrdí, že v poslední době již u prog rocku nejde o progresi, nýbrž regresi. Mají svým způsobem pravdu.
ZDOBNÝ RÁM
Abych předešel nedorozuměním, vymezím hned na úvod progresivní rock vůči tzv. avantgardní hudbě, jíž se v našem seriálu primárně zabývat nebudeme, protože není nutně svázána s rockovým fundamentem – dá se dokonce říci, že občas není vázána vůbec ničím, dokonce ani notovou osnovou. Zvídavým avantgardistům doporučím skvělé dvoudílné encyklopedie: Svět jiné hudby [Petr Slabý, Zdeněk K. Slabý – 2003, 2008], plus starší Rock proti proudu [Václav Malík, Radek Fic, Robert Fic, Petr Karlíček – 1992].
Mladý muzikolog Jan Blüml ve své diplomové práci Art rock: stylově žánrový typ a jeho české varianty [2009] věnuje problematice hierarchického řazení termínů art rock a progressive rock vícero stránek. Poměrně detailně rozebírá a citacemi doprovází jednotlivá pojetí řazení uvedených pojmů, aby nakonec logicky dospěl ke stejnému závěru: art rock je podmnožinou progresivního rocku.
Jenom pro ilustraci uvedu, co vše spadá pod progressive rock v pojetí oblíbeného serveru Prog Archives: art rock, cantenbury scene, crossover prog, eclectic prog, experimental / post metal, heavy prog, indo prog / raga rock, italian symphonic prog, jazz rock / fusion, kraut rock, neo progressive, post rock/ math rock, prog folk, progressive electronic, progressive metal, psychedelic / space rock, RIO / avant rock, symphonic prog, tech/ extreme prog metal, zeuhl, prog related, proto prog. Já bych něco proškrtal, a naopak jiné termíny doplnil: classical rock, baroque rock, orchestral rock… Ne, nebojte, dnes nebudeme pitvat.
V tuzemském hudebním tisku se termíny jako progresivní hudba a rock (často v převzaté podobě: progressive music a progressive rock) častěji objevují s nástupem magazínu Pop Music Expres [1968-69]. Art rock si však musel na "oficiální" uznání počkat až do článku Má artrock budoucnost? Yes Jiřího Černého [Melodie, 1979/5], přitom jsme se tímto termínem fandovsky oháněli nalevo napravo od yessovského Fragile (1971).
ZDROJE JSOU
Progresivní rock vděčí za svůj vznik několika kulturně společenským faktorům i vnitřním procesům uvnitř tehdejší rozpínající se hudební scény. Šedesátá léta bořila hranice nejenom v hudbě. Tranzistory umožnily výrobu lehce přenosných přijímačů a magnetofonů, odvážné francouzské filmy odstartovaly sexuální revoluci, sukně vylétly k prcinkám a osvobozená ňadérka vykukovala z každého druhého trička. Zásadním byl ale i nástup psychedelie.
U muzikantů šlo vesměs o doprovodný jev konzumace halucinogenů, pro posluchače mohla být drogou samotná "zhulená" hudba, popřípadě její společné vnímání. V ČSSR měl málokdo možnost rozšiřovat si vědomí, přesto se i u nás psychedelic music stala posluchačsky vděčným předvojem progresivního rocku.
Americká sanfranciská psychedelická větev neměla na rockovou progresi, tak jak ji vnímáme v evropském kontextu, přímý vliv. Dala však vzniknout hnutí hippies, které nakrátko rozkolísalo společenské status quo. Londýnské dění je vzhledem k našemu tématu podstatně zajímavější.
Jan Blüml ve své diplomce napsal: "Počátek londýnské psychedelie spadá do roku 1965 a je spojován s hromadnými akcemi veřejného čtení poezie, které zde v této době organizoval Allan Ginsberg společně s dalšími beatnickými spisovateli. Na podzim stejného roku v Londýně britský propagátor halucinogenních drog Michael Hollingshead založil instituci World Psychedelic Center, která se stala významným centrem psychedelické hudby a kultury. Od počátku roku 1966 pořádal londýnský underground pravidelné akce Spontaneous Underground, které obsahovaly vedle performance art a poezie také rockovou hudbu.
V oblasti konstituce institucionálního zázemí psychedelie došlo v roce 1966 ještě k dvěma významným událostem. Jednou z nich bylo založení galerie Indica, jež se specializovala především na psychedelické umění, dále šlo o vznik hudebního klubu UFO, který se stal domovskou scénou undergroundových skupin, mezi nimiž byly například Pink Floyd, Soft Machine, Tomorrow, jejímž členem byl budoucí kytarista skupiny Yes Steve Howe, nebo Crazy World of Arthur Brown, ve které působil budoucí bicista slavného artrockového tria Emerson, Lake and Palmer."
Rozvoj studiových možností a nástrojové elektroniky podněcoval přirozenou zvídavost mladých umělců. Do popředí zájmu se dostaly klávesové nástroje, vedle hammondek to byl především mellotron a Moogův syntezátor. Ke slovu se dostaly i exotické nástroje jako sitár, theremin, bonga. Místopisně lze za domovinu progresivního rocku považovat jižní Anglii s vyšším zastoupením střední třídy a studentů.
Jan Blüml: "Artrocková hudba, která v mnoha ohledech vycházela z tradičního evropského umění, byla ve většině případů dílem vzdělaných mladých lidí, často studentů vysokých škol. Druhým faktorem, který přispěl ke konstituci art rocku ve zmíněné lokalitě, byla podle Macana zdejší silná tradice anglikánské církve; mnoho artrockových umělců v raném věku působilo v církevních sborech apod. a v pozdějších letech uváděli anglikánskou liturgii jakou silný umělecký inspirační zdroj. Vliv specifického anglikánského chorálu je podle názoru Edwarda Macana v artrockovém hudebním projevu velmi patrný."
Zjednodušeně se dá napsat, že progresivní rock akcentoval v bigbítu evropské hudební tradice.
STRUČNÁ HISTORIE
Nástupem rokenrolu se začaly přes Atlantik přelévat obousměrné inspirační vlny. Americký rokec a blues se v Anglii okamžitě chytily a v raný bigbeat přetavily. Následná britská invaze do USA rozšířila vědomí tamější rockové komunity o nové prvky, protože mladí ostrované měli jiné – evropské – kulturní zázemí s jeho mnohasetletou historií.
V zámoří získal rock mnohem ostřejší mezigenerační a sociálně společenské kontury, nesmíme zapomínat, že rokenrol byl explosivně pudovým mixem černé (blues) a bílé (country) muziky. Velká Británie byla vnitřně ke svým mladým daleko tolerantnější. V době, kdy Londýn už vesele "swingoval" a hrál všemi barvami, se na americkém jihu stále tyčily ostnaté rasové barikády a kápě magorů.
V polovině šedesátých let bigbít/rock doslova vykvetl. Začalo se pracovat s aranžemi, přidávaly se exotické nástroje, do košatých kompozic se víc a víc promítalo kaleidoskopicky rozšířené vědomí, texty začaly pracovat s nadsázkou, kosmem, niternem, absurdnem, politikou, sexem, žádné téma již nebylo tabu. Vývoj šel vpřed doslova vesmírnými skoky, kapely se navzájem hlídaly, cokoliv někdo vymyslel a vyzkoušel, druhý den se hrálo všude. Rozdíl mezi soundem roku pětašedesát a šedesát sedm je galaktický, troufám si napsat, že navždy nepřekonatelný.
Pro mě osobně jsou iniciačními alby progresivního rocku Seržant (1967) BEATLES a Pet Sounds (1966) BEACH BOYS. Samozřejmě, že lze badatelsky vypátrat zapomenuté experimentátory, kteří leccos zkoušeli i dříve, jde ale stejnou měrou, jako o zastoupení nového, o dopad/nedopad na světovou hudební scénu. Jinými slovy, není až takový "technický" problém vymyslet v hudbě co tu ještě nebylo, prubířským kamenem novátorských postupů je schopnost oslovení posluchačů a dosáhnutý posun v jejich myšlení.
Například jazzmani, hrající elitářskou progresivní hudbu, byli v mnoha ohledech muzikantsky o několik levelů výše, než naši rozcuchaní mládenci. Ti zas na druhou stranu strhli obří lavinu, jež převálcovala starý hudební svět, a díky níž mohly vyrůst celé nové hudební světy. A jedním z nejvelkolepějších byl i takzvaný progresivní rock. Do konce šedesátek byly zřetelně definovány zásadní postuláty, jimiž se rock ve všech svých podobách honosí dodnes.
Dělo se toho v letech 1966-69 opravdu hodně. Inspirováni Hendrixem, CREAM rozvinuli bluesovou formuli a LED ZEPPELIN ji následně na doraz vytvrdili. PRETTY THINGS (S. F. Sorrow, 1968) a THE WHO (Tommy, 1969) vtrhli na scénu s rockovou operou, PINK FLOYD se vznášeli v psychedelickém oparu, MOODY BLUES přizvali symfoňák, NICE zalovili v klasice, s koncepčními alby přišli kupříkladu ZOMBIES (Odessey & Oracle, 1968) i SMALL FACES (Ogden's Nut Gone Flake, 1968), VANILLA FUDGE ukázali naplno sílu kotlů, hammondů, vokálů i tíhy, JETHRO TULL zasnoubili blues s evropským folkem, Jeff Beck poprvé zavazbil a KING CRIMSON spojili na svém debutu (In The Court Of Crimson King, 1969) bláznivou avantgardu s vycizelovanou hudební "matematikou" i mellotronovou medovinou. Dechy pak do bigbítu nadoraz napěchovali COLOSSEUM.
Své šance se na přelomu šesté a sedmé dekády dočkali i čistokrevní artrockeři: YES, GENESIS, VAN DER GRAAF GENERATOR. Mohl bych samozřejmě jmenovat v podobných souvislostech desítky a desítky dalších interpretů.
Rané seventies zastihly rockovou scénu v neuvěřitelném rozpuku: vedle artrocku nastoupil hardrock i glam, první místa žebříčků obsazovala alba, která současně měnila dějiny. Nic nebylo nemožné. Začínající soubory dostávaly smlouvy na běžícím pásmu. "Chcete kluci orchestr? Máte ho mít!", nikdo nechtěl prošvihnout svou šanci. Boom trval do poloviny sedmdesátek, kdy všechny rozvité formy rocku podťal punk.
Progresivní rock poté našel své pokračovatele v zámořských rytířích urozeného rocku (KANSAS, BOSTON, STYX, SAGA), jak je pojmenoval Jaromír Tůma, jejichž elegantní a pompézní styl/sound poskytnul fanouškům jakous takous útěchu v době, kdy se náročnější rockové formy přestaly na starém kontinentě nosit a hrát. Zlatá rocková dekáda navždy skončila.
Čas od času se progrock dostal na jakés takés výsluní zájmu. Mé generaci se například vryl do paměti úchvatný nástup artrockových MARILLION v roce 1983. V polovině osmdesátek tak bylo opět co uměleckého poslouchat: IQ, PENDRAGON, PALLAS, NEUSCHWANSTEIN, IT BITES, TWELFTH NIGHT… a pár desítek dalších. V oblasti heavy metalu se role "artrockerů" ujali QUEENSRŸCHE albem Operation Mindcrime (1988) a o něco později DREAM THEATER s When Dream and Day Unite (1989). Symfonizující a klasizujícící prvky se staly nedílnou součástí soundu spousty metalových souborů.
Nemůžeme si nalhávat, že nynější progrocková scéna má něco společného s progresivitou ve smyslu objevování nového. Drtivá většina současných "rock-progerů" těží z odkazu přelomu šedesátek a sedmdesátek, u symphonic metalistů je to obdobné, akorát o pár desítek let posunuté. Přístupy mohou být různé. Někdo vysloveně naváže na konkrétní předlohu, jiný se snaží o nové kombinace osvědčených postupů. Jen sem tam se někdo pokusí prorazit tuto retro bariéru něčím opravdu novým. Až na výjimky neúspěšně.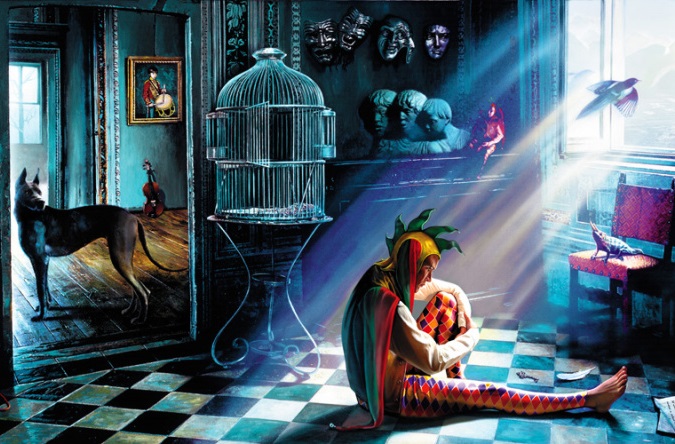 Příště se s větší lupou vrátíme do šedesátých let, kde to všechno začalo.