Ronnie James Dio – jeden z najlepších, najuznávanejších a najúspešnejších spevákov hard rocku a heavy metalu – zomrel v roku 2010. Po viac ako desiatich rokoch sa jeho fanúšikovia na oboch brehoch Moravy konečne dočkali knihy v prístupnom jazyku.

V týchto dňoch vychádza titul:
Ronnie James Dio – Životopis heavymetalové ikony
Oproti pôvodnej verzii má publikácia odlišnú sadzu, ktorá je dielom Tomáša F. Hanzla, a taktiež obálku, o ktorú sa postaral Ondřej Šmejkal. Preklad má na svedomí Aleš Ondráček.
Vydavateľ: MetalGate
Počet strán: 217
Jazyk: český
Väzba knihy: brožovaná
ISBN: 978-80-907797-4-7
Ide o neoficiálnu autobiografiu, ktorá vyšla v anglickom jazyku v roku 2018 a jej autorom je americký spisovateľ James Curl:
"Po Ronnieho odchode som niekoľko rokov čakal, že o ňom niekto napíše knihu. Občas som na internete čítal zvesti o chystanej biografii, ale nikde sa nič neobjavilo. Nakoniec ma to čakanie omrzelo a pretože som v minulosti napísal dve biografie o niekdajších šampiónoch ťažkej váhy, povedal som si: 'Do čerta s tým, urobím to sám.' A tak začala moja rock'n'rollová cesta."


Čitatelia sa môžu tešiť na 14 kapitol:
Zrození metalového boha / Opravdová kapela / Roky s Elf / Rainbow / Black Sabbath / Dio / Vivian odchází / Drak Dean / Lock Up The Wolves a ještě jednou Black Sabbath / Znovu Dio / Magica, Tenacious D a Killing The Dragon / Master Of The Moon a Králové ro(c)ku / Heaven & Hell / Opona klesá.
Súčasťou knihy je aj kompletná Diova diskografia, predslov i nekrológ, ktoré spísali Diovi priatelia a dlhoroční spoluhráči, basgitarista Jeff Pilson a klávesák Claude Schnell. Nechýba ani fotogaléria…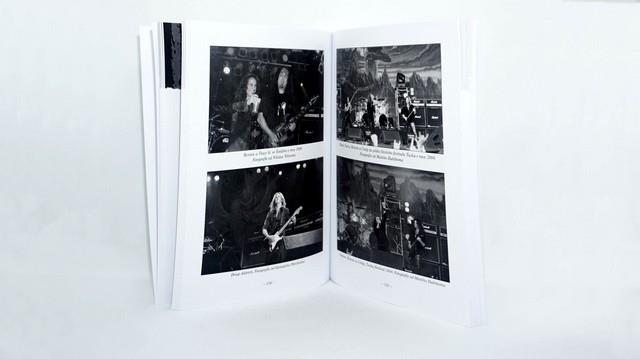 Na Amazone sa originálu dostalo veľmi kladného hodnotenia, preto by zo strany Ronnieho fanúšikov nemuselo ísť o "zbytočnú" investíciu, ale to už budú musieť posúdiť samotní čitatelia. A len tak na okraj; Jamesovi zrejme písanie o muzike zachutilo, lebo v minulom roku vydal publikáciu o skupine Dokken…
Kniha sa dá kúpiť napr. tu:

P. S.: 27. júla 2021 síce vyšla oficiálna autobiografia Rainbow In The Dark, ktorú dal dokopy známy autor Mick Wall v spolupráci s Ronnieho manželkou Wendy Dio, ale na jej české (slovenské) vydanie si budeme musieť ešte nejaký čas zrejme počkať…
Zdroje: Václav Votruba, MetalGate.