Popularita Whitesnake na rozbřesku osmdesátek narůstá. Soubor tedy nelení a po úspěšném živém albu přichází v roce 1981 s další řadovkou ve stejné sestavě, jako na předchozím albu. 

Z alba vyčnívají dva povedené hity Come An' Get It a Don't Break My Heart Again. Druhá vyjmenovaná byla firmou vybrána na singl, na první se tehdy trestuhodně zapomnělo. Posmutnělý blues rock v zakouřeném sálu – to je nepateticky působící Lonely Days, Lonely Nights.
Kompozičně náročnější Child Of Babylon skvěle hard rockově duní i chutná a Coverdale řádně provětrává hlasivky. Hit And Run je hodně zdrsnělej hard rock, kterej jako by v náznacích již pošilhával po heavy šílenství, které v té době rozpoutali Def Leppard či Judas Priest. Velmi zvláštně na mě působí závěrečná, Moodyho akustickou kytarou začínající Till The Day I Die. Jako bych slyšel nějakou reminiscenci na Led Zeppelin v hudbě i v Coverdalově zpěvu. Skvělá skladba.
Trochu bojuju s písní Girls. Její pochodový rytmus a neměnné schéma u mě balancuje na hraně zájmu. Jsou tu však i nepovedené kousky – jako naspeedovanej rock'n'roll Hott Stuff a dva kolovrátkové boogie Wine, Women And Song a Would I Lie To You (ta byla dokonce tehdy vybrána na další singl).
Jedno varování na závěr. Nikdy, opravdu NIKDY se nesnažte listovat v bookletu a zamýšlet se nad obsahem textů. Vím, že popěvky a balení holek a chlastu k tomuto stylu tak nějak patří, ale po pročtení takové snůšky banalit, chlapáckých dvojsmyslů a sexuálních narážek uvidíte na obalu desky dámské přirození i na místě, kde by jste se ho jindy nesnažili hledat 🙂
Po zvukové stránce opět parádní práce Martina "Sira Larryho" Bircha, který album s kapelou nahrál a zmixoval během třech měsíců. V nahrávce jsou všechny nástroje krásně čitelné s důrazem na hutnou basu Neila Murrayeho.
Toto album se v Anglii prodralo v albovém žebříčku až na druhou pozici (za Adama Anta), což bylo nejlepší umístění Whitesnake. Údajně je i sám Coverdale považuje v tomto období za nejpovedenější, zatím co Amerika jej odzívala. Já osobně ho po předchozí výborné studiovce Ready An' Willing považuji za kapánek slabší, přesto je to oproti dalším deskám Bílého hada poctivej hutnej hard rock.
SKLADBY:
01. Come An' Get It (3:59)
02. Hot Stuff [Coverdale/Moody] (3:22)
03. Don't Break My Heart Again (4:03)
04. Lonely Days, Lonely Nights (4:16)
05. Wine, Women An' Song [Whitesnake] (3:45)
06. Child Of Babylon [Coverdale/Marsden] (4:48)
07. Would I Lie To You [Coverdale/Moody/Marsden] (4:29)
08. Girl [Coverdale/Marsden/Murray] (3:55)
09. Hit An' Run [Coverdale/Moody/Marsden] (3:23)
10. Till The Day I Die (4:23)
All songs written by David Coverdale, except where noted.
SESTAVA:
David Coverdale – lead vocals, backing vocals
Micky Moody – guitar, backing vocals
Bernie Marsden – guitar, backing vocals
Jon Lord – keyboards
Neil Murray – bass
Ian Paice – drums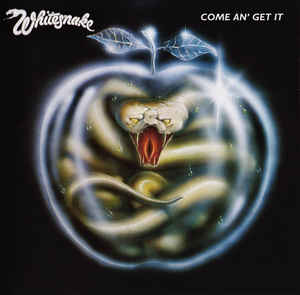 Come An' Get It
LBG 30327
Whitesnake
hard rock
Liberty
1981
CD
10
CD