Musel to být skvělý večer. To mě napadne vždy, když slyším tohle album, ze kterého přímo srší energie a nadšení všech zúčastněných hudebníků. 14. únor 1970 se nesmazatelně vepsal do rockové historie. Ten den zahrála na univerzitě v Leedsu skupina The Who, jež právě vystupovala s programem, jehož podstatnou část představovalo koncertní provedení rockové opery Tommy.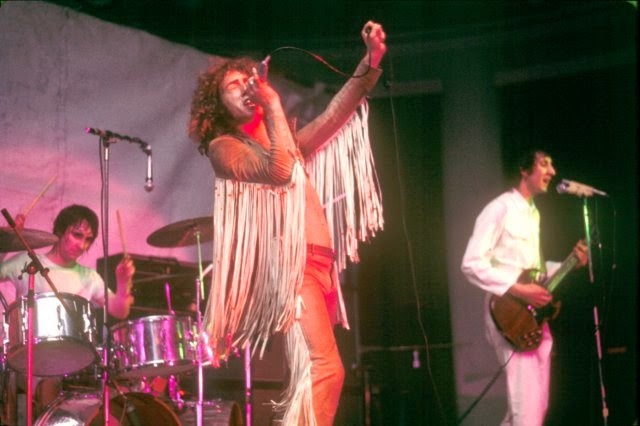 Na přelomu 60. a 70. let se skupina s charismatickým zpěvákem Rogerem Daltreym nacházela v neuvěřitelné koncertní formě, o čemž svědčí její vystoupení na festivalech ve Woodstocku, na ostrově Wight a samozřejmě v Leedsu, jak jej zachycuje tento úžasný živák. Původní vydání obsahovalo šest tracků včetně legendární písně My Generation. Další vydání postupně bytněla a díky tomu se na recenzované dvoudiskové edici na prvním disku nachází celkem třináct skladeb.
The Who znějí naživo mnohem energičtěji a přímočařeji, skoro bych řekl až punkově, než na studiových nahrávkách. Hned úvodní skladba Heaven And Hell posluchače pohltí zvukovou stěnou, která nenechá nikoho ani na chvíli vydechnout a způsobí, že jste okamžitě uchváceni atmosférou onoho památného vystoupení. A podobně to pokračuje dál přes skvělou I Can't Explain, přímočarou Substitute, velice tvrdé Summertime Blues až po závěrečnou rozvernou skladbu Magic Bus. I píseň Happy Jack, která nepatří zrovna mezi mé oblíbené, zde dostává úplně jiný náboj. Nevím, co na této nahrávce oceňovat dřív, zda pěvecký výkon vynikajícího Rogera Daltreyho a jeho foukací harmoniku s úžasným bluesovým feelingem, velice tvrdou basu Johna Entwistlea, hru bubeníka Moona, který z bicí soupravy vytváří chvílemi nový melodický nástroj, či zvukové stěny kytaristy Townshenda.
Deluxe Edition z roku 2002 obsahuje i téměř kompletní koncertní provedení dvojalba Tommy a opět zde platí to, co již bylo řečeno u předchozích skladeb. Oproti studiové nahrávce zní živá verze mnohem tvrději a ukazuje bez obalu, v čem je Townshendova síla, totiž v napsání silné melodie. Některé písně, které jakoby na původní nahrávce stojí ve stínu jiných, zde rozkvétají a dostávají do té doby netušený náboj, např. Amazing Journey. I píseň I'm Free, která patří k těm výraznějším, je zde proměněna v ryze hardrockovou pecku, za kterou by se nemuseli stydět ani pánové Page a Blackmore.
A závěrečná We're Not Gonna Take It se základním motivem See me, feel me… je tou pověstnou třešničkou na dortu, nádhernou tečkou za nahrávkou, která právem patří k těm nejlepším koncertním záznamům.
Při každém poslechu tohoto skvostu si říkám to, co jsem napsal na začátku. Musel to být skvělý večer. Děkuji, The Who.
Skladby:
Disc One:
Heaven and Hell [Entwistle] (5:07)
I Can't Explain (2:26)
Fortune Teller [Neville] (2:35)
Tattoo (3:01)
Young Man Blues [Allison] (5:14) *
Substitute (3:04) *
Happy Jack (2:14)
I'm a Boy (2:46)
A Quick One, While He's Away (8:41)
Summertime Blues [Cochran/Capehart] (3:22) *
Shakin' All Over [Kidd] (4:35) *
My Generation (15:25) *
Magic Bus (7:56) *
Disc Two:
Overture (6:53)
It's a Boy (0:31)
1921 (2:26)
Amazing Journey (3:18)
Sparks (4:23)
Eyesight to the Blind [Williamson] (1:58)
Christmas (3:19)
The Acid Queen (3:35)
Pinball Wizard (2:52)
Do You Think It's Alright? (0:22)
Fiddle About [Entwistle] (1:13)
Tommy, Can You Hear Me? (0:55)
There's a Doctor (0:23)
Go to the Mirror (3:24)
Smash the Mirror (1:19)
Miracle Cure (0:13)
Sally Simpson (4:01)
I'm Free (2:39)
Tommy's Holiday Camp [Moon] (1:00)
We're Not Gonna Take It (0:48)
Songs marked by * were included on 1970s original LP.
Obsazení:
Roger Daltrey – lead vocals, harmonica, tambourine
Pete Townshend – guitar, vocals
John Entwistle – bass, vocals
Keith Moon – drums, vocals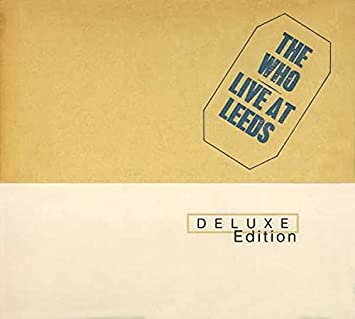 Live At Leeds (Deluxe Edition)
The Who
Hard rock
Polydor
2002
2 x CD
33
Polydor – 112 618-2