Box Set Universal Music Italia s.r.l. – 0602527122021 /2009/
Třetí, oficiálně vydané album italsko – neitalských Sensations' Fix přineslo několik změn. Tou první bylo rozšíření sestavy o dalšího hráče na klávesové nástroje, kterým se stal Steve Head. Tou druhou je daleko víc zpěvu (v angličtině), který se tady objevuje hned ve čtyřech skladbách. Skupina se tím přiblížila širšímu publiku a její, do té doby chladná produkce dostala novej, lidskej rozměr…

Tím však nechci říct, že by šlo o nějakou komerci, takovej ten psychedelickej odér to má furt. Hudba je to pořád ještě poněkud zasmušilá, místy dokonce meditační a obsahuje rejstříky kosmických zvuků, typických pro starší tvorbu. Jen v o něco menší míře, než dřív. Ostatně o tom, že tentokrát se Sensations' Fix nebáli zabrousit i do jinejch vod svědčí hned úvodní Strange About Your Hands, která je hodně kytarová, zemitá a na kapelu až překvapivě tvrdá. Téměř hard rock a starší tvorbu připomíná jen instrumentální vsuvka s rozostřeným sólem. Díky chytlavému refrénu je to v podstatě hit a z podobného soudku je tady i titulní, klávesovou stěnou vyztužená Finest Finger.
Zbývajících šest skladeb je spíš meditačních, vybízejících k snění a relaxaci. Dvě se zpěvem Franca Falsiniho, čtyři bez. A právě ty se mi zamlouvaj nejvíc. Na repetitivní figury a hypnoticky monotónní rytmus Falsini roubuje zkreslená sóla a když už je toho moc (Yardbirds Dream), sáhne po akustické kytaře a dá člověku trochu vydechnout. Tak jako ve skladbě Just A Little Bit More On The Curve. Ta se opravdu povedla a podobně je na tom i čtvrtá Map. Snad na žádném jiném albu Falsini nevyužil akustickou kytaru v takové míře, jako tady a poslouchá se to báječně. Cinkání strun a ve vlnách se přelévající klávesový podklad by jednoho uspal a nestane se tak jen díky temnému tlukotu nezvykle sejmutých bicích.
Všechny skladby na desce jsou relativně krátké a ta nejdelší – Into The Memory – má lehce přes šest minut. V té se Falsini předvádí především jako kytarista a dává na odiv svůj nevšední styl. Při hledání nějakých podrobností jsem narazil na fragment rozhovoru s basistou Gary Falwellem, který s Falsinim hrával ve skupině Sheriff a v něm zaznělo zhruba tohle:
Franco je unikát a nepodobá se žádnému kytaristovi, se kterým jsem dělal. Nikdy by nehrál nic jiného, než to, co sám vytvořil. Jednou jsem se ho ptal na akord: hrál jsi tam E dur, nebo G dur? A on mi na to řekl: podívej, dělám to takhle a vydávám takovej zvuk. Zkouším a hledám, jakej se mi bude líbit. Všechno to bylo o protahování not a ohýbání tónů, ne o struktuře akordů…
Ale zpátky k albu. Chválím sice především instrumentálky, ale to neznamená, že by se mi skladby s vokály nelíbily. Falsiniho ležérní projev k tomu materiálu pasuje, jak nočník na pr..l a jak The Left Side Of The Green, tak Boat Of Madness mají co nabídnout. A druhá jmenovaná končí sci-fi efekty, jak z portfolia galaktických tuláků Tangerine Dream. Taky by se slušelo dodat, že tady zazní hned několik odkazů na starší tvorbu. Vůbec nejmarkantnější je to u titulní skladby Finest Finger, která se v mnoha ohledech shoduje s instrumentálkou Leave My Chemistry Alone z předcházejícího eLPíčka Portable Madness. Mě to nijak zvlášť nevadí a fanouškům, kteří nejsou obeznámení se starší produkcí Sensations' Fix to může být jedno. Ostatně, něco podobného Falsini předvede i na následují desce Boxes Paradise (1977).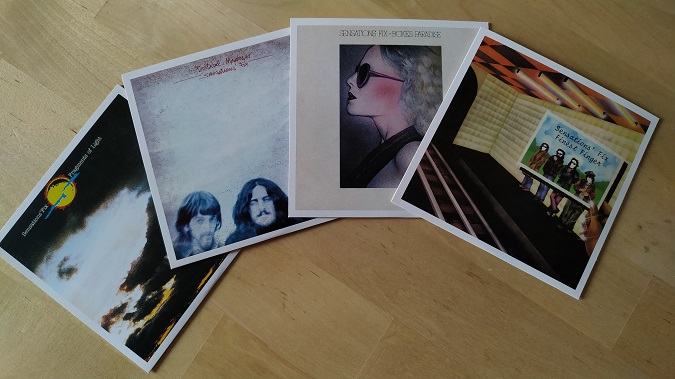 Až donedávna se to album nedalo koupit jinak, než na původním vinylu a jedinou výjimkou bylo cédéčko v box setu Progressive Italia Gli Anni '70 Vol. 2, nebo pirátské vydání od Tachika Ltd. Až teprve v roce 2019 se zájemci dočkali zbrusu nové vinylové reedice, ale originální CD je stále v nedohlednu. Se streamovacími  službami je to naštěstí jinak a např. Spotify nabízí pomalu vše, co pod hlavičkou Sensations' Fix vyšlo. Album Finest Finger je tu v současnosti k mání hned ve třech verzích a je pouze na vás, které z nich dáte přednost.
Co dodat? Muzika je to sice zcela neitalská, ale to neznamená, že musí být špatná. Naopak si myslím, že tohle album patří k tomu vůbec nejlepšímu, co od Sensations' Fix znám.
1. Strange About Your Hands 3:52
2. Just A Little Bit More On The Curve 3:20
3. Yardbirds Dream 3:53
4. Map 4:59
5. Boat Of Madness 3:24
6. The Left Side Of The Green (Including Macumba Fog) 5:18
7. Finest Finger 3:40
8. Into The Memory 6:10
Franco Falsini / acoustic, filtered & electric guitars, keyboards, synthesizer, vocals
Steve Head / keyboards, synthesizer, Moog tambourine
Richard Ursillo / bass, fuzz bass, electric guitar
Keith Edwards / drums
Finest Finger
Sensations' Fix
Prog Rock
Polydor
1976
LP
8
CD, Box Set Universal Music Italia s.r.l. – 0602527122021 /2009/