CD Virgin – 0077778748526, Charisma – CASCD 1149  /2004/
Mikea Rutherforda jistě není třeba nějak zvlášť představovat, značné renomé mezi fanoušky si vybudoval jako dlouholetá opora skupiny Genesis…
Ne každý však bude vědět, že to v osmdesátejch letech zkusil i na sólové dráze a že pod svým jménem vydal dvě plnohodnotná alba. To druhé – Acting Very Strange z roku 1982 – dopadlo prachbídně, ovšem debut Smallcreep's Day se dodnes těší velice dobré pověsti a oblibě. Pojďme si ho tedy v krátkosti představit:
Album Smallcreep's Day je koncepční a předlohou mu byla stejnojmenná kniha Petera Currella Browna z roku 1965. Titulní suita je rozporcovaná do sedmi kapitol, vyplnila celou první stranu původního vinylového vydání a již od úvodních tónů vzrušující předehry Between the Tick & the Tock větřím, že to bude ono. A přitom k tomu stačí tak málo, jenom klávesy a emocema nabitej zpěv. Nicméně už tady cítím ony známé vibrace, které se mě zmocněj vždy při poslechu něčeho nevšedního. Slyším tady ozvěny Genesis, ale čuchám aj inspiraci pro kapely teprve se formujícího neoprogrockového hnutí v čele s Marillion…
Working in Line je svižná a melodická píseň s krásnou instrumentální "dohrou" (ach, zase ti Genesis), která vyústí v necelé dvě minutky dlouhý klávesový předěl After Hours. Z elektronického efektu bicích v jinak vynikající Cats and Rats (In This Neighbourhood) vystrkují růžky nastupující osmdesátá léta a po ní následuje další klávesová vsuvka Smallcreep Alone. Vrcholem alba je pro mě instrumentální prog rocková exhibice Out into the Daylight, s živelnými bicími Simona Phillipse a tečku za celou sedmidílnou suitou pak píše jímavě melodická balada At the End of the Day.
Druhou polovinu desky tvořilo pět samostatnejch skladeb. Z hybné, chytlavé a kaskádami kláves přetékající Moonshine cítím opět nastupující osmdesátky, ale nemyslím to jako výtku. Skladba má výbornej refrén a tou svojí bombastičností se mi líbí. Výhrady bych měl teprve k následujícímu, poněkud slabšímu a trochu utahanému cajdáku Time and Time Again. Desátá Romani je už zaplaťpánbu daleko rychlejší, nabízí pěknou melodii a několik překvapivých zvratů. Předposlední písní na desce je poloakustická balada Every Road a skutečným vyvrcholením pak závěrečná, ducha tou dobou odpočívajících Genesis vyvolávající Overnight Job.
Co k tomu dodat? Titulní suita je vynikající a už jen kvůli ní jsem rád, že album mám. Jedním dechem však musím dodat, že druhá polovina desky je slabší té první a zejména u skladeb Time and Time Again, Romani a Every Road začínám ztrácet trochu koncentraci. Fanoušci tvorby Genesis by si však album měli minimálně poslechnout, možná budou příjemně překvapeni.
Spotřební CD reedice z roku 2004 (řada Compact Price) nenabízí nic, než čtyřstránkovej booklet s reprodukcí originálního obalu a tracklistem, ovšem samotnej nosič hraje jak z partesu. Naštěstí je to jen znovu vylisované první vydání a žádnej remaster. Dávám tři a půl hvězdičky.
SKLADBY:
Side One:
01. Smallcreep's Day 24:41
I. Between The Tick & The Tock
II. Working In Line
III. After Hours
IV. Cats And Rats (In This Neighbourhood)
V. Smallcreep Alone
VI. Out Into The Daylight
VII. At The End of The Day
Side Two:
2. Moonshine 6:26
3. Time And Time Again 4:54
4. Romani 5:27
5. Every Road 4:15
6. Overnight Job 5:45
SESTAVA:
Mike Rutherford – keyboards, guitars, bass guitar
Anthony Phillips – keyboards
Simon Phillips – drums
Morris Pert – percussion
Noel McCalla – vocals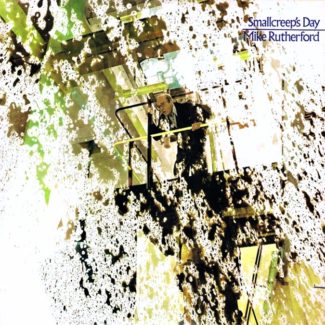 Smallcreep's Day
Mike Rutherford
Prog Rock
Charisma
1980
LP
6
CD Virgin – 0077778748526, Charisma – CASCD 1149 /2004/