Každý z nás si v sobě hýčká nějaký ten svůj pomyslný hudební majstrštyk. Důvody, proč je to právě ta která deska, si každý rád obhájí sám a v případě tvrdé opozice zvenčí nesnese naň kritický názor. Na mém progrockovém výsluní se už několik desetiletí pevně vyhřívá album Power Windows kanadských Rush. Bylo jedním z prvních, které jsem od nich ochutnal, a z celé jejich diskografie mě nejvíce zaujalo, sedlo, ohromilo, prostě nám to spolu funguje. 
Pro mě osobně je to jejich nejvyrovnanější kolekce, ve které kapela zapojila do své tvorby zcela nové futuristicko-kosmické syntezátorové zvuky, jejichž barevnosti se už během své kariéry nikdy nepřiblížila. Při poslechu desky zažívám nepopsatelný pocit blaha a příjemné mrazení, které se dostavuje v enormně častých intervalech. Podobně silné vibrace u mě v tak silné míře už žádná jiná nahrávka Rush nedokáže vyvolat – i když se o to spousta z nich sveřepě snaží.
Po zmíněných klávesových eskapádách Geddyho Lee je to především (akustická) kytara Alexe Lifesona, která mě naprosto uchvacuje. Její dokonale nastavený rozmáchlý zvuk, načasování a množství akustických vsuvek, běhů a dokreslovacích momentů dělá z alba suverénního vítěze.
Už od úvodních mohutných tónů The Big Money je zaděláno na mimořádnou situaci, především Geddyho basové extempore, bublající vespod, je překrásné. Náhle se ale objeví Alex s akustikou a píseň graduje. Vnímám ji spíš ale jako takovou rozehřívací věcičku, opravdové skvosty totiž už už klepou na vrátka. Grand Design posouvá Rush do umělečtějších vod, tady už veškerá slovní zásoba selhává, chce se mi křičet jen DOKONALOST!! Geniální sehranost trojčlenného týmu a parádní aranžmá vyloupnou naprosto famózní záležitost.
Manhattan Project začíná velkolepě, ale po chvíli přijde romantická mezihra, Geddyho vokál hladí jako ranní vánek, pak se ovšem zvedne pořádný progrockový vítr, který se prohání po Alexově hmatníku. Skladba roste, basa drží napětí a bohatá Neilova hra otevírá brány nesmrtelnosti.
Nedokážu sdělit, kterou skladbu tu vlastně mám nejraději – střídají se tu velkolepé chvíle s grandiózními, je tu vzdušný gigant Marathon, asijský favorit Territories (s kraťučkým katarzním sólem v závěru), zvukově a aranžérsky překrásná Middletown Dreams nebo předposlední láskou ovoněná Emotion Detector. Peartovy kmitající paličky desku uzavřou prostřednictvím Mystic Rhythms. Pak už cítím pouze spokojenost a bohaté zadostiučinění.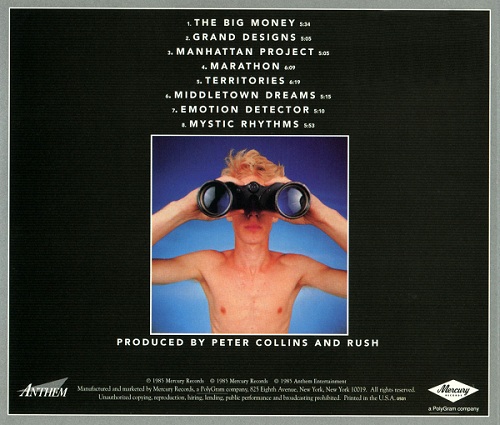 Zvukově šel Peter Collins s kapelou nadoraz, neznám rockovou kolekci z osmé desetiletky, která by nesla podobně mistrovskou zvukovou pečeť. Brilantní záležitost a hlavně srdcovka.
SKLADBY:
1. The Big Money (5:34)
2. Grand Designs (5:05)
3. Manhattan Project (5:04)
4. Marathon (6:09)
5. Territories (6:18)
6. Middletown Dreams (5:15)
7. Emotion Detector (5:10)
8. Mystic Rhythms (5:53)
Music: Alex Lifeson, Geddy Lee
Lyric: Neil Peart
SESTAVA:
Alex Lifeson – electric & acoustic guitars
Geddy Lee – bass, bass pedals, synthesizers, vocals
Neil Peart – drums, acoustic & electronic percussion
+
Andy Richards – keyboards, synth programming
Jim Burgess – synth programming
Andrew Jackman – choir arranger & conductor
25-piece choir
Anne Dudley – strings arranger & conductor
30-piece orchestra
Peter Collins – co-arranger, co-producer
Power Windows
Rush
Prog Rock
Anthem / Mercury
1985
LP, CD
8