CD Ricordi ‎– 74321585542
Se jménem Franco Battiato jsem se prvně setkal prostřednictvím kolekce s poctou italskému progresivnímu rocku Zarathustra's Revenge (1997). Marco Masoni (Germinale) sem přispěl medley, obsahující fragmenty několika Battiatových skladeb:  Areknames / Fenomenologia / Plancton / Tao a Meccanica. Řeknu vám, že ty melodie jsem z hlavy nedokázal vypudit hodně dlouho a když jsem ve svém oblíbeném eshopu našel část Battiatovy diskografie za příznivé ceny, koupil jsem si – po kratší úvaze a testování – první dvě alba. Debut Fetus už jsem na těchto stránkách představil a dnes se pokusím přiblížit aj následovníka…
Stejně jako prvotinka je i Pollution deskou koncepční. Styl by se dal stále ještě definovat jako mix psychedelického rocku a experimentální elektronické hudby, ovšem toho syntezátorového hvízdání ubylo a deska je tak i pro normálního smrtelníka stravitelná bez toho, že by se mu pak v noci zdálo o strašidlech.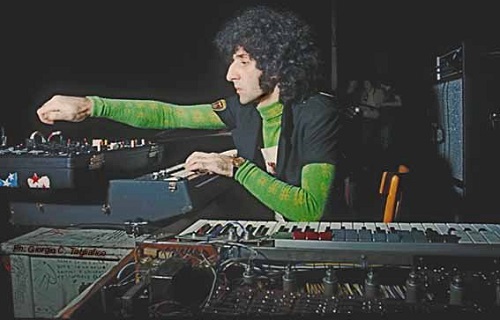 Ples v opeře. Slyšíme melodii připomínající Straussův valčík, šum bavících se hostů, mluvené slovo v italštině, krátkou a intenzivní hlukovou explozi, majestátní sound varhan a máme za sebou první dva tracky, Il silenzio del rumore a 31 dicembre 1999 – ore 9. Přichází jeden z největších Battiatových šlágrů, mystická a sugestivní Areknames. V hlavní roli syntezátor VCS 3 a zpěv. Skutečně pěkná harmonie a velmi podmanivá vokální linka s velice krkolomným textem, který Franco zpívá nějakým tajným jazykem, nebo pozpátku. Zvuková komprese, zrychlení a bicí v závěrečné třetině skladby nemají chybu.
Beta se zpočátku tváří poněkud experimentálně, je tu něco pazvuků a recitativ v italštině, ale najednou se přidají bicí s parádní basovou linkou, piano a máme tu space rock jak vyšitej. Průlet vesmírem ve vláčném a dokonale hypnotickém tempu. Jediným zvláštním prvkem jsou tu použité vokály beze slov a nejednomu by to připomnělo hudbu Hawkwind, nebo Pink Floyd. A v samotném závěru kompozice potěší důvěrně známá melodie Smetanovy Vltavy. Pátá Plancton nabídne bzučení synthesizeru, zvonivé tóny akustické kytary a citlivej zpěv a tak je nejavantgardnějším kouskem na albu titulní flák Pollution.  Tady se mísí zvláštní elektronické zvuky s bubláním vody, hukotem, akustickou kytarou a jednoduchou, až kolovrátkovou melodií. Závěr v podobě skladby Ti sei mai chiesto quale funcione hai? je už jen takovým smutným requiem a není slyšet nic jiného, než klasickou hudbu a pláč tragickou událostí zlomeného muže.
Já jsem ve své podstatě posluchač velice konzervativní a alternativní hudbě se vyhejbám obloukem, ale tuhle desku opravdu můžu. Ve své době byla i docela úspěšná a dodnes je řazena mezi zásadní alba italského progresivního rocku sedmdesátých let. Debutu jsem nadělil tři, téhle nahrávce by slušely tři a půl. Přimhouřím tedy jedno očko a dám slabší čtyřku. Jednak se to fakt dobře poslouchá a taky si myslím, že z Battiatova prvního období (a z pohledu prog rockového fanouška) je to jeho nejlepší a posluchačsky nejpřístupnější deska. Doporučuji fandům muziky experimentálnějšího ražení a prvních desek Pink Floyd.

Původní album vyšlo u Bla Bla Records v prvních dnech roku 1973 a i když jsou desky z produkce tohoto malého vydavatelství špatně sehnatelné a (ne)přiměřeně drahé, dá se koupit za rozumnou cenu. Reedic je na trhu docela dost a to jak na vinylu, tak na CD. To moje je součástí kolekce Battiato Sperimentale 72-78 a je to nedatovanej repress vydání z roku 1998. Stříbrnej kotouček je potištěnej černým písmem a čtyřstránkovej booklet kopií originálního rozevíracího obalu.
SKLADBY:
1. Il silenzio del rumore (2:48)
2. 31 dicembre 1999 – ore 9 (0:20)
3. Areknames (5:07)
4. Beta (7:25)
5. Plancton (5:03)
6. Pollution (8:49)
7. Ti sei mai chiesto quale funzione hai ? (3:35)
SESTAVA:
Franco Battiato: Voce solista / Voce strumentale – VCS 3
+
Ruby Cacciapaglia: VCS 3 / Pianoforte filtrato – VCS 2
Gianfranco D'Adda: Batteria – timpani – compressore
Mario Ellepi: Chitarra acustica / 12 corde, Elettrica – filtrata, VCS 3 / voce
Gianni Mocchetti: Basso / Basso filtrato – VCS 2 / voce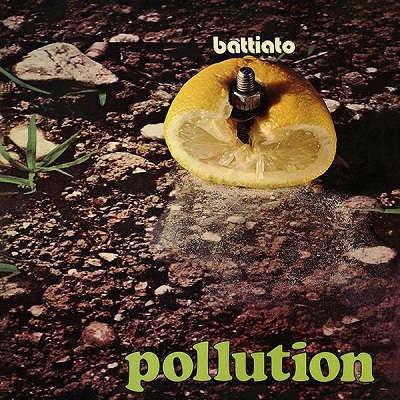 Pollution
Battiato
Experimental, Prog Rock, Psychedelic Rock
Bla Bla
1973
LP
7
CD Ricordi ‎– 74321585542