Pamätám si na moment, keď som sa prvýkrát stretol so skupinou Molly Hatchet. Bolo to roku 1979 a naša miestna rozhlasová stanica ju predstavila v rockovej show "Boogie No More". Išlo o trojitý gitarový záprah – Dave Hlubek, Duane Roland a Steve Holland – ktorý poháňal správne južansky zastretý vokál Dannyho Joea Browna. A mne sa to veľmi zapáčilo.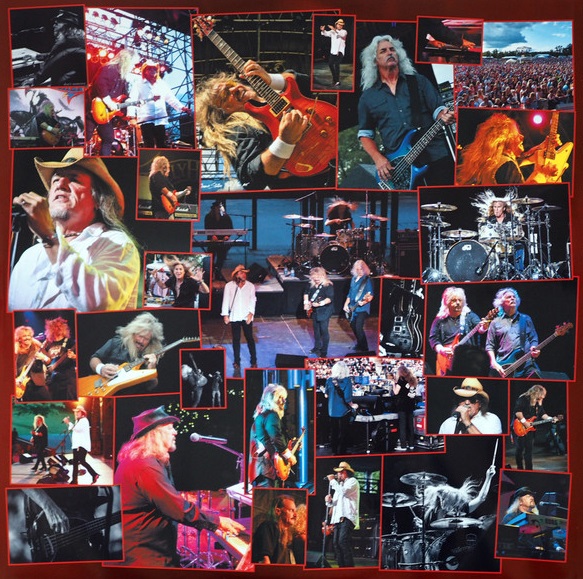 V roku 1985 vyšiel fantastický živák Double Trouble Live, na ktorom hrajú už iba prví dvaja vyššie menovaní gitaristi a stále je to jeden z mojich najobľúbenejších southern rockových albumov. Postupne došlo v skupine, ku ktorej nebol osud príliš láskavý, k veľkým zmenám. Zo siedmich hudobníkov, ktorí hrali na debutovom albume Molly Hatchet (1978), je nažive už iba Steve Holland, ktorý odišiel v roku 1984. Z nedávnej zostavy tento svet opustili Hlubek (2017) a spevák Phil McCormack (2019), ale Molly Hatchet je stále tu. Jadro, ktoré tvorí kvarteto Bobby Ingram (gitara), John Galvin (klávesy), Shawn Beamer (bicie) a Tim Lindsey (basgitara), je spolu už vyše pätnásť rokov a práve k sebe pribralo speváka Jimmyho Elkinsa, s ktorým pokračuje ďalej.
Ingram udržuje Molly Hatchet v chode prakticky od roku 1987 a hoci nebol zakladajúcim členom, vlastní práva na názov kapely. Po tom, čo zomrel Hlubek, prehlásil, že Dave je nenahraditeľný a už nechce hrať s iným gitaristom. To znamená, že pôvodný trojitý gitarový atak sa dnes zredukoval na jednu gitaru a hoci Galvin odvádza v pozadí skvelú prácu, na pódiu to už nemôže byť také ako v minulosti. Molly Hatchet milujem 40 rokov. Je to živá skupina, ktorá je stále na cestách a Battleground už jej siedmym koncertným albumom. Ingram je výborný hráč, ale ani on nedokáže na pódiu zastúpiť prácu ostatných gitaristov. Škoda…
Dostávame tu mix piesní z celej kariéry, tri z úplne prvého albumu (Bounty Hunter, The Creeper a Dreams I'll Never See), štyri z dvojky Flirtin' With Disaster, vrátane titulnej skladby. Áno, funguje to, je to zábava, ale nie je to také dokonalé, ako by si to zaslúžilo, pretože tu chýba ešte jedna gitara. Ani taký šikovný gitarista, akým Bobby Ingram nepochybne je, nemôže sám dotiahnuť k dokonalosti takú Beatin' The Odds.
Máme tu skupinu, ktorá má skvelý repertoár a je z čoho vyberať. Ak však budete chcieť počuť skutočne živé prevedenie jej skladieb, siahnite trebárs po Double Trouble Live. Napriek mojej výčitke ohľadom nástrojového zloženia kapely – Battleground je sakramentsky vydarená nahrávka.
Moje hodnotenie: 8/10.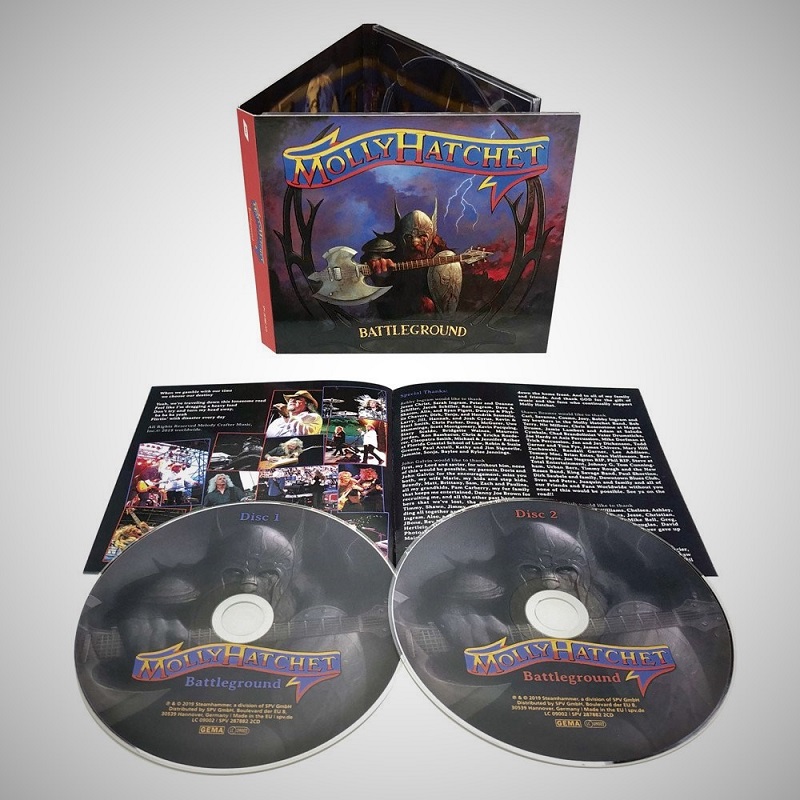 SKLADBY:
Disc 1
01. Bounty Hunter 3:10
02. Whiskey Man 3:46
03. Why Won't You Take Me Home 3:19
04. Son Of The South 5:03
05. American Pride 4:18
06. Eagle Of Sundown 3:56
07. Fall Of The Peacemaker 5:30
08. Devil's Canyon 5:45
09. One Man's Pleasure 3:52
10.  The Creeper 5:09
11.  In The Darkness Of The Night 4:45
Disc 2
01. Justice 8:09
02. As Heaven Is Forever 5:00
03. I'm Gonna Live Til I Die 7:52
04. Beatin' The Odds 3:28
05. Junkin' City 2:08
06. Dreams I'll Never See 7:34
07. The Journey 7:34
08. Flirtin' With Disaster 5:42
NOTES:
Recorded live in Pratteln – Switzerland, Ludwigsburg – Germany, and during Molly Hatchet's 40th-anniversary tour of the United States.
ZOSTAVA:
Jimmy Elkins – vocals 
Bobby Ingram – guitar
Tim Lindsey – bass
Shawn Beamer – drums
John Galvin – keyboards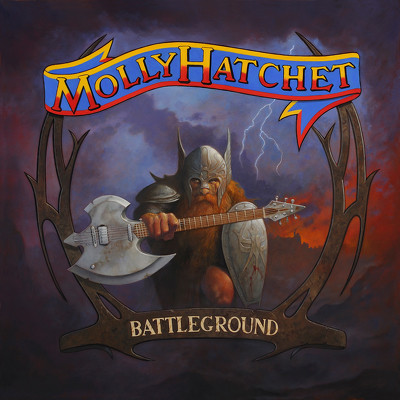 Battleground
Molly Hatchet
Southern Rock, Hard Rock
Steamhammer
2019
2xCD, 3xLP
19