Zkratka UFO znamená v češtině neidentifikovatelný létající objekt. Nebudu tady rozvíjet konspirační teorie o tom, zda létající talíře existují, či nikoli. O to mi nejde. Pouze se pokusím o lehkou parafrázi onoho významu. Skupina UFO byla pro mě dlouho takovým neidentifikovatelným rockovým objektem, o němž jsem něco mlhavě tušil (znalost skladby Doctor Doctor), ale k podrobnějšímu průzkumu jsem se dlouho nemohl odhodlat.
První dvě studiová alba jsem pominul a vrhnul se až na éru s německým kytaristou Michaelem Schenkerem. Ten se poprvé hráčsky a skladatelsky podílí na třetím albu Phenomenon a přeměňuje do té doby spíše space rockovou partičku kolem zpěváka Phila Mogga v říznou hardrockovou úderku s jasným a přímým tahem na branku. Jeho jméno také najdeme podepsáno pod osmi z deseti skladeb uvedených na desce, přičemž jedna z nich, Built For Comfort, je coververzí Willieho Dixona.
Na albu Phenomenon je hudba s ohromným nábojem, která si nehraje na žádné velké umění a posluchače od začátku drží v napětí, s jakým že riffem či sólem skupina v další skladbě překvapí. A že je co poslouchat. Od prvních tónů úvodní přímočaré Oh My se nudit nebudeme. Skupina na nás hrne jeden riff za druhým a fenomenální germánský ostrostřelec je prokládá skvělými sóly a vyhrávkami. Z jeho hry cítím mladickou invenci, zápal a radost. Stačí si poslechnout instrumentální pasáž v hitovce Rock Bottom, abych měl jasno, že tuhle kapelu můžu. Ale ještě víc se mi líbí následující píseň Too Young To Know, druhá z těch, pod nimiž není Schenker podepsaný. To ale neznamená, že by jeho vklad nebyl patrný. Charakteristický jasný zvuk jeho kytary, která zde v podstatě po celou dobu sóluje, mě nenechává chladným. A když začne instrumentálka Lipstick Traces, tak to už blahem přímo pochrochtávám, vlním se do rytmu a říkám si, proč jsem nemohl takovou krásu objevit už dřív.
Jediné, co bych desce Phenomenon vytkl, je kupodivu zpěv Philla Mogga. V pomalejších kouscích mu nemám co vyknout, ale v těch svižnějších se mi zdá, že občas až příliš tlačí na pilu, čímž se z jeho hlasu vytrácí lehkost. Ale to je pouze a jenom můj problém.
P.S. Vlastním vydání z roku 2014, na kterém je prohozena původně první skladba Too Young To Know se skladbou Oh My.
Skladby:
01. Oh My  2:26
02. Crystal Light  3:44
03. Doctor Doctor 4:10
04. Space Child  3:58
05. Rock Bottom  6:30
06. Too Young To Know  3:07
07. Time On My Hands  4:10
08. Built For Comfort  3:01
09. Lipstick Traces  2:17
10. Queen Of The Deep  5:43
Sestava:
Phil Mogg – vocals
Michael Schenker – guitar
Pete Way – bass
Andy Parker – drums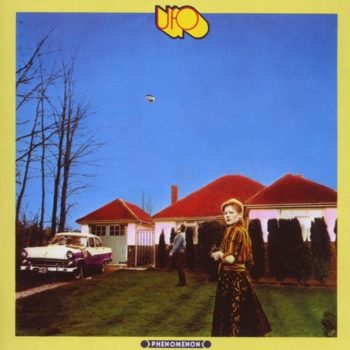 Phenomenon
UFO
Hard rock
Chrysalis
1974
10
CD Chrysalis – 2564636163, Warner Music Group – 2564636163