První (eponymní) studiové album legendárních Led Zeppelin vnímám jako skutečně mimořádný hudební nástup, který v širším slova smyslu předjímá novou dobu, novou hudbu a nové vnímání hudby. Určitě si Jimmy Page a lidé, kterými se obklopil, nemysleli, že by nějakým progresivním způsobem měli změnit svět hudby. Myslím, že pracovali se svými nejlepšími hudebními principy a postoji ve snaze docílit obecného uznání.
Page, otráven z vývoje rozpadajících se The Yardbirds a rozezlen nad nesplněnými smluvními závazky, chtěl svými přirozenými ambicemi dokázat, že vystoupí ze stínu The Yardbirds a že je schopen postavit novou kapelu, která bude stát na betonových základech. Měl šťastnou ruku při výběru svých spoluhráčů a tak zde máme možnost posoudit vzájemnou kooperaci v tom nejlepším slova smyslu.
Pro mě začali existovat Led Zeppelin v r. 1969 díky Pop Music Expressu a několika natočeným skladbám na kotoučových magnetofonech, které starší kytaristé úporně kopírovali, ve snaze se co nejúžeji přimknout k téhle muzice a nalézt recept, jak závratné kytarové party vpravit do své mysli a do svých prstů. Nejprve jsem ovšem získal za 100 Kč singl Good Times Bad Times / Communication Breakdown a tomu jsem totálně propadl. Cesta k albu byla otevřená širokými veřejemi a tak přes albové verze jsem se propracoval k digitálnímu CD a užívám si ho dodnes jako před tolika lety.
GOOD TIMES BAD TIMES – Úderný nástup. Nekompromisní tvrdý zvuk výtečně šlapající kapely. Bonhamovy bicí nástroje mají důraznost a ryčnost, přitom zbytečně nekomplikují rytmickou strukturu a jedinečným způsobem se doplňují s Jonesovou melodickou basovou linkou. A je zde samozřejmě famózní Jimmy Page. Nádherné spojovací můstky, akordické proměny a především výtečně vypreparované kytarové sólo s řadou výjezdů a sjezdů s pořadně zaostřeným tónem, stejně jako Robert Plant a jeho syrový, sytý a výbušně emocionální vokální projev. Jeho hlas je pro instrumentální trio opravdovým požehnáním, jak bude přesvědčovat nejen zde, ale i v dalších skladbách. Přestože název HARD ROCK se narodil oficiálně v r. 1970, pro mě je hard rockem jako zvon právě tahle skladba a už to tak zůstane! Díky, pánové!
BABY I'M GONNA LEAVE YOU – Krásné playbacky akustických kytar. Rozlamované akordy v sestupných harmonických strukturách. Tohle je setkání melancholie s nostalgií. Jestliže se někdy někomu podařilo mistrovským způsobem vyjádřit obsah smyslu loučení a ztráty, pak se to povedlo právě zde. Je tady smutek, hořkost, bezradnost, starost, bolest. Tohle demonstruje jednak Plant svým mistrovským vokálním podáním, stejně jako harmonie a posléze nástup dunivé rytmiky s řadou breaků a masivní útočností, která se hrne vpřed jako nerozstřelitelná skála. Údernost a nekompromisnost si zde podávají ruce s akustickou melancholičností. Myslím, že spojit akustickou baladu s hřmotným rockem v této poloze v Británii nikdo do té chvíle nesvedl. Vedle dalšímu díku téhle partě musím vyseknout poklonu i Anne Bredon, která bývá jako autorka někdy vytěsňována. Nádherný záběr v superjemném dynamickém odstínu rozlamovaných akordů v sestupech a v náhlém mollově majovém akordickém závěru. Krása.
YOU SHOOK ME – Led Zeppelin sáhli po bluesové klasice. V dané době bylo zvykem, aby rockové kapely, které propojovaly důrazný rock, spojovaly svoje ambice s blues. Nehledě na to, že Page i Plant měli k téhle hudbě vždycky blízko. Rok předtím ovšem předběhl Page jeho starý kamarád, souputník a konkurent Jeff Beck. Přiznám se, že se mi dodnes líbí obě verze, jak Beckova, tak tahle. Každá má svoji osobitost a každá přináší vynalézavé postupy, jak se se starým blues vyrovnat. Těžký zadek Bonhamových bicích se sune jako pomalá želva a já si mohu vychutnat Jonesovy hammondky, které výtečným způsobem coby  dokonalý studiový sideman dokázal zahrát s jedinečnou erudicí, ale i Plantovu foukací harmoniku. Page ovšem přichází ke slovu a jeho zkreslený tón se tříští v prostoru v mnohých kaleidoskopických obrazcích. Nádhera, stejně tak vnímam i Plantůlv vokální projev, který bluesově sjíždí do spodních poloh za asistence Pageovy kytary. Pak zde máme dnes už pověstný souboj kytarových tónů s Plantovými hlasivkami a jeho naříkavým a mysteriózním projevem. Tomu ovšem říkám odevzdání se hudbě na plný plyn!
DAZED AND CONFUSED – Houpavý rytmus a sestupné akordické variace se s Plantem doplňují ve famózním formátu. Máme tu dravý rockový riff s výrazným nástupem a částečně ovládanými emocemi, kdy se dramatický projev jedinečným způsobem dotýká mojí duše. I na tohle album dosáhla britská psychedelie šedesátých let a určitě to nebude naposledy. Tajemné destruktivní tóny v astrálním nekonečnu se strašidelným hallem jsou velmi účinné. Stejně jako tepot bonhamovské baterie a výrazné basové téma. Prudký nástup a kapela se jako o život řítí vpřed jako rychlík temným tunelem plným ozvěn a míhajících se světel. V devětašedesátém roce už britská scéna žila řadou divokých hudebních ambicí ve stylu The Who, Jimi Hendrixe, Ten Years After, posmrtných Cream, ale docílit takového hudebního modelu znamenalo uvolnit ventil pořádně přetopeného kotle.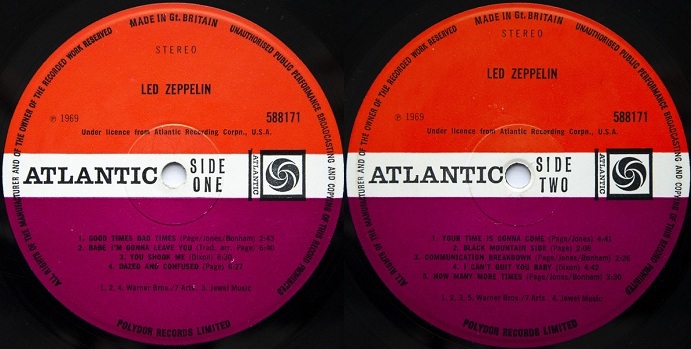 YOUR TIME IS GONNA COME – Nádherné téma na kostelní varhany. Církevní obřad, liturgické zamyšlení, vznešenost gotické katedrály? Asi všechno v jednom. V následné časti se promění Jonesova hra na preludium, kam se vejde Pageova akustická kytara, neomylně dusající Bonhamova rytmika a vypravěčsky umírněný hlas Planta. Interpretace zní umírněně a nic na tom nemění ani údery do korpusu akustické kytary, ale v textu se odehrávají varovné signály, které popouštějí emoce v pomstychtivém pojetí. Page využívá i pedálovou steel-kytaru a její spojení s akustickými kytarami je velmi účinné a zdařilé. My si užíváme píseň v nekonečném fade-outu, který přechází do další skladby.
BLACK MOUNTAIN SIDE – A už ji tu máme. Nádherný příklad hry na akustickou kytaru, v níž se snoubí britské folkové tradice s arabskou, indickou, ale i staroanglickou hudbou. Dobře vymyšlené kytarové schéma doprovází na indické bubínky tabla Viram Jasani, v Londýně žijící indický hudebník, kterého přizval Page do téhle jedinečné instrumentální skladby, vymykající se dosavadnímu hudebnímu materiálu a přinášející meditativní uvolnění.
COMMUNICATION BREAKDOWN – Jsme zpátky na dravé rockové půdě. Další silný riff, který je páteří skladby. Opakující se schéma pro bubenickou jízdu a baskytarovou linku nabízí jedinečný terén. Page opět rozjíždí svou jízdu na plný plyn, kdy člověk místy nabývá dojmu, že mu nebude stačit počet polí na jeho gibsonu. Ale je tu i Plant, jeho dramatický vokál odrazoval v řadě pozdějších cover kapel zařazovat tuhle skladbu, protože při ní si vylámali zuby všichni rockoví shouteři a už nebyli schopni zazpívat další skladbu. Přerušené spojení má zcela nepokrytý sexuální podtón, čemuž nijak neodporuje obsah textu, ale i emocionální Plantův projev, který bych se nebál charakterizovat jako výraz opravdového orgasmu při milování s nadrženou mulatkou. Dravé, syrové, přesvědčivé a plně emocionální od začátku až do konce!
I CAN'T QUIT YOU BABY – Willie Dixon byl miláček kapely. Další jeho skladba posloužila k vytvoření opravdu osobité coververze. Tohle je elektrické blues jak zvon. Má v sobě eleganci projevu, svoje mystérium (Radim Hladík při něm určitě hledal inspiraci při dotváření alba Meditace. Černošské blues Radim nemusel, ale bělošské ho vždycky fascinovalo a tady se domnívám, že se to potvrzuje). Naříkavý nástup Planta otevírá prostor pro náladotvorné pojetí, v němž rytmika šlape v základním gardu. Kytara si pohrává s jednotlivými libůstkami a nádhernými bluesovými skluzy. Plant má prostor pro svoje emocionální vyjádření. Myslím, že začínající bluesový kytarista zde nachází hodně inspiračních zdrojů pro svoje tónové variace i práci se zvukem. Kdo by takto nechtěl umět hrát? Zrychlené výměny a důrazné akordické záseky se prolínají s jemným rozvolněním a procítěním. Blues jako řemen bez jakýchkoliv pochybností!
HOW MANY MORE TIMES – Výrazný rockový riff prorůstá celou skladbou a hřmotné bicí s nálety činelového šustění prorůstají kompoziční strukturou, která není nijak rafinovaná, ale přesto sofistikovaná a ve výsledku velmi účinná a přesvědčivá. Led Zeppelin tady pracují jako výtečně namazaný megastroj v továrně. Drásavé kytarové sólo v prostoru ukazuje pageovské pohrávání si s detaily a modulace tónových obrazců má famózní vibrace, což se ve stereofonním poslechu nádherně propojuje a navíc se mu sem podařilo dostat i vrcholné dílo evropského impresionismu, Bolero Maurice Ravela, sice jen v několika taktech, ale zcela čitelně. Psychedelické kouzlení se zvuky a perkusivní údery bicích možná trochu nahánějí strach z té jeskynní prostorovosti a plantovské vokální vstupy vytvářejí pozici ceremoniáře před nějakým tajným obřadem. Akcentované údery demonstrují dravost a nespoutanost, pochodové rytmy a sekané akordické doprovody s vypreparovanými basovými unisony jsou jedinečné. Emocionální výkřik jako z rozpáraného hrdla se klene prostorem, kterému vzápětí sekunduje instrumentace pořádně zhuštěného soundu výtečně sehrané kapely. Mocný závěr zastřešuje tuhle virtuální monumentální stavbu. Par excellence!
Dodnes považuji první zeppelinovský projekt za zásadní rockový opus, který nezastaral a má pořád nespoutanou energii, vyváženou několika akustickými vstupy. Zamrzelo mě jediné: že po řadě let zcela nečekaně zaútočil famózní baskytarista Jack Bruce proti Jimmy Pageovi a prohlásil, že Led Zeppelin ukradli původní bluesrockový koncept Cream a že na něm léta cizopasili. Mrzí mě to. Hudba za to ale nemůže, miluji jak Cream tak Led Zeppelin. Jinou volbu než pět hvězdiček ani nemám! Díky – Jimmy, Johne Paule, Roberte a Johne, dokázali jste moje teenagerovská léta pojmenovat a zarámovat, máte to u mě!
SKLADBY:
1. Good Times Bad Times (Page/Jones/Bonham/Plant) 2:46
2. Babe I'm Gonna Leave You (Page/Plant/Bredon) 6:41
3. You Shook Me (Willie Dixon, J. B. Lenoir) 6:28
4. Dazed and Confused (Jimmy Page, inspired by Jake Holmes) 6:26
5. Your Time Is Gonna Come (Page/Jones/Plant) 4:14
6. Black Mountain Side (Jimmy Page) 2:05
7. Communication Breakdown (Page/Jones/Bonham/Plant) 2:27
8. I Can't Quit You Baby (Willie Dixon) 4:42
9. How Many More Times (Page/Jones/Bonham/Plant) 8:28
SESTAVA:
Jimmy Page – electric guitar, acoustic guitar, pedal steel guitar, backing vocal
Robert Plant – vocal, harmonica
John Paul Jones – bass, organ, backing vocal
John Bonham – drums, tympani, backing vocal
+
Viram Jasani – tabla drums on Black Mountain Side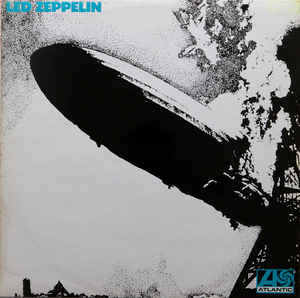 Led Zeppelin
Led Zeppelin
Hard Rock, Blues Rock
Atlantic
1969
LP
9
CD