Album Songs From The Wood konečně ukazuje Jethro Tull v té jejich nejpřirozenější poloze. Zapomeňme na blues rock, na přílišnou artrockovou komplikovanost a vyrazme do přírody, na místa, kde se to hemží elfy, skřítky a kouzly všeho druhu. Občas kolem proběhne veselá zbojnická cháska ze Sherwoodu, což není na škodu, neboť středověké inspirace patří k Ianu Andersonovi stejně neodmyslitelně jako toulec plný šípů a dlouhý luk k Robinu Hoodovi.
Od úvodního skvostu Songs From The Wood až po závěrečnou píseň Fire At Midnight se jedná o album plné silných a neotřelých melodií vycházejících tu více, tu méně z keltských motivů. Jenomže to by nesměli být Jethro Tull, aby výsledný tvar místy neobalili i varhanním kabátem a nedodali tomu všemu mírně pompézní barokní atmosféru, což je patrné především v písni Hunting Girl a předposlední rozsáhlé kompozici Pibroch (Cap In Hand).
Ale nelekej se, milý posluchači, pořád jsou to ti Andersonovi Jethro Tull, jak je známe. Atributy známé z dřívější tvorby zůstaly, a kdyby se opomnělo na příčnou flétnu, byla by to snad svatokrádež. K tomu však se připojují zvuky různých zvonců, kteréžto jenom zdůrazňují pohodovost celé nahrávky. V mé oblíbené skladbě Velvet Green na začátku zazní zvuky cembala, což jen podtrhuje hravost celé písně.
Samozřejmě nemůžu zapomenout na milovanou skladbu The Whistler, již jsem slyšel v dobách gymnaziálních studií v rámci soutěže Anglická píseň v podání starších studentů. Tenkrát jsem o Jethro Tull neměl ponětí, ale už tenkrát mě velice zaujala její "irská" skočnost a rozvernost.
Album Songs From The Wood je pro mě vskutku posledním vynikajícím albem, které vytvořila parta kolem Iana Andersona. Počínaje následujícím Heavy Horses mi na ostatních nahrávkách vždy něco chybí, nebo přebývá, což je vždy na škodu věci.
Skladby:
1. Songs From The Wood 4:52
2. Jack-in-the-Green 2:27
3. Cup Of Wonder 4:30
4. Hunting Girl 5:11
5. Ring Out Solstice Bells 3:43
6. Velvet Green 6:03
7. The Whistler 3:30
8. Pibroch (Cup In Hand) 8:35
9. Fire At Midnight 2:26
Sestava:
Ian Anderson – zpěv, flétna, mandolína, akustická kytara, píšťalky
Martin Barre – elektrická kytara, loutna
John Evan – klavír, varhany, syntezátory
Barriemore Barlow – bicí, marimba, zvonkohra, zvony, nakers a tabor
John Glascock – baskytara, zpěv
David Palmer – klavír, syntezátory, varhanní portativ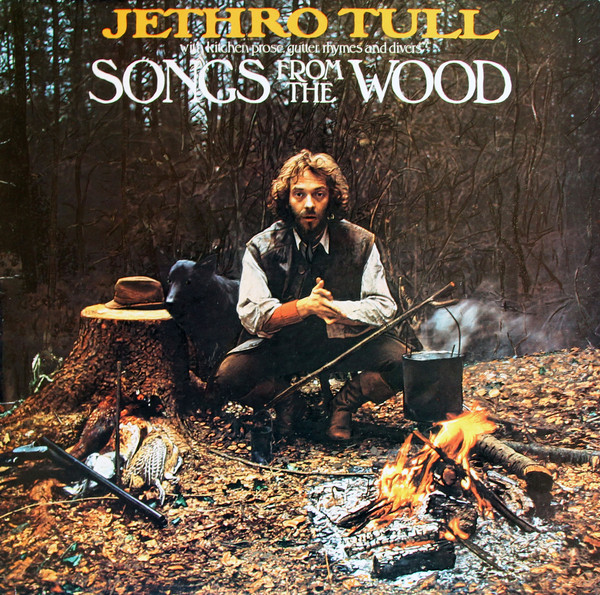 Songs From The Wood
Jethro Tull
Art rock
Chrysalis
1977
LP, CD
9