Tajemná postava bojovníka na obalu desky Argus nutí k otázkám. Kdo to je? Je to onen bájný pastýř, stooký obr Argus, nebo se jedná o starořeckého bojovníka, hoplítu, čekajícího na svou falangu? A co hudba ukrytá uvnitř, bude také podobně tajuplná? Nezbývá, než se konečně do této zvláštní desky zaposlouchat.
Skupina Wishbone Ash zde předkládá sedm kompozic, které vyvolávají představu dávných hrdinských časů, z nichž je slyšet řinčení bronzových a železných mečů o pevné štíty a svištění šípů prorážejících vzduch nad válečnou plání. Oba kytaroví hrdinové, tedy Andy Powell a Ted Turner, zde předvádějí nádherné šarvátky, ze kterých vycházejí vítězně oba dva, a elegantně si předávají jednotlivé sólové party. Navíc si společně s baskytaristou Martinem Turnerem rozdělili jednotlivé pěvecké výstupy, což vyvolává místy představu vokálního kouzlení v éře hippies. Pouze skladba Leaf and Stream je ozdobena jediným hlasem, a to právě Martinovým.
Hudba zde předkládaná také vzbuzuje různé otázky. Je to skutečně hard rock? Pomalejší pasáže místy připomínají poblouznění folk rockem, jindy dokonalé prolínání dvou sólových kytar vyvolává představu jisté progrese v rámci žánru (je vidět, kde ti různí Judas Priest a Iron Maiden brali později inspiraci). Nebudu zde pitvat jednotlivé skladby, natolik je deska tematicky a hudebně sevřená a soudržná. Pouze vyzdvihnu úvodní opus Time Was, který se z počátečního folkového kouzlení mávnutím meče stane velice dravou štikou v této zajímavé rockové řece. V následující Sometime World se blýskne basovým sólem Martin Turner, přičemž obě kytary obalují tuto výraznou basovou linku ozdobnými ornamenty a kudrlinkami. A takto bych mohl pokračovat dále. Hrdinské představy ve mně nejvíc vyvolává předposlední kompozice Warrior zvolna přecházející do nádherné skladby Throw Down The Sword ozdobené vynikajícím sólem Andyho Powella.
Přiznám se, že album jsem neznal, ale pod vlivem kladných ohlasů na progboardu jsem si desku pořídil a nelituji. Skvost. A v tom je hudba nádherná, neboť je pořád co objevovat.
Skladby:
1. Time Was 9:42
2. Sometime World 6:55
3. Blowin' Free 5:18
4. The King Will Come 7:06
5. Life And Stream 3:55
6. Warrior 5:53
7. Throw Down The Sword 5:55
Sestava:
Martin Turner: basa, zpěv
Andy Powell: kytara, zpěv
Ted Turner: kytara, zpěv
Steve Upton: bicí, perkuse
a
John Tout: varhany (7)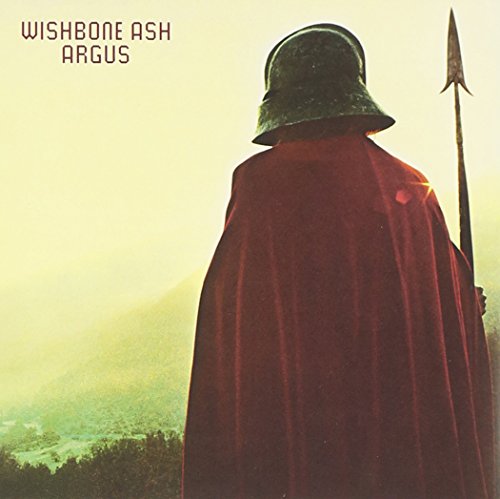 Argus
Wishbone Ash
Hard rock
MCA Records
1972
CD
7+3