Staré dobré časy! Tak by som nazval dobu, keď sa za obľúbenou hudbou muselo doslova cestovať, informácie pracne zháňať a niečo aj obetovať. V dobe, keď som makal v Košiciach a o nejakom internete, eMPé3rojkách a podobných vymoženostiach nemal ani šajnu, ma náhoda spojila s chlapíkom, ktorý prepadol rovnakému koníčku. Jeho kontakty ma priviedli k obrovskému množstvu albumov všetkých možných rockových i metalových škatuliek…
Bolo to v novom miléniu, keď mi Marián v jednej várke ponúkol na ochutnávku aj nemeckú kapelu Eloy. Na CD-R značky Memorex bolo napísané toto: Eloy – Answer & Power And Passion. Rok vydania? Nehrozí! Čo s tým? Pre skúsenejších rockerov možno celkom jasná indícia, ale skúste sa vžiť do kože laika, ktorý dovtedy neprišiel do kontaktu so skupinou. A ešte raz pripomínam – nijaký internet, knihy, časopisy, absolútne žiadne vedomosti a nulová pomoc. A papuľku držal aj Marián, lebo vedel to isté – NIČ!!!
O niekoľko mesiacov neskôr som záhade prišiel na korienok. Pomohla náhoda. V Česku začal vychádzať skvelý časák Classic Rock a v januárovom čísle z roka 2002 publicista Jarda Merhaut predstavil zaujímavé knižné tituly, medzi ktorými bola aj publikácia The Great Rock Discoghraphy, teda už jej 5. edícia z roku 2000, ktorú dal dokopy škótsky autor Martin C. Strong. V tom období sused Maťko vycestoval za robotou do Anglicka, a do mojej knihovničky tak pribudlo spomínané dielo. Z neho som sa dozvedel, že pán Strong spracoval aj špeciály o metale, psychedelii i alternatíve. Nelenil som a milého susedka poprosil o pomoc a zakúpenie spomínaných biblií. Žiaľ, šťastie sa na mňa usmialo iba z jednej tretiny a z Londýna na Šariš docestovalo len druhé vydanie metalovej verzie – The Great Metal Discography z roku 2001.
Na moje obrovské prekvapenie a veľké potešenie v knihe figurovalo aj heslo Eloy. Nebolo to však vôbec jednoduché, ale dajako sa mi podarilo vydedukovať, že snáď by malo ísť o rok 1998 a album Ocean 2: The Answer, ku ktorému bola pribalená oklieštená verzia diela Power And The Passion z roku 1975. UF!!!
A hudba? Atmosferická, fantastická, upokojujúca, lahodná, milá. K tomu skvelý Frank s jeho spevom-nespevom, ľúbeznou angličtinou-neangličtinou, výborní spoluhráči, parádny doplnok v podobe filharmonického zboru od našich susedov z Prahy, šikovné nemecké sopranistky. Stačí? Ak mám vyzdvihnúť niektoré skladby, tak jednoznačne titulnú bombu The Answer, kúzelnú dvojku Ro Setau, najdlhšiu kompozíciu Reflections From The Sheres Beyond…
Časom do mojej zbierky pribudli mnohé originály tejto fenomenálnej formácie z Hannoveru, medzi prvými aj druhý oceán. Na dlhý čas bol Ocean 2: The Answer  môj absolútny TOP od Eloy. Mal však smolu. V deň, keď som doplával k debutu, sa jeho pozícia otriasla v základoch. Nič to však nemení na jeho výnimočnom postavení v mojom rockovom srdiečku – jednoznačne jeden zo štyroch najobľúbenejších albumov od Franka Bornemanna a jeho družiny. A pre zvedavcov dodám aj dva chýbajúce články – Inside (1973) a Floating (1974).
P. S.: V čase, keď sa niekoľko neukojených hyen, ozembuchov a zloduchov – ktorí majú na Zemi všetko pod kontrolou – rozhodlo, že nám to doterajšie živorenie ešte naviac parádne okoronuje, čím totálne paralyzuje svet a civilizáciu, snívam svoj večný sen – stojím v kotli dortmundskej Westfallenhalle v rámci vianočného koncertu legiend nemeckého rocku, ak chcete krautrocku, pričom sa na pódiu striedajú spolky Eloy, Jane, Birth Control, Jeronimo, Weed, Janus, I Drive, Frumpy, Kin Ping Meh, Bullfrog, Night Sun, Tiger B. Smith, Epitaph, Nektar, Dschinn, Parzival, Satin Whale, Twenty Sixty Six & Then, Zarathustra, Amon Düül II, Novalis, Spermüll, Haze, Ikarus, Dull Knife, My Solid Ground, Virus, Scorpions s Ulim Jonom Rothom, Lucifer's Friend a snažím sa aspoň na chvíľu zabudnúť na to svinstvo okolo…
SKLADBY:
1. Between Future And Past (Michael Gerlach) 2:43
2. Ro Setau (Frank Bornemann) 7:09
3. Paralysed Civilization (Bornemann/Gerlach) 9:28
4. Serenity (Bornemann/Gerlach/Matziol) 3:09
5. Awakening of Consciuosness (Bornemann/Gerlach) 6:03
6. Reflections From The Spheres Beyond (Bornemann/Gerlach) 12:59
7. Waves Of Intuition (Bornemann/Matziol) 4:56
8. The Answer (Frank Bornemann) 11:19
ZOSTAVA:
Frank Bornemann – vocals, guitar
Michael Gerlach – keyboards, backing vocals
Klaus-Peter Matziol – bass guitar
Bodo Schopf – drums, percussion
+
Steve Mann – slide guitar on 8
Volker Kuinke – recorder (flute) on 3, 7 & 8
Hannes Folberth – Minimoog on 2
Susanne Schätzle, Tina Lux – backing vocals
Prague Philharmonic Choir on 8
Peter Beckett and Tom Jackson – choir on 8
Daniela Wöhler, Frederike Stübner and Susanne Moldenhauer – soprano voices on 8
NOTES:
Recorded and mixed between August 1997 and July 1998 at Horus Sound Studio, Hannover except additional choir parts of the Prague Philharmonic Choir on The Answer (track 8) recorded at Studio Smecky, Praha.
Mastered at Pauler Acoustics, Northeim / Germany.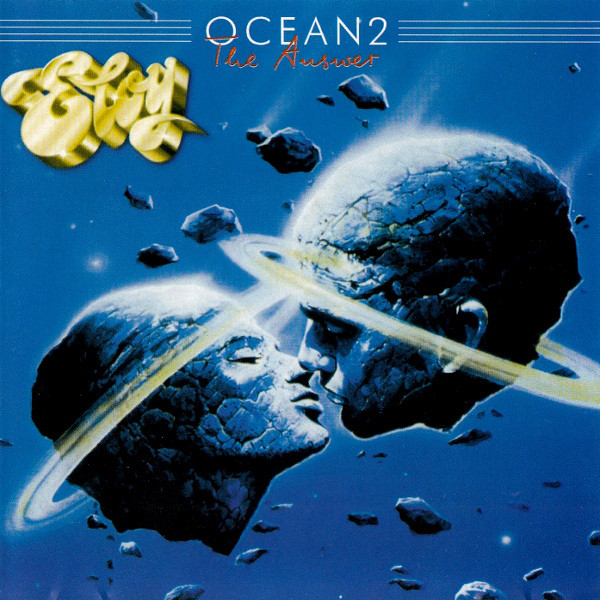 Ocean 2: The Answer
Eloy
Prog Rock
GUN
1998
CD
8
GUN ‎– GUN 167, BMG ‎– 74321 61259 2 /1998/