Hughes Turner Project (HTP) dali dokopy známi protagonisti na podnet, čuduj sa svete, Japoncov. Glenn Hughes a Joe Lynn Turner, hudobníci, ktorých minulosť je spojená so slávnou značkou Deep Purple. V rockovej histórii môžeme nájsť veľa príkladov, keď hráčska rošáda poriadne zamávala fanúšikovskou základňou tej-ktorej skupiny. To isté sa stalo aj im dvom. Jedna ich berie a sleduje do dnešných dní, druhá im nemôže prísť ani na meno… 
Debut HTP prináša chutnú porciu hard rocku. Hoci sa takmer na všetkých piesňach autorsky podieľal aj Joe, počuť, že hlavné slovo mal Glenn. Jeho spolupráca s gitaristom J. J. Marshom je tu citeľná. Predsa len, Turner je skôr melodik, kým Hughes všestranný umelec. A ak je pravda, že základ sa zrodil v Glennovej hlave v priebehu dvoch dní, tak klobúk dole! Z mozaiky 11 kameňov vyzdvihnem hardrockové pecky Devil's Road, Missed Your Name, Ride The Storm a Run Run Run. Z iného súdka pochválim pomalú krásku Heaven's Missing An Angel a záverečný epos On The Ledge.
Pohoda a súhra "párplovskej" dvojice si ma podmanila – skvelé vokály! Na celej doske trápia hlasivky spoločne, prípadne sa striedajú vo vedení, iba raz si strihnú sólo – v balade Mystery Of The Heart Joe pripomenie "dúhové" obdobie a už spomínaná Heaven's Missing An Angel je ukážkou Glennovho majstrovstva. Nesmiem opomenúť jeden dôležitý faktor a to úžasný nástroj – organ Hammond. Vince DiCola čaruje a dokresľuje skladby krásnymi farbami. Tým však nechcem znížiť výkony ostatných hráčov a hostí, práve naopak.
…Hlásim sa k prvej sorte, osud Hughesa a Turnera mi nie je ľahostajný ani v súčasnosti. Nech je za tým čokoľvek, s radosťou som uvítal ich spoluprácu. Hviezdy, ktoré na hudobnom nebi najviac žiarili v 70. a 80. rokoch, to stále vedia a majú čo povedať aj dnes.
Skladby:
01. Devil's Road (Hughes/Marsh/Turner) 5:47
02. You Can't Stop Rock N' Roll (Hughes/Marsh/Turner) 4:47
03. Missed Your Name (Hughes/Marsh/Turner) 5:10
04. Mystery Of The Heart (Hughes/Marsh/Turner) 5:59
05. Sister Midnight (Hughes/Marsh/Turner) 5:05
06. Better Man (Hughes) 5:30
07. Heaven's Missing An Angel (Hughes/Marsh/Sykes) 7:13
08. Fade Away (Hughes/Marsh/Turner) 6:56
09. Ride The Storm (Hughes/Marsh/Turner) 3:54
10. Run Run Run (Hughes/Marsh/Turner) 3:56
11. On The Ledge (Hughes/Marsh/DiCola) 7:12
Zostava:
Glenn Hughes – all vocals [except for Mystery of the Heart], bass
Joe Lynn Turner – all vocals [except for Heaven's Missing an Angel]
J. J. Marsh – guitars
Shane Gaalaas – drums
Vince DiCola – keyboards
+
Paul Gilbert – guitar solo on You Can't Stop Rock & Roll
John Sykes – guitar solo and background vocals on Heaven's Missing an Angel
Akira Kajiyama – guitar on Ride the Storm, Against the Wall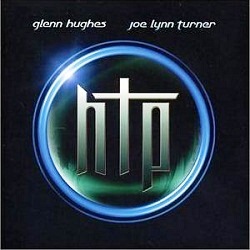 HTP
Hughes Turner Project
hard rock
MTM Music
2002
CD
11