URIAH HEEP & THE ZOMBIES
3.11.2018 – Nemecko, Trier, Europahalle
Na jeseň roku 2018 Uriah Heep absolvovali veľké európske turné a v rámci neho navštívili aj významné historické mesto Trier v údolí rieky Mosely. V predprograme vystúpili starí známi The Zombies. 
Táto kapela vznikla už pred 55 rokmi a stále je aktívna. Sú v nej, okrem iných, zakladatelia Rod Argent (klávesy, spev) a Colin Blunstone (spev). Najväčšie hity, ako napríklad Hold Your Head Up, Time Of The Season alebo She's Not There, síce chýbali, ale nakrátko sa program zmiešal aj s číslami skupiny Argent. Publikum, možno aj na prekvapenie organizátorov, dávalo hlasne najavo svoju spokojnosť. Dokonca bol na chvíľu vypnutý aj prúd, kým mohli The Zombies znova hrať. Žeby mali Uriah Heep strach z konkurencie?

Hoci boli zombíci milým prekvapením, vystúpenie Uriah Heep to nijako neohrozilo. Hneď od začiatku sa všetci piati hudobníci naplno zapojili do koncertu a na úvod ponúkli otvárak Grazed By Heaven z nového albumu Living The Dream. Skutočnosť, že gitarista Mick Box je stále kráľom wah wah pedálu, sa čoskoro potvrdila. Pôsobivý bol aj bubeník Russell Gilbrook, v ktorého hre je neuveriteľná sila i energia. Na čo som sa najviac tešil, bol Bernie Shaw, ktorý spieval naozaj dobre. Zažil som to už v minulosti a opäť sa mi to iba potvrdilo.

Samozrejme, kapela hrala mnohé zo svojich najznámejších skladieb, vrátane skvelých verzií Gypsy a Easy Livin'. Bohužiaľ, akustická gitara bola použitá len raz, čo mi je ľúto. Elektrická gitara sa menila častejšie. Je rovnako pochopiteľné, že pri takej bohatej histórii sa nedostalo na všetky albumy skupiny. Snáď preto, že najlepšie piesne pochádzajú od Kena Hensleyho? Ale čo, veď vystúpenie predsa nemôže trvať donekonečna.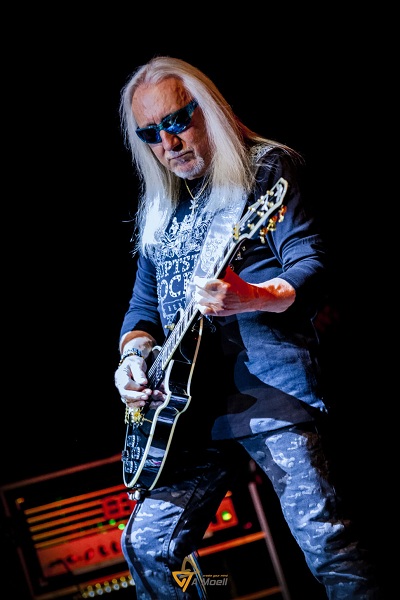 Zvuk bol vyvážený a znel úžasne ako v prednom rade, tak aj vzadu. Scéna a svetelná show boli v poriadku. Fakt, že Mick Box pôsobí aj po sedemdesiatke mlado (nielen na javisku, ešte pred koncertom som mal možnosť stretnúť sa s ním na niekoľko minút) je jednoducho obdivuhodná. Príliš starý na rock'n'roll? Určite nie. A návštevníci sa so spokojným úsmevom mohli pobrať do chladnej noci…

Fotogaléria, autor Alexander Moell:
THE ZOMBIES
URIAH HEEP