V roce 1985 Peter Hammill pracoval na nové, dychtivě očekávané studiovce Skin (přeci jen předchozí rok 1984 jeho kompilační album znovunatočených love songs Love Songs nepřineslo nic nového, "jen" starší milostné skladby v novém kabátě). Album Skin bylo natočené ve složení, které po přečtení vzbudí velké očekávání, ale nadšení je bohužel trochu zbytečné. Sešli se zde Peter Hammill, David Jackson, Guy Evans, Hugh Banton (takže komplet Van der Graaf Generator), již zesnulý Stuart Gordon a ještě několik dalších lidí včetně Davida Coultera hrajícího na exotické didgeridoo.
Album je kolekcí hodně nadprůměrných skladeb: klidná After the Show s výborným, neobvykle citlivým saxofonem Davida Jacksona, baladická Shell, malá hudební opera a la Hammill Four Pails nebo nejlepší věc na albu – desetiminutová Now Lover – skladba hudebně i kompozičně v duchu nejlepších VdGG, také se opravdu hodně podobá skladbám této kultovní kapely ze sedmdesátých let. Jako by se člověk na chvíli vrátil v čase. Je to příjemné, ale právě proto, že taková skladba je na albu jedinou, je to také trochu smutné.
Album je ale dále kolekcí také hodně podprůměrných, synteticky znějících písní – bohužel už úvodní skladba s osmdesátkovými bicími a klávesami mě nikdy moc nebavila, orchestrálně znějící Painting by Numbers je průměrný rock pop a třeba bonusový singl You Hit Me Where I Live je už přímo popová příšernost a je jen těžko uvěřitelné, že něco takového pochází od Petera Hammilla.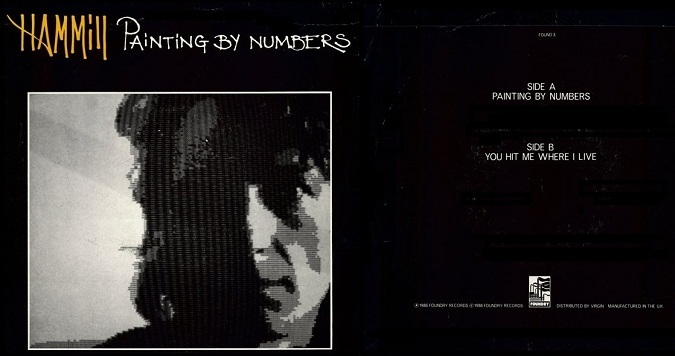 Takže sečteno a podtrženo, jedná se o průměrné album, kde průměrné není nic, buď nadprůměr nebo podprůměr… hmm, snad se do toho nezamotávám. Peterovi by v osmdesátých letech minulého století možná prospělo vydat méně alb, ale více třídit to, co vytvořil. Více "vyhazovat".
Dávám stěží 3 body (z pěti možných), ale naštěstí je podle mě takto ne úplně povedených alb u Petera Hammilla minimum. Což ho vzhledem k jeho nadprodukci šlechtí. Hned následující výborné album And Close As This je už úplně jiné kafe (nebo třeba pivo, dosaďte si dle své chuti). Takové, co vám tak chutná, že si ho hned chcete dát znovu.
SKLADBY:
01. Skin (4:18)
02. After the Show (4:20)
03. Painting by Numbers (4:01)
04. Shell (4:18)
05. All Said and Done (3:40)
06. A Perfect Date (4:11)
07. Four Pails (4:26)
08. Now Lover (9:47)
Bonus Tracks on 1986 Date Rec. CD:
09. You Hit Me Where I Live (Single) (4:27)
10. Painting By Numbers (Extended version) (4:43)
SESTAVA:
Peter Hammill: vocals, guitars, keyboards (Yamaha DX7 synth), Emu drum machine, producer
+
Stuart Gordon: violin, viola
Hugh Banton: cello
David Jackson: saxes
Guy Evans: drums, percussion
David Coulter: didgeridoo
David Luckhurst: voice
Paul Ridout: electronics
Skin
Peter Hammill
Prog rock
Foundry Records
1986
LP, CD
8
CD: Date Records ‎- DACD 9.00145 O (1986)