Vynikajúci, skutočne federálny, česko–moravsko–slovenský album, na ktorom sa stretáva a premiešava jazz rockové a počínajúce art rockové cítenie zúčastnených muzikantov. Posledné regulérne dielo kapely ešte s poctivou basgitarou.
Radim Hladík tu hrá často, ako český Steve Howe, rytmika Fedor Frešo a Vlado Čech si evidentne rozumie a ich spoločný prínos na albume je markantný. Oldo Veselý hrá na klávesy relatívne striedmo, ale vysoko účelne, žiadne zbytočné predvádzanie sa. Po rokoch počúvania tohoto diela si ho v konfrontácii s európskym art rockom a jazz rockom z ľubovoľných končín sveta vážim stále viac.
Vysoká stolička, dlhý popol a V sobotu popoludní sú skladby, kde dominuje Radimova gitara, ale basové linky Fedora mu skvele sekundujú. Ej, padá, padá rosenka, do art rockového tvaru pretvorená ľudovka, je ukážkou majstrovského aranžérskeho umenia najmä Oldu Veselého na klávesách, rovnako tak i po vokálnej stránke. A titulná, takmer 20 minútová suita Svitanie sa vyrovná art rockovým poémam mnohých, oveľa známejších a vo svete etablovaných kapiel 70. rokov.
Bonus Golem pôsobí trochu úsmevne a čiastočne narúša prirodzenú koncepciu a atmosféru albumu.
Je len a len dobré, že aj v rokoch neprajných tejto hudbe v dobe a na mieste, kde vznikla, sa štvorici československých muzikantov podaril takýto kúsok. Škoda, že nemôžem dať 4 a pol bodu…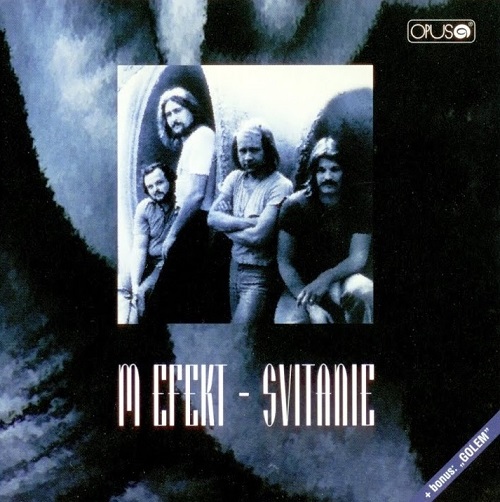 SKLADBY:
1. Vysoká stolička, dlhý popol /Frešo, Veselý, Hladík/ 10:16
2. Ej, padá, padá rosenka /Frešo, Veselý, Hladík, Čech/ 6:38
3. V sobotu popoludní /Frešo, Veselý, Hladík/ 4:17
4. Svitanie /Frešo, Veselý, Hladík, J. Hutka/ 19:34
Bonus:
5. Golem /Hladík, J. Krůta/ 6:47
NOTES:
Tracks 1 to 4 recorded at studio Opus, Pezinok – January 1977.
Track 5 recorded at studio Supraphon, Praha – Dejvice 1976.
Taken from the album "Staré Pověsti České" (Supraphon 1 13 1719) © 1976.
ZOSTAVA:
Radim Hladík – gitary
Fedor Frešo – basová gitara, basová mandolína, vokál, percussion
Oldřich Veselý – klávesové nástroje, spev
Vlado Čech – bicie, percussion
Svitanie
M Efekt
Prog Rock
Opus
1977
LP
4
CD Opus ‎– 91 2629-2 311 /1998/