Kovová Metalinda je zásadne proti dnešnej Dobe umelohmotnej
"Všetko dobré bolo, rockenrol aj jazz, dám si kilo hmoty umeliny dnes…" spieva legendárna Metalinda vo svojom najnovšom klipe ku skladbe Doba umelohmotná, pochádzajúcej z ich najnovšieho albumu Moja hviezda žije (2019). Do úvodu si muzikanti požičali známu scénku z kultového českého filmu Pelíšky: "Pozor, to nejsou obyčejné lžičky. To jsou lžičky z umělé hmoty. Lehké, ohebné, pružné. To jsou lžičky, které vyvinuli výzkumníci z NDR. Víte?," chváli sa Miroslav Donutil lyžičkami výskumníkov z východného Nemecka.
Zastihla nás strašná doba
"Zažili sme dobu ľadovú, kamennú, bronzovú, železnú… Keď som sa jedného dňa prechádzal po meste, uvedomil som si, že teraz žijeme umelohmotnú. Veď všetko sa vyrába z plastov a čo si kúpim, hneď sa aj zlomí. To ma inšpirovalo k tomu, že som napísal skladbu s týmto textom. Pesnička má hardrockovo metalový sound, rýchlosť aj text. Myslím, že som súčasnosť vystihol. Je tu strašne veľa odpadu, sme doslova zavalení umelou hmotou. Autá, elektronika, snáď všetko je vyrobené z plastu. Kedysi boli rôzne prehrávače, zosilňovače kovové a mali svoj šmrnc a kvalitu. Dnes je to všetko z umelej hmoty, som z toho celkom znechutený, dúfam, že sa nezačnú aj gitary robiť z umelej hmoty… Čo nás ale najviac všetkých v kapele naštvalo je to, že všade je odpad. V moriach a oceánoch ho plávajú tony… Tak ako aj nám, ani prírode a zvieratám sa to určite nepáči. Odpad musíme separovať. V zberni hodnotu nemá, preto ho ľudia rozhadzujú po okolí. A to nehovorím o ďalšom veľkom probléme, o chémii v potravinách. Éčka, ktoré vo všetkom jeme, to je čistá smrť….," vraví šéf Metalindy Peter Sámel a teší sa z toho, že sú asi prví, ktorí niečo vo veci umelých hmôt u nás v muzike spravili.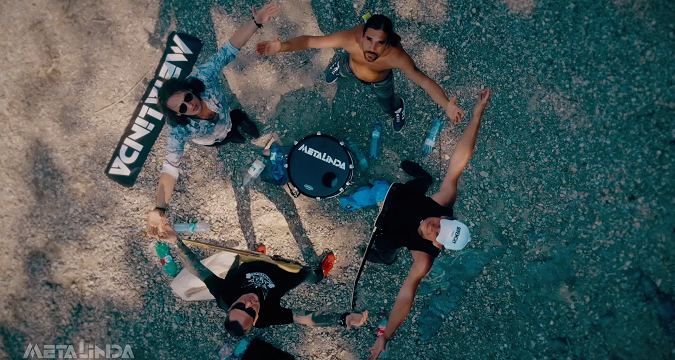 Sme kŕmení odpadom 
Podľa speváka Andyho Hudáka je táto skladba aj o dnešnej konzumnej spoločnosti. "Nejde len o plastové fľaše a znečisťovanie planéty. Sme kŕmení odpadom. V médiách, v reklamách, dokonca aj v potravinách. V piesni narážame aj na drogovú problematiku. Sme rockeri a nemáme radi umelú počítačovú hudbu… Aj to sme touto skladbou chceli povedať." 
Peter frfle, že mu plast kazí sex 
Peter nikdy neprišiel na chuť silikónovým prsiam. "My muži to nemáme radi a napriek tomu si ich veľmi veľa žien dáva robiť. Mňa odpudzujú, sú strašne studené, keď sa ich dotknem, hneď ma prejde chuť na sex. Okrem toho spôsobujú zdravotné problémy, infekcie, bolesti chrbta, ženy si ich potom menia za menšie, alebo dajú celkom odstrániť. Takto hazardovať so zdravím by som svojej žene nikdy nedovolil. Prsia mám rád prirodzené, také ako ich stvoril pán Boh." 
Skladba nabitá energiou, vrátila sa stará dobrá Metalinda

Klipu nechýba nadhľad a úsmev. "Točili sme ho v Rakúsku, na druhej strane Dunaja , mali sme skvelú náladu, veľmi nás to bavilo, čo je myslím aj vidieť," spomína Peter na výrobu klipu v najväčších letných horúčavách počas rakúskeho štátneho sviatku, keď boli všetky obchody pozatvárané a nebolo si kde kúpiť ani fľašu minerálky. "Pomaly sme už pili vodu z Dunaja", baví sa na tom, ako zvládali nakrúcanie v pekelných letných horúčavách.  "Nechceli sme našich fanúšikov iba pobaviť, ale aj poukázať na veľký problém obdobia, v ktorom žijeme." 
Fotografie: Peter Sámel ml.