Ačkoli jsem po poslechu obou nahrávek od WICKED LADY zpočátku preferoval o něco víc tu první, během mé přes rok trvající známosti se "Zkaženou dámou" se situace poněkud změnila, a v tuto chvíli bych nedokázal rozhodnout, kterou z nich mám radši… Obě jsou parádní, ale navzdory stejnému "rukopisu" se od sebe i mírně liší.
Zatímco první mapuje bezmála čtyřleté období od vzniku kapely, druhá je pouze z necelého roku, než se skupina rozpadla, takže je možná nepatrně ucelenější.
Rovněž výměna na postu baskytaristy je rozpoznatelná, protože Del Morley hraje trošku jinak, než jeho předchůdce Bob Jeffries. (To neznamená lépe, ani hůře.)
Mnohem častěji jsou tu také ke slyšení dvě kytary, což lehce nahrává myšlence na plánované vydání tohoto materiálu na hudebním nosiči, i když je to v rozporu se slovy hlavního mozku skupiny Martina Weavera, že o to spolku WICKED LADY nešlo, protože byl koncertní kapelou.
Od úvodní I'm A Freak, přes Tell The Truth a Passion, osobitě pojatý cover Hendrixova hitu Voodoo Chile, následující Why Don't You Let Me Try, až po vynikající Sin City, či závěrečnou, skoro dvaadavcetiminutovou Ship Of Ghosts se ani na okamžik nedostavuje pocit nudy nebo zklamání, což na ploše téměř hodiny není vždy úplnou samozřejmostí.
Perfektní drsný bigbít, jenž baví od začátku do konce.
Obliba Psychotic Overkill u mě zas o něco vzrostla, takže čtyři a kus hvězdičky dnes zaokrouhlím nahoru.
1. I Am a Freak 4:56
2. Tell the Truth 5:03
3. Voodoo Chile (Slight Return) 4:36
4. Why Don't You Let Me Try 4:56
5. Sin City 7:00
6. Passion 9:25
7. Ship of Ghosts 21:56
Martin Weaver – guitar, vocals
Del Morley – bass guitar
"Mad" Dick Smith – drums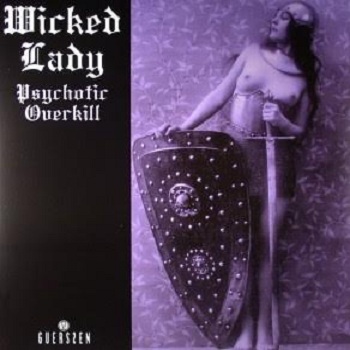 Psychotic Overkill
Wicked Lady
Hard rock
Kissing Spell
1994
7