Uriah Heep, jedni zo štyroch základných pilierov britského (spolu s Led Zeppelin, Black Sabbath a Deep Purple), ale aj svetového hard rocku, svojou v poradí druhou LP zasiahli poriadne hlboko do vôd v tom čase prudko sa rozmáhajúceho art rocku (ach, to bola krásna doba…).
Album je dodnes, podľa mnohých, oprávnene považovaný za vrchol tvorby tejto stále aktívne fungujúcej skvelej kapely. Nechcem tu príliš spomínať snáď všetkým notoricky známu Hensleyho (s prepáčením) odrhovačku z každej poriadnej dedinskej (vesnickej) zábavy – Lady In Black. Táto doska obsahuje minimálne tri perly najvyššej kvality: úvodnú dramatickú Bird Of Prey s úžasným speváckym výkonom Davida Byrona, krehkú baladickú hensleyovku The Park a šestnásťminútovú, art rockovú titulnú, symfonickú suitu Salisbury.
Tak ako pri prvej platni skupiny, aj tu sa ešte možno pýtať: Kde je hranica medzi žánrami v hudbe? Je toto art rock, alebo hard rock? Myslím, že to nie je vôbec jednoznačné, v tomto konkrétnom prípade snáď ani celkom podstatné. Dodnes ho uznávajú fanúškovia (väčšinou tí skôr narodení) z obidvoch táborov. Táto LP je proste skvost…
SKLADBY:
1.  Bird Of Prey  (Box/Byron/Hensley/Newton)  4:05
2.  The Park  (Hensley)  5:38
3.  Time To Live  (Box/Byron/Hensley)  4:02
4.  Lady In Black  (Hensley)  4:33
5.  High Priestess  (Hensley) 3:39
6.  Salisbury  (Box/Byron/Hensley)  16:02
ZOSTAVA:
David Byron – lead vocals (1., 2., 3., 6.)
Ken Hensley – organ, piano, slide & acoustic guitars, harpshicord, vibec, vocals, lead vocals (4., 5.)
Mick Box – lead guitar, acoustic guitar, vocals
Paul Newton – bass guitar, vocals
Keith Baker – drums
Brass and woodmind on Salisbury arranged by John Fiddy.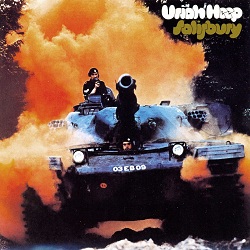 Salisbury
Uriah Heep
Hard Rock, Prog Rock
Vertigo
1971
LP
6