Hneď na začiatok uvádzam, že nepoznám kompletnú diskografiu maďarskej skupiny Omega, preto berte toto písmo len ako takú spomienku na staré časy a novodobú mizériu.
V dobách mojej aktívnej športovej činnosti, vtedy vo veku 14 rokov, som po skončení futbalových tréningov na ihrisku Tatrana Prešov odprevádzal cezpoľných spoluhráčov na autobusovú stanicu. Pri týchto potulkách mestom sme prechádzali Hlavnou ulicou, okolo predajne Opus. Jedného dňa mi v jeho výklade padol do oka obal platne, na ktorej bola zobrazená skupina v rovnakom šate. Samozrejme, moje vtedajšie vedomosti z rockovej muziky sa rovnali takmer nule. Zvedavosť mi však nedala a po zistení základných informácií, že je to veľmi úspešná a populárna kapela z Maďarska, som od rodičov vyžobral 44 Kčs a vybral sa do opusáckeho krámu.

Nástupom internetu som narazil na rôzne diskusie a všelijaké písačky. Znalejší rockeri rozdeľujú a rozlišujú sedemdesiatkovú tvorbu tejto maďarskej megahviezdy na niekoľko etáp – psychedelické začiatky, hard rock, progresívny rock… Môže byť?
Takže – život, náhoda, osud to tak zariadili, že moje prvé rande s Omegou má poradové číslo osem, inak obľúbené numero, ktoré som nosil aj na drese – Csillagok Újtán. Po maďarsky neviem ani ceknúť, textom nerozumiem, ale trápi ma to asi tak, ako pána Putina drísty jednej podvodníčky z Pezinka na jeho adresu. Mne ide o hudbu. Tá ma zaujala a veľmi!!! Pohybujeme sa na progresívnych vodách Dunaja, s mnohými odbočkami a živými ramenami…
Prekrásny úvod je spojený s osudom nejakého Bétovena, na ktorý nadväzuje veľmi vydarená baladička Égi Vándor. Pravda, ak nepatríte k tým, ktorým sa pri takom hudobnom útvare od zdesenia vyhádžu pupeňáky aj na pinďúrovi. Ak si spomeniem na prvý kontakt s piesňou Léna, ešte dnes mi behá mráz po chrbte, pritom mám plynový kotol stále v plnej prevádzke. A na baladickej note kapela šliape aj v Légy Erős. Nemajte obavu, nie je to žiadne lepidlo vhodné pre terajšieho ministra školstva zúboženého Slovenska, ktoré má na čele hviezdu zo Spartaka Trnava. Bože môj, Jožko Adamec, prezývaný Hatrlo, sa musí v hrobe obracať.
Prvá metamorfóza prinesie zrýchlenie a tu si viem živo predstaviť jedného Pála, milovníka kapely a nepriateľa všetkého slovenského, ako sa na štadióne v Dunajskej Strede pohybuje do rytmu a z plných pľúc bliaka, že Felvidék by mal najprv stavať autostrádu na juhu. S Bíbor Hölgy príde skľudnenie a ja iba so sebazaprením potlačím slzičku dojatia za Bélom, ktorý stojí v Sancta Maria na konci prehnitého Mosta a všetkým svojim máva na rozlúčku. Titulka Csillagok Újtán opäť pritvrdí, ako novodobí spasitelia všetkého maďarského, akýsi Gyulovia, Zsoltovia a Józsefovia, ktorí sa už nevedia dočkať momentu, kedy budú meniť Ústavu Slovenskej republiky. Metamorfósis II. dá opäť príležitosť Pálovi zakrepčiť si a medzi slohami zakričať do sveta, že vodné dielo Gabčíkovo by sa malo zbúrať. Chválabohu, už roky ho nikto neberie vážne. Na Finálé sa opäť vráti Bétoven a Omega dôstojným spôsobom uzavrie 8. etapu svojej existencie.

Čo sa týka LP, mal som iba zopár kusov a časom putovali ako dar do zbierky niekoho iného, ale – čuduj sa svete, LP Csillagok Újtán som vyhrabal ešte doma a zväčnil ju na priložených fotografiách. A hodnotenie? Janíčko Koborovie a spol. – ďakujem, je to výborné dielo!!! 

P. S.: Približne rok na to som sa do Opusu opäť vrátil, ale o tom niekedy nabudúce.
SKLADBY:
1. Nyitány (2:45)
2. Égi Vándor (3:55)
3. Léna (4:59)
4. Légy Erős! (5:47)
5. Metamorfózis I. (3:48)
6. Bíbor hölgy (4:42)
7. Csillagok Útján (4:51)
8. Metamorfózis II. (2:51)
9. Finálé (2:43)
ZOSTAVA:
László Benkö – keyboards, mellotron
Ferenc Debreceni – drums, percussion, vibraphone, marimbaphone
János Kobor – vocals
Tamás Mihály – bass, mellotron
György Molnár – guitars, balalaika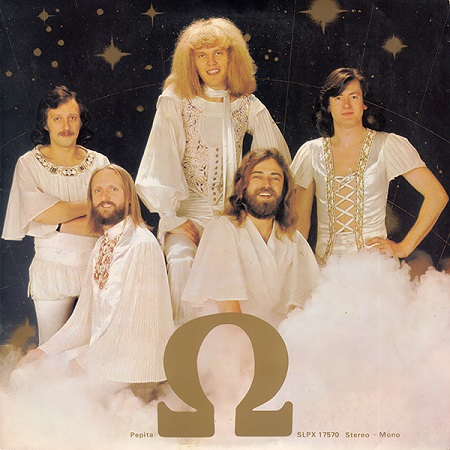 Csillagok Útján
Omega
Prog Rock
Pepita
1978
LP
9