Stone The Crows – kapela, s kterou se znám od počátku sedmdesátých let. Nacionalisticky řečeno, žádní Angličané, ale Skotové z Glasgowa, spojení s drsným hornickým prostředím, které se promítalo do jejich hudby. Propojení rock s blues, ale občas dosycované psychedelickým odérem a trochou soulu, bylo posouváno směrem k hardrocku.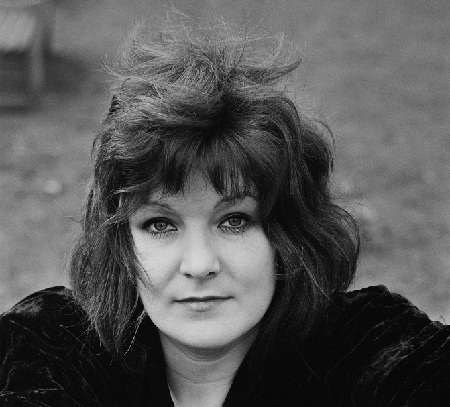 Jejich frontmankou byla velmi talentovaná Maggie Bell. V začátcích trochu ve vleku Janis Joplin, ale také pod vlivem černošských interpretek blues a soulu, stejně jako Ray Charlese. Další významnou personou kapely byl výtečný kytarista Leslie (Les) Harvey, který zajímavým způsobem ovládal elektrickou kytaru houslovým smyčcem. Les Harvey byl bratrem Alexe Harveyho, který se prosadil v sedmdesátých letech docela úspěšně s Alex Harvey Sensational Band.
Výtečně sehraná skupina s velkým emocionálním vyzněním a kreativním přístupem k hudební formě – to byly hlavní poznávací znaky kapely. Asi ne náhodou se jich ujal známý manažer Peter Grant, který úspěšně spolupracoval s Yardbirds, ale především s Led Zeppelin, který brzy zjednal Stone The Crows na britské scéně zasloužené místo. O uznání a respekt se zasloužila nejen jejich výtečná zpěvačka, ale i kapela sama. Za bicí nástroje zasedl Colin Allen, který spolupracoval s Johnem Mayallem. Jejich druhé řadové album Ode To John Law potvrdilo nadějný debut předešlého alba a zahájilo úspěšné tažení hudební scénou nejen Británie, ale i kontinentální Evropy, kde kapela koncertovala, stejně jako o něco později v USA.
SAD MARY – Album otevírá skladba ve středním tempu, ve které se výtečně propojují unisono varhan, baskytary, kytary a přesně dusající rytmiky. Varhaník John McGinnis hraje dlouhé akordy a nehraje v nějakém ďábelském stylu, ale jeho hammondky vytvářejí tu správnou atmosféru pro Maggie Bell, která se zvolna prosazuje svým zastřeným chraptivým vokálem, který výtečně ohýbá a mistrovsky frázuje. Jim Dewar na baskytaru hraje sice běžné basové linky, ale jejich účinnost propojená s baterií Colina Allena je jedinečná. Skladba nemá jednoznačné bluesové téma. Spíš se jedná o psychedelický rock s přeznívající elektrickou kytarou, kterou svými ohýbanými tóny přináší zmíněný Les Harvey. Žádná přepjatá harmonická struktura, ale dané téma, do kterého se vejde celá instrumentace. Velmi slibný začátek!
FRIEND – Přitlumené varhanní bublání několikrát přeruší akcentované akordy kytary a pak už se rozbíhá samotná skladba. Harveyova kytara vytváří barevné impresivní obrazce, které se vznášejí prostorem a McGinnisovy hammondky strnule opakují základní téma až do odmlčení. Z dálky se přihlásí šustění činelů a nezřetelné psychedelické zvuky vytvářené kytarou. Prolínání durových a mollových akordů elektrického piana, za které mezitím McGinnis zasedl, přináší novou estetiku, do které svůj vklad přináší vroucně zpívající Maggie Bell. Zatímco v první části skladby zpívala přitlumeně a méně výrazně, teď už přidala na intenzitě a barva jejího hlasu je navíc prokreslována zpívajícím baskytaristou Jimem Dewarem. Les Harvey hraje zvláštní kytarová přediva ve vyšších polohách a nemá zapotřebí exhibovat v nějakých divokých nájezdech, přesto cítíme, že skladba zvolna graduje a Harvey za použití wah wah pedálu, ale i přeznívajících strun, zajímavě dotváří celou kompozici. Zajímavá je dynamika skladby, hlasy nejsou potlačovány nějakou decibeláží, ale citlivými vstupy, než se píseň zase rozběhne v rychlejším tempu. Duet Maggie Bell a Jima Dewara je velmi podmanivý a nosný.
LOVE 74 – Tuto skladbu znám z Beat-Clubu na rakouské televizi. Pokud by se mělo hovořit o nějaké pilotní skladbě, nebo hitu, určitě jsme na ni právě narazili. Není formálně složitá nebo harmonicky netypická – opakující se téma elektrického piana v unisonu s baskytarou a přesně šlapajícími bicími nástroji se vzájemně prolíná. Harveyova kytara v pozadí vytváří ponurý background, v mezihře dochází k rytmické proměně, ale jen na několik okamžiků. Elektrické piano vytváří základ skladby a Harveyova elektrická kytara kouzlí v tónových impresích, za dusajících rytmů Allenových bicích nástrojů, ale i použití percussion (slyším žraločí zuby) a rumba koule svírá Maggie Bell, která v mezihře pauzíruje. Psychedelické opary se vznášejí nad skladbou, do které pojednou vstoupí hammondky a Maggie Bell je opět před mikrofonem, v opakujícím se schématu skladba pomalu odeznívá.
MAD DOGS AND ENGLISHMEN – Důraznější rytmus a zrychlené tempo přináší další skladbu, v níž se prolínají hammondky s klavírem a výtečná Maggie výborně frázuje a přivolává ducha společného turné s vynikajícím Joe Cockerem a jeho Mad Dogs Englishmen, které kapela absolvovala. McGinnis zahraje uprostřed skladby sólo na klavír, i když na Cockerova klavírního doprovazeče přece jenom v tomto ohledu nestačí. Chybí mu větší údernost a technická suverenita, kterou Chris Stainton vládne vlastně dodnes.
THINGS ARE GETTING BETTER – Dlouhé hammondkovské tóny přinášejí spíše subtilně pojednanou píseň baladického typu, kam Maggie Bell výtečně vsadí svůj vokální projev pod perlivé tóny elektrického piana. Stone The Crows se tady hodně přibližují soundu Cockerovy kapely, ale ničemu to nevadí. Dochází k výraznému zklidnění, do kterého tikají lehce Allenovy bicí nástroje a Dewarova baskytara vyťukává jednotlivé basové tóny. Harvey zahraje velmi subtilní téma na akustickou kytaru a dynamické odstínění nás zase vrací na výraznější platformu blue-eyed-soulu. Závěrečné prokreslení společného vokálu má umírněný charakter.
ODE TO JOHN LAW – Vstupní téma na hammondky přináší robustní směs tónů v jednom velkém náporu a to už bicí nástroje dusají v rytmických obrazcích vpřed. Harmonie skladby je poněkud zvláštní, ale přináší do alba proměny, které působí jako osvěžující koupel. Výtečné basové party Jima Dewara mají hypnoticky přesný rytmus a McGinnisovo elektrické piano se pouští do disharmonické improvizace, která graduje za asistence Harveyových elektrických tónů. Rocková platforma si zde podává ruku s psychedelií, dlouhé tóny a hlasové proměny v sobě nesou expresivní výpověď. Napětí ve skladbě setrvává dál. My vnímáme elektrické vazby a bzučení kytarových přediv, jimž páteř tvoří dunivé basy a přesně šlapající bicí nástroje. Strašidelný závěr s hlasem Maggie Bell skladbu ukončuje.
DANGER ZONE – Poslední skladba je coververzí písně soulového velikána Curtise Mayfielda. Stone The Crows se podařilo vytvořit zajímavý derivát, v němž vévodí dlouhé tóny hammondek a výtečně prezentovaný vokál Maggie Bell. Skladba získala bluesovou polohu podle modelu těchhle skotských bardů a velice dobře se poslouchá procítěný projev, v němž hammondky hrají významnou roli a z pozadí se hlásí Harveyova elektrická kytara. Neplýtvá tóny, sází je však cíleně a procítěně, s důrazem na výraz. Emocionální výpověď je hluboká, přesto však bez živočišností Janis Joplin, čímž skotská královna blues získává větší nezávislost a naopak větší věrohodnost. Výborný závěr korunuje i instrumentální finále s vibrací hammondek a důsledných akcentů. Vynikající věc!
Sehnat alba Stone The Crows na vinylech bylo poměrně obtížné, ale nakonec se mi to podařilo a dneska Ode To John Law považuji za cenný relikt v mé sbírce, stejně jako další produkci této kapely a Maggie Bell. Albu dávám čtyři hvězdičky.
SKLADBY:
1. Sad Mary (6:50)
2. Friend (6:25)
3. Love 74 (6:33)
4. Mad Dogs And Englishmen (3:32)
5. Things Are Getting Better (6:09)
6. Ode To John Law (5:44)
7. Danger Zone (6:18)
SESTAVA:
Maggie Bell: vocal
Les Harvey: guitar
Jim Dewar: bass, vocal
John McGinnis: organ, piano
Colin Allen: drums, percussion
Ode To John Law
Stone The Crows
Blues Rock, Hard Rock
Polydor
1970
LP
7