Soubor Molly Hatchet z floridského Jacksonville jsem objevil teprve nedávno. Kapela stylově patřící do jižanského sektoru mne k sobě nikdy ničím nepřitahovala. Osobní averze vůči jejich, pro mne kýčovitým obalům, byla určující překážkou a důvodem, proč se naše cesty doteď nikdy nestřetli. S rostoucím hladem a častým poslechem různých desek Lynyrd Skynyrd, Allman Brothers Band, ale i stále trvající láska k velmi oblíbeným kapelám z raného mládí jako jsou Tesla, či Cinderella zapříčinili, že jsem se postupně začal ohlížet po dalších zástupcích rocku zvaného southern. Na doporučení člověka v tomto "bussinesu" kovaného – kolegu hejkala, jsem se odepnul ode všech předsudků vůči recenzované kapele a pořídil si dle něj a možná i mnohých jiných jejich nejlepší nahrávku, desku Devil's Canyon.

Nebudu předstírat, že jsem se na desku netěšil. Těšil, dokonce velice a při letmém studiu jejich diskografie na internetu v době než dorazila, jsem rázem našel zalíbení i v jejich přebálkách. Když jsem pak Devil's Canyon vložil do přehrávače bylo TO tam okamžitě. Hned na první dobrou jsem nahrávce totálně propadl a cítil, že poslouchám jeden z nejlepších southern rocků na trhu.
Deska mne od první chvíle cupovala na kusy svým úchatně živelným a dravým soundem. Její hutný, přesto famózně kolorovaný zvuk modernějšího hávu, dokáže posluchače oblažit neskutečnou vitalitou a elánem. Jednotlivé skladby mají drive, odpich, jsou bohatě vrstvené, pečlivě aranžované a plné skvostně nachumlaných nápadů. Kapela šlape na jedničku a na svém jedenáctiskladbovém menu servíruje jeden chutný pokrm za druhým.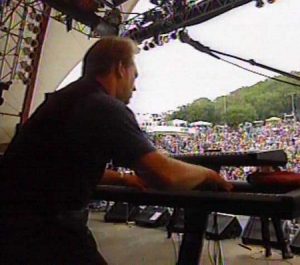 Tím pravým synonymem pro jižanský rock, je hned úvodní palba Down From The Mountain. Skladba plná vkusných energických kytarových vyhrávek a eskapád i šťavnatého projevu Phila McCormacka nepostrádá napětí a slušný tah na bránu. Stejnou sílu, ne-li ještě větší, cítím i z druhé Rolling Thunder. Duo Ingram/Bassett nepolevuje ani na sekundu a tlačí do diváků ty nejlepší kytarové laufy jaké je schopno ze sebe vymáčkat. Titulní Devil's Canyon výrazně ubere plyn z tempa, avšak ne v oblasti melodiky. Píseň nepostrádá naléhavého ducha (znásobené sbory), přínosné harmonie dozdobené akustikou a obrovské charisma. Je to hymna se vším všudy. Mezi nejmelodičtější kusy desky patří Heartless Land i trochou boogie našminkovaná Never Say Never. Z řetězů má tendenci se urvat autorův osobní favorit, ve žhnoucích plamenech ukovaná odvazovka Tatanka – tady už nemá cenu všechny superlativy ani jmenovat, prostě bomba. Kapela ne a ne přestat, naopak, do další skladby přispurtuje navíc klavír, který mrská klapkami pod náporem semdé Come Hell Or High Water. A je to tu, konečně pramen uvolnění s baladickou slaďárnou The Look In Your Eyes. Jenže, po další boogie dupárně Eat Your Heart Out, tu máme kolikátý už vrchol desky, píseň The Journey. Výpravnou perlu rezonující pod nápory španělek, šlapající rytmiky a vyhrávek od pána boha, kde vypravěč Phil McCormack zcela systematicky a emotivně kormidluje naši bárku do zátoky blaženosti. Tohle je prostě jižanský Parnas.
Zatím nevím jak ostatní nahrávky, ale Devil's Canyon = lahodně propečený flák toho nejlepšího jižanského bifteku. Tuhle desku ne že můžu, ale musím všem "lidem žijícím v těsném sepětí s přírodou" jen a jen doporučit. Klaním se a zároveň ospravedlňuji Molly Hatchet, hraje vám to parádně.
P. S.: Všechny fotografie pocházejí z koncertu Molly Hatchet v Loreley, Německo, který se konal 23. června 1996.
SKLADBY:
01. Down From The Mountain 4:40 (Ingram/Galvin/McCormack)
02. Rolling Thunder 4:06 (B. Thomas/Ingram/Brown)
03. Devil's Canyon 6:19 (Ingram/Brown)
04. Heartless Land 6:25 (Bassett)
05. Never Say Never 3:47 (Bassett/McCormack)
06. Tatanka 5:03 (Ingram/McCormack)
07. Come Hell Or High Water 3:42 (Ingram/McCormack)
08. The Look In Your Eyes 6:10 (Ingram/Galvin/McCormack)
09. Eat Your Heart Out 3:37 (Crawford)
10. The Journey 7:22
(McKinney/Ingram/Bassett/Galvin/Crawford/McCormack)
11. Dreams I'll Never See (acoustic version) 7:22 (Gregg Allman)
SESTAVA:
Phil McCormack – lead vocals
Bobby Ingram – guitar, slide guitar, vocals
Bryan Bassett – guitar, acoustic guitar, vocals
Andy McKinney – bass, vocals
Mac Crawford – drums, percussion, vocals
John Galvin  – keyboards
Danny Joe Brown – vocals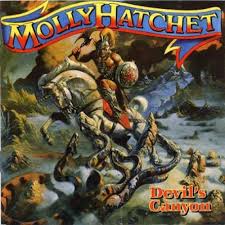 Devil's Canyon
Molly Hatchet
Hard Rock, Southern Rock
SPV Recordings
1996
CD
11