Tohle dvojalbum jsem kdysi dávno slyšel z audiokazety.  Byla to kopie dosti mizerné kvality s větším než menším množstvím šumu a vlastně mě hudba, která se hrnula z mého kazeťáku (také mizerné kvality), vůbec neoslovila. Shodou okolností to však bylo Physical Graffiti, které jsem zařadil do své sbírky jako druhou desku od Led Zeppelin. S materiálem, který skupina předkládá na dvojalbu, jsem se vyrovnával a ztotožňoval poměrně dlouho.
První desku jsem si zamiloval a poslouchám ji poměrně často. Úvodní píseň Custard Pie chce opět být tím výrazným začátkem, jak známe z předcházejících počinů. Kompozice je sice postavena na výrazném riffu, ale bohužel druhá Black Dog se nekoná. To samé platí i o druhé písni The Rover, jež je také kvalitním hardrockovým kouskem, ale jako by i jí něco chybělo k úplné dokonalosti. Možná postrádám větší expresivitu v Plantově hlase. Po této přímočaré dvojici přijde skladba In My Time of Dying, díky níž zapomínám na veškeré výtky a nechávám se unášet tímto bluesrockovým skvostem a zajímavým zvukovým experimentem. Skladba je v klidné části postavena na klouzavém kytarovém riffu a Plantově hlasu, jenž zde konečně zazní v plné síle. V rychlejších pasážích rytmika vytváří prostor, aby Page předvedl další ze svých sól, které má opět tu schopnost posluchače vystřelit do jiné dimenze. Bonhamův "neandrtálský" styl bubnování má naštěstí tu schopnost místy až příliš rozevlátou skladbu uzemnit a nedovolit, aby se z ní stala nekontrolovatelná exhibice. Pokračuje se písní Houses of The Holy, dalším řízným hardrockovým kouskem odkazujícím svým názvem k předešlému albu. Rozverný funky rytmus je typický pro následující Trampled Under Foot, další svižnou záležitost, kterou si celkem vychutnávám, i když vím, že to nejlepší má teprve přijít. Zazní první tóny skladby Kashmir a najednou se ocitám v jiném prostředí vonícím dálkami a exotikou. Orientální motiv se naprosto geniálně snoubí s tvrdostí vyzrálé rockové kapely, která přesně ví, co dělá a jak toho chce dosáhnout. Je zbytečné někoho ze čtveřice vyzdvihovat, protože tady nejsou hráči za sebe, ale jsou součástí něčeho většího. Stačí, aby jeden z nich vypadl, na moment zaváhal, a celý zvukový monolit se zhroutí. To se naštěstí nestane a já si mohu v klidu vychutnat dokonalou souhru a mysteriózní atmosféru celé kompozice. Tohle je jeden z těch okamžiků, kdy se rocková hudba stává uměním v pravém slova smyslu.
Druhá deska začíná skladbou In The Light a opět je zde ten tajemný, orientální pocit, který je zdůrazňován Jonesovými klávesami a Plantovým vokálem. Místy má píseň až meditativní náladu, která je držena při zemi důrazným kytarovým riffem a Bonhamovým hromobitím. Následuje velice příjemná akustická drobnůstka Bron-Yr-Aur, jež připomene dřívější folkrockové skvosty. Lehce countryová Down By The Seaside příjemně plyne a nebýt rychlejších rockových pasáží, asi bych si nevšiml, že tato nasládlá píseň je na albu. To mnohem lepší je následující Ten Years Gone, balada střídající jemné kytarové tóny s hutným rockovým soundem. Pro mě jedna z nejlepších věcí na celém dvojalbu, při níž mám pocit, jakoby celá skupina věděla, že už nemusí nikomu dokazovat své kvality a že si hraje jen tak pro radost.
Poté se opět přitvrdí písněmi Night Flight a The Wanton Song. Prvně jmenovaná připomíná klasické rock and rolly, jen místo piana zde zní Jonesovy hammondky. Po této sympatické reminiscenci starých rockových časů přijde mohutný hardrockový nápřah v písni The Wanton Song.
Opět se dostavuje ten pocit známý ze starších alb, jakoby se kolem mě všechno někam řítilo a mizelo a jediné, co zůstalo, byla skvělá hudba. Boogie With Stu nás svou náladou přivádí do zaplivané, špinavé knajpy, v níž se sešla náhodná parta hudebníků a jen tak pro potěšení začala muzicírovat. A jelikož toho stále nemají ještě dost, obdaří nás akustickým blues Black Country Woman. Plant zde předvádí hlasovou polohu, která je pro něj typická. Sólo na foukací harmoniku je zde parádní. Posledním kouskem na dvojalbu je píseň Sick Again, typické zeppelínovské zemětřesení a výrazná tečka na závěr.
Na této desce oceňuji tu šíři záběru a schopnost důstojně vybalancovat i občasné slabší momenty. I přesto Led Zeppelin dokáží stále překvapovat, což je sympatické. Vzducholoď stále letí dál a zatím to nevypadá, že by jí hrozila nějaká kolize.
SKLADBY:
Disc One:
1. Custard Pie 4:20
2. The Rover 5:44
3. In My Time Of Dying 11:08
4. Houses Of The Holy 4:01
5. Trampled Under Foot 5:38
6. Kashmir 9:41
Disc Two:
1. In The Light 8:46
2. Bron-Yr-Aur 2:07
3. Down By The Seaside 5:15
4. Ten Years Gone 6:55
5. Night Flight 3:37
6. The Wanton Song 4:10
7. Boogie With Stu 3:45
8. Black Country Woman 3:40
9. Sick Again 4:40
SESTAVA:
Jimmy Page – akustická a elektrická kytara, mandolína, produkce
Robert Plant – harmonika, zpěv, akustická kytara v "Boogie with Stu"
John Paul Jones – baskytara, varhany, klavír, elektrické piano, mellotron, kytara, mandolína, VCS3 synthesizer
John Bonham – bicí, perkuse
Ian Stewart – klavír v "Boogie with Stu"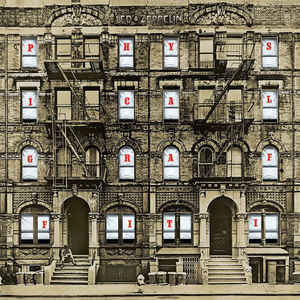 Physical Graffiti
Led Zeppelin
Hard rock
Swan Song
1975
2xCD
15