CD RCA Italiana,
Sony BMG Music Entertainment ‎– 88697343702 /2008/
Směska složená ze symphonic progu a malého množství jazzu, přislazená hustým,  melodramatickým sirupem. Sotva půl hodinky dlouhá zaprášenost, s pěknými vokály v italštině a velmi dobrým zvukem. Pojďme si ji představit a připomenout…
Skupinu Festa Mobile dali dohromady bratři Giovanni a Francesco Boccuzziovi, kteří se po rozpadu své původní kapely Della Venis přestěhovali do Říma s cílem najít nové spoluhráče, inšpiraci a hudební směr, kterým by se mohli nadále ubírat. Po Věčném městě tenkrát běhalo muzikantů jak máku a sestavu tak brzy doplnili Alessio Alba (kytara), Maurizio Cobianchi (buben) a Renato Baldassarri (sólovej zpěv). Kapela byla na světě a zbývalo najít chlebodárce, kterým se nestal nikdo menší, než nadnárodní koncern RCA. Podpora velké firmy skupině pomohla k dobře placené práci pro několik hvězd italské pop music, účasti v muzikálu Jacopone a nakonec i k prvnímu (a zároveň i poslednímu) albu.
Placka Diario di viaggio della Festa Mobile (Cestovní deník pojízdné veselice) vyšla v roce 1973 a je typickým produktem své doby, ovšem s výraznými markanty v podobě jedovatých kytarových sól a poněkud urputných bicích. Ono se mi to jako ne-muzikantovi blbě vysvětluje, ale bubeník hraje sice rychle, ovšem tak nějak furt stejně a tak to chvílemi zní, jak po železničních pražcích poskakující utrženej vagón.
Pět skladeb je spojeno koncepčním fantasy příběhem a jako první je tady krapet roztřesená La corte di Hon. Její rytmus drkotá, jak pořádně rozvrzanej žebřiňák, nechybí ždibec disharmonie a vysvobozením je tak až teprve následující Canto. Pěkná, melodická, s čistě jazzovým sólem na elektrické piáno. Z víceméně podobného soudku je i písnička Aristea a vůbec nejlepším kouskem na desce je pro mě čtvrtá Ljalja. Její povznášející melodie je nádherná a prostor se najde nejen pro mohutnou symfonickou vestavbu, ale i pořádnej instrumentální výplach. Pěkným vyvrcholením alba je ambiciózní a jaksepatří členitá Ritorno, s výživnou jazzrockovou vsuvkou v závěrečné třetině skladby.
Ani přes svou neoddiskutovatelnou kvalitu se albu nevedlo tak, jak by si skupina představovala a tak se nakonec rozpadla. Bráchové Boccuzziovi sestavili jazzrockovou úderku Il Baricentro a především její první placka – Sconcerto – se stala ikonou žánru…
Původní vinylové album je vzácné a přiměřeně drahé, ale na trhu je aj pár jeho reedic. Ta poslední z roku 2008. Cédéčka jsou o něco běžnější a dostupná budou především vydání z let 2008 a 2011. Já mám to první, které je v klasické plastové krabce a s čtyřstránkovým bookletem. Ten je poměrně skoupej na informace a neobsahuje ani jména členů Festa Mobile. Takhle nějak však vypadal i originální obal a identitu zúčastněnejch hudebníků se podařilo objasnit až po letech.
Cedlo Diario di viaggio della Festa Mobile mám doma už pěknejch pár let a z regálu jsem ho vytáhnul jen kvůli recenzi. Ušima jsem ho prohnal třikrát za sebou a až na úvodní La corte di Hon mu vlastně nemám co vytknout. Možná by to chtělo jen trochu víc opravdu strhujících míst a tedy důvodů, proč se k němu vracet častěji, než tomu bylo doposud. Tři a půl hvězdy dát nemůžu, tak tedy čtyři. Byť krapet odřené a omrněné…
SKLADBY:
1. La corte di Hon (Alba, G. Boccuzzi, Baldassarri) 4:54
2. Canto (Alba, Baldassarri) 6:09
3. Aristea (G. Boccuzzi, Baldassarri) 5:01
4. Ljalja (F. Boccuzzi, Baldassarri) 6:50
5. Ritorno (F. Boccuzzi, Baldassarri) 8:44
SESTAVA:
Renato Baldassarri – voce
Giovanni Boccuzzi – tastiere
Alessio Alba – chitarra
Francesco Boccuzzi – basso, tastiere
Maurizio Cobianchi – batteria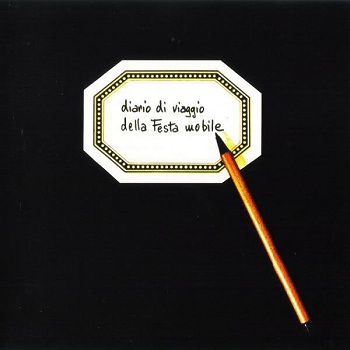 Diario Di Viaggio Della Festa Mobile
Festa Mobile
Prog Rock
RCA Italiana
1973
LP
5
CD RCA Italiana, Sony BMG Music Entertainment ‎– 88697343702 /2008/