REUNION TOUR – 29. 5. 2008, Retro Music Hall, Praha
Předesílám, že Asia nikdy nepatřila mezi mé favority. Bral jsem ji jako vkusnou po(m)párnu, kde sice hrají chlapi z mých nejoblíbenějších skupin, ale zkrátka jinou muziku. Vyhraněnějším fanouškům melodického krasorocku bude proto asi můj report připadat až příliš krutý. Přese všechno popsané, byl to dobrý a památný koncert!
Intro a nevhodně vybraná rozjezdovka Daylight padly za oběť úpravám soundu, fotografům, opozdilcům. Teprve fanfárovka Only Time Will Tell zaplněné, přehřáté Retro nakopla. Mně přejel první mrazík při rozkmitaném Howeově sóle ve Wildest Dreams. Je známo, že slabším skladbám může live drajv pomoct, takže i novinková řídká autovykrádačka Never Again vyzněla jakžtakž.
Nebe a dudy. Jeden brnk, a já i všichni kolem v euforii. Roundabout. Yes! Yes! Trio Howe – Wetton – Palmer v minutě muzikantsky doslova rozkvetlo. Zaťatý Howe tedy navenek nic moc znát nedal, ovšem Palmer se radostí doslova urval z řetězů. Wetton zůstal v andersonovských slavičích partech pro jistotu dole na zemi. Skvělá vsuvka.
Jednou z mála hutnějších skladeb kvarteta je Time Again se slibnou úvodní kontrastní pasáží rozdrnčeného hardrockového basového riffu a melodické kytarové vyhrávky. Trošku nápaditější refrén a mohla by to být rocková pecka. Geoff Downes byl vždycky víc malíř nálad než virtuóz. Dnešní samohrajky si nacucnou do své ramky kompletní ansámbl: rytmiku, symfoniky, prostě kohokoliv, kdo se jim otře o čip – proto se ve svém sólu mohl upnout na kroucení tělem a knoflíky. Etudou povinnosti bych nazval krátkou sólo vsuvku Stevea Howea.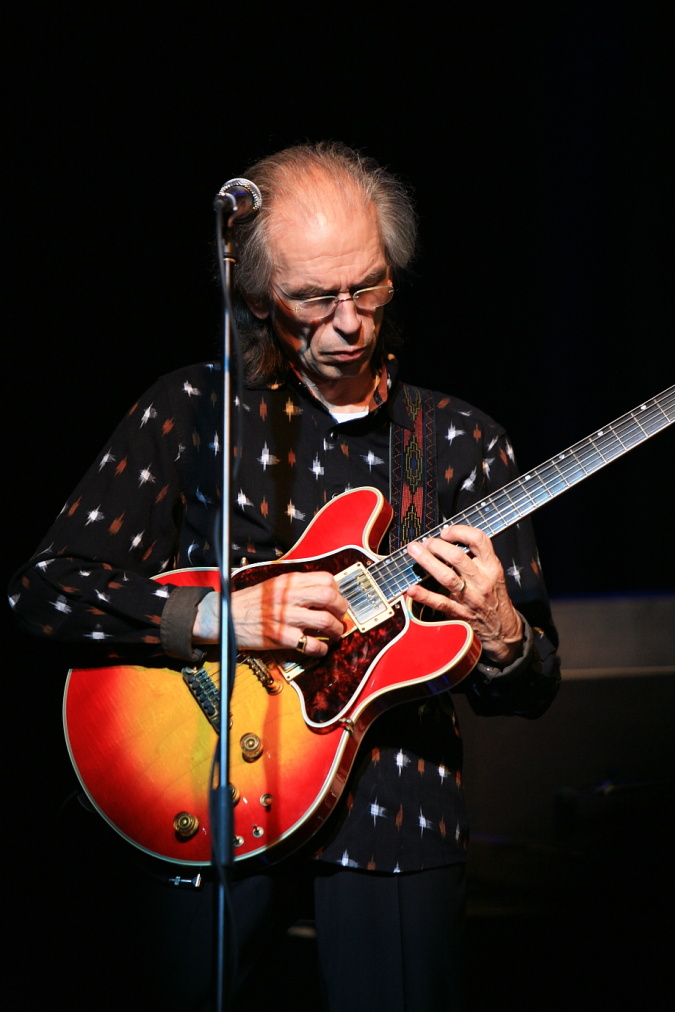 Soundtracková The Smile Has Left Your Eyes zněla v akustickém aranžmá tklivě a pateticky jako Chris de Burgh. Jak slyším vocoder a jiná osmdesátková mršítka, otevírá se mi kudla v kapse a odřezal bych Downesovi všechny káblíky! Jen palba bicích a solidní forte mě ke konci Open Your Eyes společně zklidnily. Fanfare For The Common Man je jiná jízda, po slavnostní předehře basdusavá "thain-uriášovsko meddle-floydovská" pádivka, kterou sice dolů táhnou syntíky, nahoru ale naštěstí všechno ostatní, zejména výtečná zavěrečná fffff (final furt und furt full forte) vařba.
Na lehkonohé Without You se projevilo, jak Wettonovi ztěžknul a trochu drhnul hlas. Chcíplá An Extraordinary Life, vypadlá z hnízda nepovedeného Ptáka, se sice ke konci začne trochu hýbat, ale stejně je to bastard ve stylu "to nejlepší z táty uplavalo".
Court Of The Crimson King – co dodat, jedna z nejkrásnějších věcí, jaké mohou z pódia rockerovi zaznít. Nebesa. Video Killed The Radio Star – co dodat, jedna z nejstrašnějších věcí, které mohou z pódia rockerovi zaznít. Septik.
The Heat Goes On je jen průměrná skladba, ovšem vložené Palmerovo sólo šou – s hlavou, patou i humorem – z ní udělalo další z vrcholů večera. Dokonalé i pro bubenického laika. Věřím, že se ledaskterému z mladších rozsvítilo, odkudže nabíral inspiraci Portnoy a jemu podobní. Heat Of The Moment – vděčná finální halekačka, která symbolizuje to lepší, co tehdejší 80's zpopovatělý rock nabízel.
Sole Survivor je takový ten typ účelového přídavku, který má lidi nenabudit, aby se mohli muzikanti v klidu vytratit. Jenže v Retru se kalkulačka Made in Asia přepočítala, našinci tleskali jak o dušu, dál a dál a dál. Moc by mě zajímalo, jak se Velmistři cítili, když prchali zadem, nasedali do auta, a za jejich zády se vzdalující Retro pořád otřásalo skandováním důvěřivých fans…
Poznámka závěrem. Popař Downes je z mého pohledu kazišuk, ptám se sám sebe řečnicky: Kde by byla ASIA, kdyby nebyla bývala byla pod jeho kuratelou?
Ostatní mi hráčsky připadali jako maso dušené v papiňáku, sice chutné, ale změklé do rozbředlosti. Žádnej pořádnej biftek. Tři chlapi ze čtyř viditelně chtěli z triviálního písničkového formátu aspoň na chvíli ven, ukázat se, rozběhnout jak zamlada. V odskocích k Yes a King Crimson doslova pookřávali.
Ještě technická. Namísto plánované Voice Of America zazněla Book Of Yesterday, namísto Ride Easy a Don't Cry NIC! Po obou zbyl jen odpolední škrt v playlistu a lehká pachuť.
PHOENIX TOUR – 5. 4. 2009, Masters Of Rock Café, Zlín
Asia je kapela, ke které mám trochu rozporuplný vztah. Na jedné straně v ní hrají výjimeční chlápci, kteří mne provázejí celým mým hudebním vývojem, na druhé jsou tihle mí oblíbenci ve vleku popaře.
Howe – Palmer – Wetton! Tři z pilířů světového rocku. Když slyším jakékoliv Howeovy tóny, jsem v posvátném vytržení, jeho hra mi vždy připadala taková aristokratická, nadzemská. Palmer byl vždycky součástí našich mládežnických pivních debat o největšího bijce mezi bubeníky. Tehdejšího fešáka Wettona jsem naplno zaregistroval sice až u svých Uriášů na Return To Fantasy, jeho hlas se stal pro Asia trademarkem.
Jedině díky nim se Asia krátce po založení stala světovou rockovou atrakcí number one.
No, a teď k Downesovi. Přestože kapelu prý inicioval Wetton s Howem, už na první desce je znát, kdo se tlačil nejvíc dopředu, do světel ramp. Zatímco na jedničce ještě ku prospěchu věci, dál a dál bylo hůř a hůř. O dnešku ani nemluvím. Stačí si poslechnout návratový Phoenix, Downesovy sólovky, i tu hrůzu Icon, na kterou – nevím jak – nalákal Wettona.
Naštěstí koncert legend má svá pravidla. Pokud se nezblbne, jako v případě Uriah Box Bandu, hraje se to nejlepší. Asia vysypala mezi lidi celý svůj náhrdelník a nádavkem přidala pár vypůjčených perel. Ovšem, i pár šmuků by se našlo.
Co se týče Zlína, mohl bych v podstatě zopakovat to, co jsem napsal o loňském vystoupení v pražském Retru a tak přišoupnu jen pár nových postřehů.
Zlín zklamal návštěvností, byl jsem optimista, těch něco přes 500 je ale až ostudně málo. Kamarádi, rockeři teoretici, styďte se 🙂
Masters of Rock Café nemá na rozdíl od Retra "duši". Je to taková krabice z panelů, co zbyly při stavbě sousedního nákupáku. Kdykoliv tam jdu, tak mi to ubírá z prožitku, zvláště když trubkoidní obsluha baru v předsálí pouští nahlas fujtajbl Rádio Zlín – a to klidně i během vystoupení.
Publikum bylo srovnatelné, dokonce bych řekl, že reagovalo s nadšením hned, ani nečekalo na Only Time Will Tell. Zpuchlého, vystříhaného Wettona jsem v první vteřině ani nepoznal, chvíli mu vždycky trvalo, než se rozezpíval k lehkosti, bylo to znát i po delších instrumentálních pasážích.
Sólové předváděčky Howea a Downese opět za moc nestály, Steve cosi zajuchal na akustiku a Downes je prostě takovej nepovedenej Malásek, žádný velký hráč, ani skladatel. Carl Palmer má sice svoje současná sóla dost podobná (slyšel jsem ho během roku 3x), ale skvělá: gradovaná, nápaditá, zábavná i ohromující. Wetton si dal ve svém one man show písničku se španělkou.
Nejvíc zazářily, stejně jako loni, zápůjčky z "cizích" klenotnic, Roundabout a Court Of The Crimson King. To se nedá popsat, to se musí zažít. Zejména návštěva u letitého Karmínového krále, tisící poslech, ale teprve druhá opravdová koupel v mellotronových vlnách, až bolestný dotek emocí, flashback, reminiscence čtyřiceti let žití bytí s touhle krásou ve sbírce hudby.
Jenže, opět tak jako v Praze, Emoce Killed a dlabanec na fanoušky, žádné podepisování, focení, rozhovory, nic, nula nula škrt. Přitom druhý den volno. Howe, Palmer i Wetton bývají pohromadě se svými jinými kapelami vstřícní. Žabák na prameni mi z toho vychází Downes.
Ať tak, či tak, Asia v původní sestavě nemůže zklamat žádného pamětníka, to je prostě něco, i kdyby se jeden klidně jen koukal a dýchal stejný vzduch.
Jaromír Merhaut pro Rock+ 2012
foto: Milan Vitovský