Bohatá nadílka skupin druhé poloviny šedesátých let, které významným způsobem ovlivnily běh doby a nadčasově vytýčily svoje hudební východiska nám ponechává dostatečný manévrovací prostor, abychom mohli vzpomenout na jejich odkaz a připomenout jejich profily.
Skupina, která byla už koncem šedesátých let zařazena do kategorie tzv. progresívního rocku svou existencí naplnila svoje poslání a ukázala tak cestu dalším skupinám, které ještě více v pozdějších letech rozvinuly její hudební principy.
Vznikla v říjnu r. 1967 v Carlisle v severní Anglii spojením členů skupin The Ramrods, The V.I.P.'s a Art. To byly skupiny, které zapadly ve víru bigbítového boomu šedesátých let, nicméně někteří jejich členové obdařeni nadprůměrným talentem a schopností rozvíjet svoje představy se sešli ve společenství, které přijalo bizarní název Spooky Tooth (Strašidelný zub). Brzy přesídlili na pokyn Chrise Blackwella (majitele firmy Island Records) do Londýna, kde se otvíral prostor pro jejich ambice.
V březnu 1969 na labelu Island Records vychází jejich druhý albový projekt s názvem Spooky Two. Byl natáčen v Morgan a Olympic Studios v Londýně, produkce se ujal entuziasticky založený Američan Jimmy Miller (spolupracoval s Rolling Stones) a hudební režii měl na starost Andy Johns (spolupracující s Beatles, Rolling Stones, Led Zeppelin, Who, Ten Years After…).
Album obsahovalo osm nových silných skladeb, které významným způsobem Spooky Tooth vynesly na piedestal zájmu hudebních kritiků a milovníků moderního rockového soundu, který se neopíral o klasický model rock and rollu, ani kytarových skupin, ale tíhl spíše k americkým zdrojům soulu a gospelu, propojeným s rockem, rhythm and blues a psychedelií.
WAITIN' FOR THE WIND – úderné bicí nástroje upravené v echoefektu dominantním způsobem otevírají hudební výlet. Připojují se vrčivé varhany Hammond a postupně oba zpěváci – dramatický Harrison a expresivní Wright. Syrové kytarové běhy v opakujícím se sledu s dunivou baskytarou dodávají transfúzi nekompromisního rocku. Výtečná skladba od prvních tónů s úderným dopadem na posluchače.
FEELIN' BAD – akustická kytara a Harrisonův vokál se rozbíhají ve středním tempu s výraznou podporou klavíru s mocným sborovým zpěvem soulového typu. Zdaleka ne naposledy se ukazuje jako velmi zdařilé a účinné propojit dva pěvecké typy (Harrisona a Wrighta), aniž by si navzájem oba hlasy konkurovaly.
I'VE GOT ENOUGH HEARTACHE – sborový zpěv posouvá skladbu velmi těsně ke gospelu a soulu, což doplňují patetické akordy klavíru, upozaděných varhan a zvonivé akustické kytary. Výtečně zahráno a zazpíváno, harmonické proměny a Harrisonův zpěv se rozevírají ve vší expresi, v které má zpěvák bohaté rezervy. Ridleyho baskytara zásadním způsobem tvrdí muziku podle všech pravidel.
EVIL WOMAN – zemitě hřmotný sound a úderný riff otevírá dunivou skladbu, ve které jedinečným způsobem excelují oba sóloví zpěváci – Mike Harrison svým chraplavým hlasem zpívá až na dno duše, stejně jako forsírovaný Gary Wright svým falzetem a maximální expresí se vzájemně jedinečným způsobem doplňují. Skladba má blízko k hardrocku, ale stylově se jedná spíše o progresívní rock se soulovými emocemi. Grosvenor se zde projevuje dramaticky vystavěným kytarovým sólem s gradujícími hammondkami. Jediná věc autorsky mimo kádr skupiny. Natočili ji také (ne tak přesvědčivě) Canned Heat. Výtečná skladba!
LOST IN MY DREAM – dramatická atmosféra začíná v psychedelickém tónu s kytarovým tématem a s varhanním soundem v pozadí. Gradování atmosféry v pevném soundu skladbu pozvedává do neklidného vyznění s nezbytným patosem, tlačeným do děsivého snového prožitku s exponovanými vokály a bubenickými breaky.
THAT WAS ONLY YESTERDAY – Harrisonův naléhavý vokál je posazen do úderné melodické skladby s akustickými kytarami v duchu amerických tradic s tesknou foukací harmonikou, která vyvolává pocit melancholie. Rytmická údernost a harmonická přesvědčivost jsou jednoznačně neoddiskutovatelné.
BETTER BY YOU, BETTER THAN ME – výrazný rockový riff zdvojeným kytarovým tématem prostupuje celou skladbou, ke které se připojují hammondky a Harrisonův dramatický vokál doprovázený Wrightovým přiostřeným výrazem. Akustický akcent kytary otevírá prostor varhannímu soundu a valivé rytmice. Skladba se stala o mnoho let později vděčným modelem pro cover verzi heavymetalových Judas Priest. Dostali se tím ovšem do problémů, protože si svévolně upravili textové části skladby, což zákonitě vyvolalo soudní spor.
HANGMAN HANG MY SHELL ON A TREE – poklidný úvod na akustickou kytaru a Wrightův vypravěčsky znějící projev se opírá o obsah textu skladby. Poté se Wright a Harrison spojují v silném refrénu, který skladbu posouvá mezi soul a gospel, což podpírají i stylově pojaté tlumené vokály pod sólový zpěvem. Sborově znějící aranžmá propojuje veškeré instrumenty v pevný celek, který v dalších taktech nabírá na dynamice.
Vlivný britský disc-jockey John Peel album doporučoval v jeho rozhlasovém pořadu Top Gear na BBC jako jedinečný počin na britské scéně té doby. Autorsky zaštítil album především Wright za menší spolupráce svých kolegů. Ve skladbě Evil Woman můžeme vnímat předobraz hardrockových Black Sabbath, což je nesporné. V písni I've Got Enough Heartache hraje na klavír jako host Stevie Winwood, což ovšem nemohlo být z právních důvodů na albu uvedeno. Dramatický a místy potemnělý sound do skupiny podle všeho přinesl jediný Američan v kapele Gary Wright, milovník hororů "mistra hrůzy" Alfreda Hitchcocka.
Zesílený zájem o skupinu je přivedl na stejná koncertní pódia jako Rolling Stones, Janis Joplin a Blue Cheer a častokrát se jim dostalo i největších aplausů. Spooky Tooth nepřetržitě koncertovali a hudební materiál na albu vybrousili ke skutečné dokonalosti a na rozdíl od jiných skupin zněli na vystoupeních stejně přesvědčivě jako ze studiových nahrávek.
Album bylo pochváleno odbornými kritiky a zájem veřejnosti podpořil prodeje alba, což u skupin progresivního rocku nebylo příliš očekáváno. Získalo si zaslouženou pozornost nejen v Anglii a v USA, ale i v kontinentální Evropě, zejména na německém trhu. V albové diskografii Spooky Tooth patří deska Spooky Two mezi nejlepší albové počiny, které skupina natočila. Album vyšlo v CD verzích a i v remasterované digipakové verzi (2005) doplněné několika dobovými bonusy.
Pět hvězdiček zcela jednoznačně!
SKLADBY:
A1. Waitin' For The Wind (Grosvenor/Harrison/Wright) 3:27
A2. Feelin' Bad (Kellie/Wright) 3:47
A3. I've Got Enough Heartache (Kellie/Wright) 4:32
A4. Evil Woman (Larry Weiss) 9:33
B1. Lost In My Dream (Gary Wright) 4:42
B2. That Was Only Yesterday (Gary Wright) 4:02
B3. Better By You, Better Than Me (Gary Wright) 4:12
B4. Hangman Hang My Shell On a Tree (Gary Wright) 5:15
Nahráno: Morgan Studios, Londýn
Zvuková režie: Andrew Johns
Aranže: Spooky Tooth
Produkce: Jimmy Miller
Foto na přebalu: Ethan Russell
OBSAZENÍ:
Mike Harrison – klávesy, zpěv
Gary Wright – klávesy, zpěv
Luther Grosvenor – sólová kytara
Mike Kellie – bicí, perkuse
Greg Ridley – basová kytara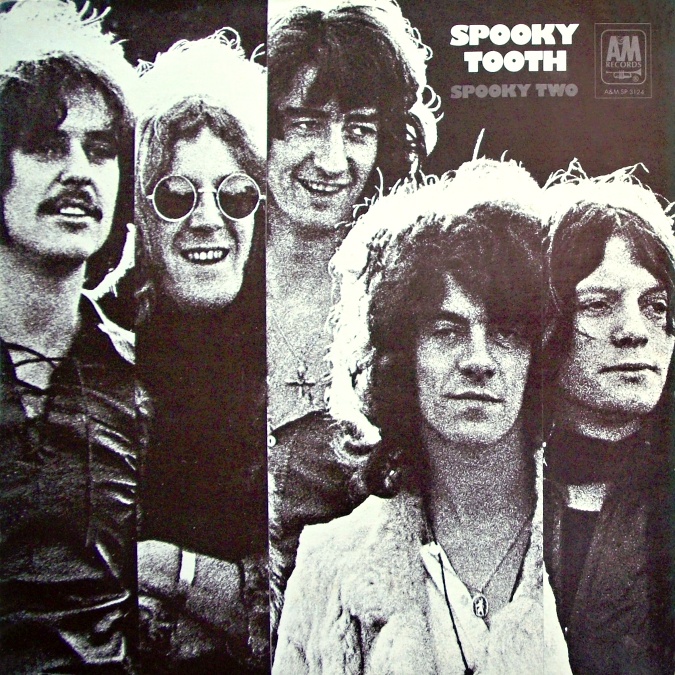 Spooky Two
Spooky Tooth
Hard Rock
Island Records
1969
LP
8