Album Abraxas patří do zlatého fondu americké rockové hudby, ale čestné místo bude mít i v obecné historii vývoje rockové hudby. Po velmi nadějném debutu kalifornský kytarista mexického původu našel recept na úspěch a za doprovodu výtečně sehrané kapely se jim podařilo natočit majstrštyk hudební kariéry skupiny Santana, který dodnes nezestárl a lze ho vnímat jako stále podnětný příklad spojení klasického rocku s latinskoamerickými hudebními kreacemi. Inspirace názvu alba pochází z románu Demian světoznámého spisovatele Hermanna Hesse a má v sobě jakési obřadné tajemno.
Abraxas a já se známe už od počátku sedmdesátých let. Třebaže jsem ho jako vinyl dlouho sháněl, měl jsem nejprve singl Black Magic Woman / Hope You're Feeling Better, který úspěšně bodoval řadu let na mých rockových diskotékách. O mých kontaktech se Santanou jsem psal ve spojení s prvním albem, a tak další popisnost vynechám. Když jsem pak získal vytoužený vinyl – byl to malý svátek. Fascinoval mě už samotný výtvarně velmi zajímavý obal, který vzbuzoval i erotické vášně, ale zároveň i duchovně-historické představy a inspirace, podobně jako na obalu legendárního alba Milese Davise – Bitchess Brew. Latinskoamerická atmosféra je zde výtvarně propojována v zajímavých kolážích, jako nějaký vzkaz či skrytý význam. Abraxas "musí" znát každý milovník klasického rockového modelu a myslím, že je součástí mnoha sbírek vinylů i CD, podobně jako třeba Malá noční hudba od Mozarta, nebo Koncert b moll od Čajkovského…
SINGING WINDS, CRYING BEASTS – Úvodní skladba zní tajemně, záhadně… Šustění percussion, ozvěna činelů a gongu i razantní klavírní akordy, do kterých vstoupí naříkavý a kvílívý dlouhý tón elektrické kytary. Jako blesk z čistého nebe pronikne do lidských útrob, jako laserový paprsek. Práce se zvukem a experimentální zpožďování dozvuku tónů elektrického piana, baskytary a kytarových vibrací zní jako úvod z napínavého dobrodružného filmu. Název skrývá spoustu abstraktních dovozování významu, ale tak to má být. Cválající rytmika a naříkavé zvuky jsou podmanivé a nemohou nezasáhnout jen trochu vnímavého posluchače.
BLACK MAGIC WOMAN/GYPSY QUEEN – Přichází úvodní varhanní motiv a pak už se rozbíhá snad nejslavnější skladba, kterou skupina nahrála a dodnes hraje. Autorem je ovšem Peter Green a skladbu hrála skupina Fleetwood Mac. V jejich repertoáru ovšem byla jenom jednou z mnoha dalších písní, ale teprve Santana ji vtiskl novou tvář a význam. Kytarové téma zní konejšivě a mazlivě s krásnými přeznívajícími tóny, do kterého baskytarista Dave Brown sází jasné a přehledné tóny. Percussion podbarvují zvuk elektrického piana Fender-Rhodes a za mikrofonem sedí klávesový hráč Gregg Rolie. Jasná a přehledná melodická linka. Taneční struktura podmanivých percussion José Chepita Arease a Mike Carabella zde pracuje jedinečným způsobem, takže bubeník Michael Shrieve nemá moc práce a je součástí tohoto "třítaktního" motoru. Doznívání skladby z úvodního tématu, divoké perkusivní řádění a razantnější sound přivádějí do další fáze, kde se Santana v kytarových ornamentikách rozhodne pohrávat si s jemnými detaily, zatímco rytmika šlape a šlape. Latinskoamerický model za chvíli převládne a jsme s protáhnutým zkresleným tónem u konce. Světoznámý "prosáklý" hit. Dodnes ho ale miluji s vášnivostí Antonia Banderase.
OYE COMO VA – Tady jsme na návštěvě v Latinské Americe se vším všudy. Svádí to k tanci vnadné ženy, ale i nás pány k tomu, abychom vzali do rukou jakékoliv předměty a začali s nimi tlouci, ťukat i sázet rytmy, polyrytmy a supermegarytmy. Skladba má svoje krásně vygradovaná místa a Gregg Rolie si svými hammondkami zjedná prostor a mocně se rozběhne varhanickými eskapádami do prostoru, zatímco Santana seká přesné akordické akcenty a sbory zpívají španělsky, což se krásně snoubí a Carlos vystřihne krásné melodicky rozezpívané sólo, jeho čistý vibrující nezkreslený tón má sílu slunečních paprsků. Jasné od začátku do konce.
INCIDENT AT NESHABUR – Rytmické proměny nám nabídnou další skladbu s razantní baskytarou a běsnícími percussion za doprovodu klavíru i hammondek. Výrazný kytarový riff přináší rockovou dravost, stejně jako varovný chřestot žraločích zubů. Pak přichází další proměna, do které vstupují i prvky rhythm and blues se sambovými rytmy a klavírními schématy. Rolie má roli spojovacího melodického můstku a Santana si pohrává s motivy jako s pápěřím. Krásná vývojová linie, srovnáme-li hudební ambice na tomto albu s předešlým. Velice kreativní, zvukově a harmonicky barevné. Podvečer v Tijuaně se vším co k tomu patří, pulque, tequila, enchiladas, bataty, tropické ovoce, poloobnažený ženy s vlasy jako smůla, šplouchání mořské vody a lehký vánek horké noci, tak dodnes mám takové pocity při poslechu.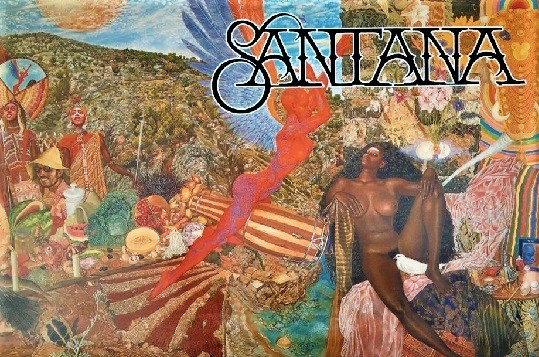 SE A CABO – Carabello na conga za asistence timbales Arease a bicích Shrieveho zde předvádějí další ze svých rytmických kreací, kterým sekundují kytara a hammondky výměnou rychlých akordů. Santana sem vloží dobře odpíchnuté kytarové sólo a hodně se na něm vyřádí, stejně jako perkusivní jednotka, která běhá zleva doprava a váš pokoj se promění v mexickou hudební arénu, kam vstoupí i elektrické piano a kytarové nástupy jsou razantní, srozumitelně přehledné a úderné.
MOTHER'S DAUGHTER – Vrčení hammondek, baskytarové vstupy a zaostřené tóny elektrické kytary rozbíhají další skladbu. Má v sobě ještě více energetického potenciálu, který je živen plameny pekelné kuchyně. Výrazná melodická linka chraplavého hlasu Rolieho a úderné akordy za rytmické podpory nám nabízejí další bytostné skloubení rocku s latinou a příležitostí pro tanec. Dramatické zesilování napětí a dynamicky velké rozdíly v pojetí mají magickou moc ovládnout naše smysly, vnímáme-li hudbu jako nespoutané emoce. Fascinuje mě ona barevnost tónů, zvuků, proměnlivost a živočišnost. Více jsem porozuměl, když jsem viděl Santanu naživo v Budapešti – stejní ve studiu a stejní na pódiu. Parádní kousek.
SAMBA PA TI – Nádherná procítěná balada s tklivým kytarovým sólem, která má jedinečné kouzlo. Santana sílu téhle skladby pochopil už tenkrát a v podstatě skoro všude se snažil nabídnout další a další deriváty tohohle instrumentálního modelu a nutno říci, že většinou úspěšně. Krásné propojení umírněných percussion, kvílející sólové kytary doplněné rozostřenými hammondkami a výraznými basy slaví úspěch a dodnes svádí řadu kytaristů, aby se naučili hrát jako Santana a dokázat, že se to dá zvládnout. Někomu se to podařilo lépe, někomu hůře a někomu vůbec. Zavřít oči a poslouchat jeho kytarové běhy znamená vstoupit doprostřed ohně a vnímat astrálním tělem práci plamenů. Úplný závěr skladby stále ještě není oposlouchaný a cítíte tu barevnou živočišnost. Zhmotněná krása.
HOPE YOU'RE FEELING BETTER – Pokud to někdo nazve hardrockem, nebudu protestovat. Drsný model rockové skladby klasického modelu s výrazným riffem kytary, baskytary a hammondek. Rolie zpívá s velkým nasazením i když není velký zpěvák. Odstínit skladbu od drsných partů a vložit sem více citu v akcentech se zde děje s velkým úmyslem vytěžit z tématu maximum. Cítím zde mírný vliv Jimi Hendrixe, kterého ostatně Carlos Santana velmi respektoval, ale myslím, že i John McLaughlin objevil patrně už zde Santanovy kvality a o něco později se oba velcí hráči potkali na společných projektech. Hutná a dramatická skladba, která patří mezi další ozdoby na albu, kterou už nezapomenete.
EL NICOYA – Závěr má ryze latinskoamerický charakter v uvolněné emoční rovině s percussion, potlačenou akustickou kytarou a pouličními hlasy. Taková nenápadná tečka za výletem, který je u konce a zanechal velmi silné zážitky.
Abraxas je ryzím příkladem toho, že se mínění odborných kritiků protkalo i s komerčním úspěchem, velkými prodeji a odezvou u milionů posluchačů na celém světě. Tohle je album, které Santanu pozvedlo do nesestřelitelné výšky. I když si o jeho albech z osmdesátých let můžeme myslet cokoliv, Abraxas, ale také i další nejmenovaná alba, ho dostatečně "rehabilitují" u řady pochybovačů. Jedinou výtkou je krátká stopáž – 38 minut. To je i na vinyl málo! Na rozdíl od alba Caravanserai (1972), kde deska hraje až do totálního vypnutí.
Pět hvězdiček zcela zasloužených!
SKLADBY:
1. Singing Winds, Crying Beasts (4:48)
2. Black Magic Woman/Gypsy Queen (5:17)
3. Oye Como Va (4:17)
4. Incident At Neshabur (4:58)
5. Se a Cabo (2:49)
6. Mother's Daughter (4:25)
7. Samba Pa Ti (4:46)
8. Hope You're Feeling Better (4:10)
9. El Nicoya (1:29)
SESTAVA:
Carlos Santana – guitars, vocals
Gregg Rolie – keyboards, vocals
David Brown – bass
Michael Shrieve – drums
Jose 'Chepito' Areas – timbales, congas, percussion
Michael Carabello – congas
Abraxas
Santana
Latin Rock, Fusion, Blues Rock, Psychedelic Rock
Columbia
1970
LP
9