Taky máte někdy ten pocit, když posloucháte neznámé CD, jak se vám v případě dokonalé nahrávky rozlévá příjemné teplo okolo srdíčka? Ne, není to rozlitou kávou, kterou si při občasném třesu rukou vybryndám na hrudník. Nyní je to zapříčiněno muzikou belgické kapely Irish Coffee, která v sedmdesátých letech vydala jen jedno album a několik singlů.
Bez uzardění říkám, že je to opravdu jedna z nejlepších nahrávek dřevního hard rocku šmrncnutého blues z té doby. Ani jedna z osmi písní není do počtu. Zpěvák a rytmický kytarista  William Souffreau nemá sice rozsah Iana Gillana, či nezaměnitelnou barvu Roberta Planta, ale když je potřeba, dokáže zazpívat píseň čistě, nebo naopak řádně napnout hlasivky a pokud to atmosféra nahrávky vyžaduje, s ničím se nepáře a okouzlí všechny kolem svým chraplákem. Písněmi se proplétají důmyslná sóla a riffy sólového kytaristy Jean Van Der Schuerena, v pozadí krásně dobarvují zvuk nápadité hammondky Paula Lamberta.
Album nekompromisně startuje hard rockovou smrští Can't Take It, ve které kapela kombinuje dravost s melodií. Nádherně vystavěná a majestátní rocková balada The Beginning Or The End s krásnou mezihrou hammondek v úvodu vždy spolehlivě rozjitří mé emoce. V pomalé a jakoby zamlžené When Winter Comes zpěvák jen tak svým hlasem civilně krášlí skladbu, kytarista je nekonečně ponořen do svého sólíčka. Zajímavě jsou pojaty dvě následující The Show 1 a 2, které ukončují první a naopak otevírají druhou stranu alba a nenápadně na sebe odkazují, ač jsou stylové odlišné.
V Hear Me mě vždy dostane do kolen rtuťovitá a neposedná kytara, která se jakoby nemůže dočkat, až zpěvák odlepí své rty od mikrofonu. To je nářez! V některých pasážích mi navazující skladba A Day Like Today dost silně připomíná hit od Vítkova kvarteta – Pražskej démon 🙂 Schválně posuďte sami. Závěrečná I'm Lost zklidní mysl a v pozvolném tempu ukončí tuto kolekci.
Deska byla nahrána do 8 stop a v pohodě to stačí. Zvuk je ale výborný, plně dynamický, basa krásně tvrdí spodek. V období 1971- 74 vystupovali jako předkapela Colosseum, Uriah Heep či Focus. Potom se bohužel rozpadli. Mezi tím toto album vyšlo v mnoha reedicích obskurních firem s bonusy i bez nich, či s jinak řazenými skladbami. Návrat na scénu se povedl Irish Coffee až po neskutečných 33 letech. O tom však až někdy příště.
Závěrem: kolekce raně hardrockových pecek belgické kapely. Kdyby soubor pocházel z Anglie, byla by tato deska citována ve věhlasných rockových encyklopediích. Takto její odkaz koluje mezi fanoušky, kteří si k ní musí cestičku poctivě prošlapat. Já tímto děkuji Hejkalovi, který mi před několika lety ukázal směr.
SKLADBY:
1. Can't Take It
2. The Beginning Or The End
3. When Winter Comes
4. The Show (Part 1)
5. The Show (Part 2)
6. Hear Me
7. A Day Like Today
8. I'm Lost
SESTAVA:
William Souffreau: vocals, guitar
Jean van der Bald: lead guitar
Willy de Bisschop: bass
Paul Lambert: hammond organ
Hugo Verhoye: drums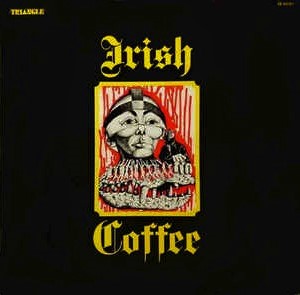 Irish Coffee
Irish Coffee
hard rock
Triangle
1971
LP
8