Jednoznačným duchovným otcom projektu Fjieri je taliansky skladateľ a hudobník, predovšetkým hráč na klávesové nástroje Stefano Panunzi, ktorý spolu s gitaristom Nicolom Lori a ďalšími dvoma krajanmi na postoch rytmickej sekcie nahrali základy albumu s inšpiračnými zdrojmi z odkazu tvorby kultovej kapely Japan, resp. jeho jednotlivých členov, najmä Davida Sylviana. A tak nie je žiadny div, že na druhú, podstatne náročnejšiu fázu doladzovania a mixovania albumu, ako aj zabezpečenie vokálnych partov si prizval veľmi interesantných muzikantov, známych z okruhu kapiel Japan a Porcupine Tree.
Presah a frekvencia spolupráce týchto hudobníkov sú však také časté, že skutočne vysoká kvalita finálneho produktu, albumu Endless nie je vôbec prekvapujúca. Plocha 48 minút tohto CD nám ponúka porciu atmosferického art rocku, kombinovaného s ambientom a ak chcem čo najbližšie prirovnať výsledný efekt taliansko – britskej spolupráce, tak je to priesečník elegancie a šarmu tvorby Davida Sylviana a éteričnosť a senzitívnosť projektov No-Man a Henry Fool.
Album začína dramaticky ladenou inštrumentálkou A Reality Apart, kde sa ku podkladu, hranému na klávesách a loopom s hovoreným monológom v pozadí pridáva celá kapela. Pôsobivý úvod… A Big Hope vlastne rozvíja nastolenú atmosféru, ale v trochu pokojnejšom duchu – tejto inštrumentálnej skladbe dominuje klavírny spodok s fragmentami hry huslí a najmä gitary. V taliančine spievaná Ad Occhi Chiusi začína introm saxofónu a klarinetu. Kompozícia s hosťujúcim spevákom, ktorým je Andrea Chimenti, udržiava dramatickú náladu albumu. Marcinelle je éterická inštrumentálka, tentokrát s podfarbeným dialógom vo francúzskom jazyku. V strede skladby dominuje efektné gitarové sólo.
Nepochybným vrcholom albumu sú dve za sebou idúce kompozície so spevom Tima Bownessa. Najprv Breathing The Thin Air, ktorá, ako keby vypadla zo zlatého fondu No-Man. Sugestívny, pološepkaný spev, silný klavírny motív, ani sa nechce veriť, že to nezložil Steven Wilson. Text je tiež typický pre tvorbu a filozofiu No-Man, dokonca aj sláčikové entré, ako od Bena Colemana, pôvodného to člena No-Man. Aj keď skvelú, titulnú Endless spieva Tim Bowness, máte pocit, že táto skladba je z nejakej melancholickej dosky Davida Sylviana. Práve prostriedok albumu dáva silne najavo, že je dokonalou kontinuitou a priesečníkom tvorby subjektov No-Man a Davida Sylviana, ale bez stopy plagiátorstva.
Soul Eaters je čiastočným vytrhnutím zo snivej plynulosti konceptu albumu – expresívny, ľahko hysterický spev japonskej kompozítorky a speváčky Haco, navodzuje rockovejšiu atmosféru a napriek istej kvalite pôsobí trochu, ako päsť na oko. Pozoruhodné je rovnomerné striedanie spievaných veršov v japončine a angličtine. The Breath Of The Earth, šesť minútová inštrumentálka je pre mňa osobne druhým vrcholom albumu, hraná v plnom nástrojovom vyťažení talianskeho kvarteta a s výborným drajvom a dynamikou celej skladby. Lotus Flower je snivým, éterickým epilógom, ktorý umne vmanévruje rozbehnuté dianie albumu do bezpečného prístavu pokoja…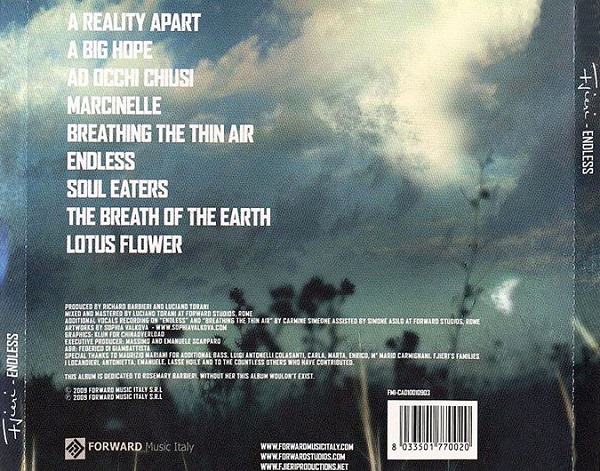 Netvrdím že projekt Fjieri prináša niečo objavné, v dnešnej dobe na teritóriu rockovej hudby to už ani nie je reálne, ale pre tých, čo sa vedia "rochniť" v bazénoch soundu naplnených skúsenosťami a odkazom (ex)členov Japan, Porcupine Tree a invenciou zrelého skladateľa a hudobníka Stefano Panunziho, prináša CD Endless  vysoko nadštandardný zážitok.
SKLADBY:
1. A Reality Apart (4:34)
2. A Big Hope (5:30)
3. Ad Occhi Chiusi (5:57)
4. Marcinelle (5:37)
5. Breathing The Thin Air (6:13)
6. Endless (7:05)
7. Soul Eaters (4:56)
8. The Breath Of The Earth (5:50)
9. Lotus Flower (2:47)
ZOSTAVA:
Stefano Panunzi – klávesy
Nicola Lori – gitara
Elio Lori – basová gitara
Angelo Strizzi – bicie
+
Andrea Chimenti – spev (3)
Tim Bowness (No-Man, Henry Fool) – spev (5, 6)
Haco – spev (7)
Gavin Harrison (Porcupine Tree) – bicie
Richard Barbieri (ex-Japan, Porcupine Tree) – klávesy
Mick Karn (ex-Japan) – basová gitara
Peter Chilvers (Eno, Henry Fool) – efekty, marimba
Nicola Alesini – saxofóny, klarinet
Haco – spev (7)
Endless
Fjieri
Alternative Rock, Prog Rock, Experimental, Ambient
Forward Music Italy
2009
CD
9