Potom, čo došlo k zmene-redukcii pôvodných Genesis s Peterom Gabrielom na etapu v čele s Philom Collinsom, je to práve Serpents In Camouflage, debutový album britskej skupiny Citizen Cain, ktorý v 90. rokoch ako jeden z prvých evokuje atmosféru Genesis 70. rokov.
Spev Cyrusa je spevom Gabrielovho dvojníka – hlasový rozsah, frázovanie, zmysel pre dramatičnosť, často výpravné texty. Iste, po inštrumentálnej stránke zvyšok kapely nedosahuje kvality svojich veľkých vzorov /vlastne v histórii kapely Citizen Cain sú podstatní len spevák Cyrus a klávesák Stewart Bell/, ale atmosféra nahrávky je aj tak veľkou nostalgiou za najslávnejším obdobím Genesis, pritom hudobné nápady a spôsob skladania kompozícií je nepochybne iný – originálny a svojský.
Úvodná Stab In The Back má po viacerých počutiach takmer hitovú ambíciu. Väčšina skladieb /štyri zo šiestich/ má vyše 10 minút a sú nabité kopou nápadov a motívov. Klasický album graduje asi najlepšou, titulnou kompozíciou Serpents In Camouflage.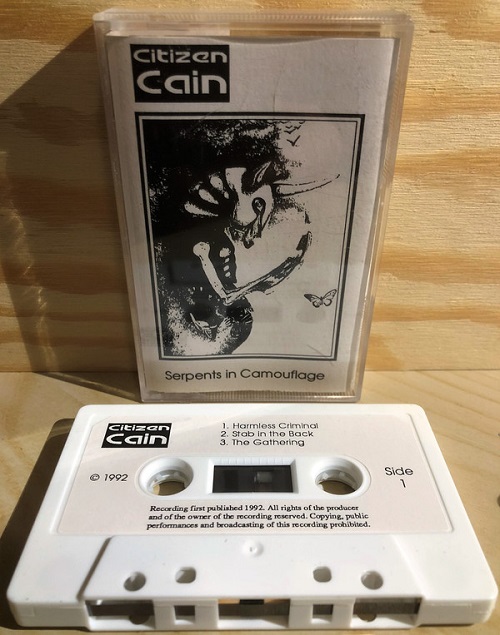 Na mojej verzii CD z roku 1998 sú dva bonusy; Nightlights – As The Wheel Turns a úvodná skladba Stab In The Back. Album Serpents In Camouflage je nepochybne zaujímavý, priam povinný pre genesisovských staromilcov.
SKLADBY:
1. Stab In The Back 6:49
2. Liquid Kings 11:25
3. Harmless Criminal 10:29
4. The Gathering 11:05
5. Dance Of The Unicorn 6:27
6. Serpents In Camouflage 13:23
Composed By – David Elam, Frank Kennedy, Stewart Bell
Lyrics By, Cover – Cyrus
NOTES:
Recorded at Split Level Recording Studios, Edinburgh, in September 1992.
The Bonus Tracks are the very first Citizen Cain demos, recorded at Ice Station Zebra in 1991.
ZOSTAVA:
George Scott "Cyrus" – vocals
Frank Kennedy – guitars
Stewart Bell – keyboards
David Elam – bass
Chris Colvin – drums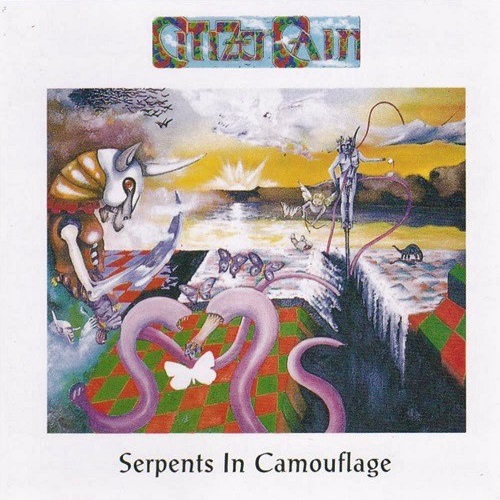 Serpents In Camouflage
Citizen Cain
Prog Rock
Citizen Cain Self-released (UK)
1992
MC
6
CD - Cyclops ‎– CYCL 064 /UK, 1998/