"Charon, syn boha věčné tmy Ereba a bohyňe noci Nykty, prěvozník mrtvých prěs řeku Styx do podsvětí, nikoli zpět na svět. Převézt však mohl jen duše řádně pohřbených mrtvých, kdežto duše nepohřbených bloudili navěky na březích řeky. Za svou službu vyžadoval jako odměnu peníz." 
V marci mi naša milá pani poštárka doručila balíček. Bol to debutový album karvinskej, dnes už bučovickej, kapely INGOTT. Zaslal mi ho Jura Šperl – gitarista, spevák a skladateľ. Nezáväzne som mu prisľúbil, že Charon naštudujem a pokúsim sa k nemu napísať pár slov.
Medzitým sa však v mojom živote veľa vecí zmenilo a darované CD muselo ísť stranou. Teraz, dúfam, je už všetko na dobrej ceste a ja som v júni konečne prestrihol ochrannú fóliu digipaku a pustil sa študovať jeho obsah. Na úvod musím dodať, že skupina si na ňom dala záležať a výrobok je naozaj vkusne spracovaný. Prirovnal by som ho k mojim obľúbeným hard a prog rockovým starinkám od anglickej firmy Repertoire Records.
Dá sa povedať, že táto úderka vznikla už v roku 1987, vtedy s jedným t – Ingot. Boli pri tom gitaristi Martin Szczur (Maco) a Jura Šperl (Modrý Portugal), ale hlásia sa iba k určitej dobe. Jura: "INGOTT je v podstatě nová kapela a spojitost s Ingot má výhradně s tím obdobím do roku 1990. Tenkrát jsme měli opravdu velké ambice, ještě větší plány a především shodný hudební (nejen) názor a dnes to cítíme stejně tak." Z toho dôvodu som vybral na titulnú fotografiu momentku, ktorá zachytáva oboch strunobijcov v akcii, pričom Maco je na ľavej strane. Druhý je ten, že v súčasnosti sú v zostave, ktorá bola oficiálne pri nahrávaní albumu, iba oni dvaja. Novými členmi do partie sú basák Jiří Potač (Poty) a bubeník David Klement (Dave). Ten sa zapojil aj do nahrávania. Viete čo? Pridám ešte jedno foto gitarovej dvojice.

Vysoko kvitujem primeranú dĺžku nosiča – 45:31, ktorý prináša poctivú heavy metalovú nálož, takže priaznivci žánru by sa v ňom mohli nájsť. Pravda, ak sa im nezježia hrivy pri zmienke, že texty sú v rodnom jazyku a ich autorom je Modrý Portugal. Je tu možnosť oddýchnuť si od tej svetovej reči, ktorú automaticky priraďujeme k žánru a všetci ju ovládame lepšie ako Anglosasi, takže vieme všetko skritizovať, aj výslovnosť rodených Britov, pričom texty ikon metalu máme v malíčku, všakže?
O hudbu sa postaral, rovnako ako v prípade spievaného slova, Jura, akurát ľúbezné klávesové intro Charon, štartujúce zvukom zvonu, pridal Boris Urbánek. Ako som napísal vyššie – heavy metal so všetkými svojimi poznávacími znakmi. Hutný gitarový záprah, duniaca basa a čitateľné bicie. Celkovo ma hard & heavy zvuk nahrávky milo prekvapil. K tomu veľmi slušný spev frontmana. Tieto atribúty sú počuteľné už v úvodnom kúsku Charon I (Prosba). Nástup bicích predznamenáva rýchlejšiu kompozíciu Mrtvého Tě nedostanou, v ktorej by som vyzdvihol zborové vokály. Na zoznam sa dostali aj dve staršie skladby – Muž se železnou maskou i Sodoma a Gomora. Samozrejme, v upravenom šate. Osobne som si zamiloval prvú menovanú, jednu z pomalších vecí na albume – veľmi pekná záležitosť.
Druhá si musí odpykať trest za to, že Jura si pred skladaním refrénu zrejme naordinoval nejaký ten speed. Rovnako tak v prípade celého čísla Svět morduje svět, akoby som počul môj obľúbený nemecký pirátsky koráb Running Wild. V oboch prípadoch príjemné osvieženie nahrávky.
Zakomponovaním "spídov" som sám sebe spôsobil chaos v playliste, takže sa z toho musím nejako vysomáriť. Päťka Posledního kousne pes po baladickej železnej maske opäť pridá na obrátkach. Nasleduje Suchý beton – vyzdvihnem jeho hutnosť. Na jeho výrobu bol použitý kvalitný cement. Snáď to nepreženiem, ale mne to hudobne, nie spevom, pripomína obľúbeného Ronnieho Jamesa Dia z jeho diela Magica. Heavy metal ma utvrdzuje v názore, že tejto hudbe sa na Morave darí a že sa oplatí sledovať aj našu hudobnú scénu. Ak píšem našu, mám na mysli československú. Nedávno ma podobne dostala hardrocková úderka The Gang z Bratislavy svojím eponymným debutom z roku 2017. Pri texte desiatej v poradí Možná jsem ztrácel čas sa zrejme mnohým tvrďasom zalesknú oči slzičkou pri spomienke na sklamania z neopätovanej lásky a ja si dovolím napísať, že čas venovaný albumu Charon určite nepovažujem za stratený, práve naopak! Vyzdvihnem aj polobaladickú rozprávku o Zlatej rybke. Dúfam, že chalanom splnila (splní) všetky ich želania.
V záverečnej Charon II Jura spieva: "Strach mám, že se k Vám nikdy víc už nenarodím." Mám strach, že INGOTT si nasadil latku kvality poriadne vysoko a bude mať čo robiť, aby ju prekonal. Držím prsty! Zároveň sa muzikantom ospravedlňujem za prieťahy v "súdnom" konaní a že na môj "rozsudok" museli čakať neprimerane dlho. Díky a teším sa na pokračovanie!
SKLADBY:
01. Intro Charon
02. Charon I (Prosba)
03. Mrtvého Tě nedostanou
04. Muž se železnou maskou
05. Posledního kousne pes
06. Suchý beton
07. Svět morduje svět
08. Heavy metal
09. Sodoma a Gomora
10. Možná jsem ztrácel čas
11. Zlatá rybka
12. Charon II (Strach)
ZOSTAVA:
Jura Šperl – gitara, spev
Martin Szczur – gitara, zbory
Pavel Piskorz – basa, zbory
Víťa Sarganek – bicie, zbory
+
Jarda Bartoň, Boris Urbánek, David Klement, Martin Slovák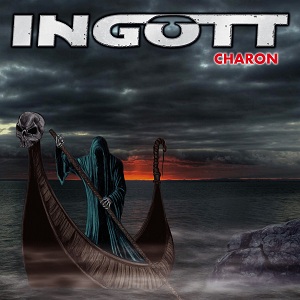 Charon
INGOTT
heavy metal
INGOTT
2016
CD
12