Americké Frijid Pink jsem zaregistroval z několika singlů už v první polovině sedmdesátých let. Pamatuji si, že jejich coververze House Of The Rising Sun se mi po instrumentální stránce v dané době líbila víc než od Animals. Jejich alba ale byla v mém okolí nesehnatelná a protože jsem v dané době sestavoval domácí sbírku jinými v té době dostupnějšími kapelami, tak jsem se nějak po jejich produkci nepídil.
Pak jsem neodolal a v Bontonlandu objevil jejich třetí album Earth Omen, které jsem překvapeně držel v ruce a váhal s jeho koupí, protože jeho cena se těsně blížila k 500 Kč. Vedle mě stál starý vlasatý rocker a sledoval moje reakce, což neuniklo mé pozornosti. Na otázku, jestli to budu brát, jsem dvě vteřiny zaváhal, ale v jeho hlase zněl jakýsi tón žádosti a ten rozhodl a přesvědčil mě. Chlapík se tlumeně zašklebil, ohlédl se a už mi nevěnoval pozornost. Když se ptal u pultu, zda tohle album mají ve více kusech, bylo mu řečeno, že tohle byl jediný. Vrhl po mě ještě jeden pohled s patrnou závistí a odešel pryč. Na rozdíl ode mě album asi celé znal a věděl o co přišel. To povzbudilo můj apetit. A tak se zase k Earth Omen vracím zevrubnějším poslechem.
MISS EVIL – Úvod jako od Uriah Heep (od Rainbow Demon…), ale následný postup s klavírním doprovodem a razantním hardrockovým akcentem se už nese v odlišném duchu. Dobře vypilovaný riff nám nabídne kytarista Craig Webb. V něčem zde cítím lehce Atomic Rooster. John Wearing má výtečný rockový vokální projev a do šlapající skladby velmi dobře zapadá. Na hammondky zde řádí Larry Zelanka s podezřele česky znějícím příjmením(?), ale i baskytara Toma Harrise a bicí nástroje Ricka Steverse mají ten správný drive pro tenhle americký hardrockový model, kde zůstává stejně jako v Británii dobře vypilovaný riff tím základním stavebním kamenem, který nemůže jinak než strhnout do svého víru.
SAILOR – Tahle skladba evidentně vychází z blues, které má od úvodní fáze základní vliv na atmosféru a vývoj. Propojování tremola hammondek a klavírních postupů s vrčivou elektrickou kytarou nabízí dobře zazpívaný model klasického rockového čísla s podporou dalších vokálů. Webb se blýskne přiostřeným kytarovým sólem, v němž prokáže svoje kvality, třebaže nijak nápadněji nepřevyšuje takového Mike Pineru nebo Marka Farnera. Rockový přínos pro album, kde mě strhává hlavně Wearingův vokální projev.
EARTH OMEN – Útočný úvod s mocnými akcenty a potom prostor pro klavír, němuž sekundují hammondky. Melodicky dobře sestavená píseň. Nemá podbízivé schéma, třebaže zde byla evidentní snaha napsat hit a prorazit do amerických hitparád. V něčem se zde kapela potkává s takovými Mott The Hoople. Změna tempa a rytmicky vzrušivější motiv rozbíhá skladbu kupředu – opět se suverénním Wearingem v jeho hlasové interpretaci, která je následována pronikavým elasticky znějícím kytarovým řáděním v prvním plánu.
LAZY DAY – Tady se pohybujeme na jiné půdě. Frijid Pink se nebrání zapojení akustických nástrojů a tak Webb hraje na akustickou kytaru a navíc na mandolínu, hodně nerockový nástroj v daném stylu. Wearingův vokální podíl je opět třeba chválit za jeho průraznost a emocionální vypětí ve výškách i v playbackovaných vokálech. Ano, tohle je skladba s jednoznačnou hitovou ambicí a nemýlím-li se, Frijid Pink s ní uspěli, třebaže nebyla přesně v jejich deklarovaném stylu. Také Harris a Stevers svým rytmickým podílem nepřebíjejí atmosféru a udržují jenom přijatelný základ pro rozvíjení téhle pěkné balady.Krásný a procítěný akustický závěr, na který posluchač jen tak nezapomene.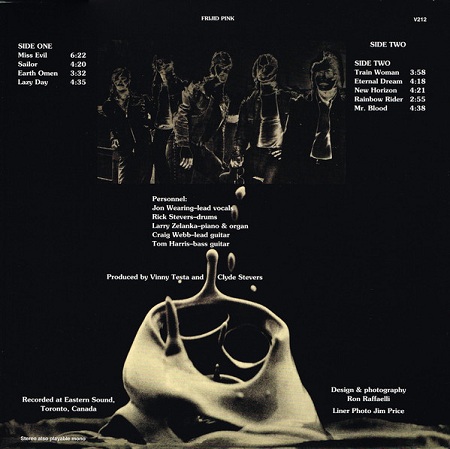 TRAIN WOMAN – Další skladba je ovšem drsným nástupem syrového zvuku. Tohle je pro mě ta správná symbióza hardrocku s injekcí rhythm and blues a zcela konvenuje mému cítění a myšlení. Zelankovy hammondky zde mají důležitý harmonický podíl, stejně jako syrová elektrická kytara Webba. Harrisovy baskytarové běhy jsou velmi dobře zdůrazněny s patřičnou dravostí s údernými bubenickými postupy Steverse. Mezihra má velmi ostré hrany a sálá vydatnou energií při podání. Akcentované okamžiky sice nejsou úplně původní, ale tahle syrová rocková varianta stylové kooperace je pro mě modelem poctivé a jako o život hrané a zpívané hudby, kterou mám rád. Výtečná věc!
ETERNAL DREAM – Klavírní téma, která mi připomene Uriah Heep. Dokonce i vokální projev je velmi blízko Davidu Byronovi a tady ty britské hardrockové melodiky cítím velmi jasně, včetně vokálního doprovodu. Píseň má vypravěčský charakter, v refrénu ovšem přichází stupňování harmonické struktury a společně s vokální stavbou zde před našima očima vzniká zajímavý hudební objekt. Klavírní a basová práce zde slaví úspěch a v jemném pianissimu odlehčuje napětí, které se vzápětí vrátí zpět. Webbovo sólo je sice nepřeslechnutelné, ale opět je to Wearing (už pokolikáté?), který přitahuje moji pozornost. Opravdu tady Uriah Heep cítím na počátku druhé poloviny sedmdesátých let. Není to sice původní, ale albu to neubližuje.
NEW HORIZON – Dravá rocková skladba přináší novou porci energie s vypilovanými basovými (skoro funkovými) rytmy, kterým pomáhá šlapající rytmika doplněná percussion. Kytara a klavír se do rytmického běsnění vejdou i vokální stavbou. Webb kytarovým tónem, ale i obecně skladba v sobě nese jakýsi odkaz santanovského poselství s hlasem, ve kterém cítím rock, soul a blues v integrovaném tvaru.
RAINBOW RIDER – Hardrockový model odlehčenějšího typu, který měl být zřejmě adeptem na další hit. Jeho melodická linka je strukturálně pevná. Strhující rytmus a správné frázování ve zpěvu dávají skladbě patřičné ambice. U kytaristy Webba po poslechu předposlední skladby cítíme jeho mantinely. Je to dobrý hráč, ale jeho čitelnost je pro něho nevýhodou, protože hraje víceméně ve stejném pojetí bez nějakého vývojového postupu. Možná proto ho již jednou jmenovaní Pinera, Farner nebo El Rhino mohou "válcovat". Není to ale žádný umělecký pokles, spíš klasický model zavedené šablony.
MR. BLOOD – Tahle skladba se kupodivu v úvodní fázi přibližuje k britskému modelu rocku, třebaže syrový kytarový riff už má svou vlastní nezávislost. Pulsující rytmika žene skladbu vpřed. Trochu tvrdší a agresivně pojednanější variace na Spencer Davis Group nebo Yardbirds, ale jen v drobných sekvencích ve vokálních a mírně i rytmických postupech. Jinak zde je třeba pochválit dynamické napětí, které graduje a neustále se zrychluje v kulometných rytmech, až je model opět pohlcen výborným santanovským pojetím varhanní práce ve stylu Gregga Rolieho, možná i Blind Faith. Rockový základ má pořád neomylně útočnou tendenci a tak mě závěrečná skladba nijak nerozkolísává ve svém postoji k albu.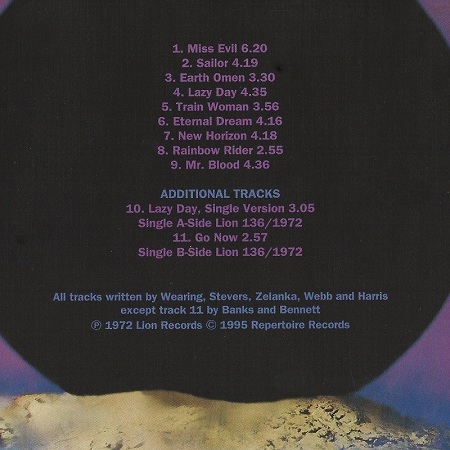 Bonusy:
LAZY DAY – Singlová verze výborné skladby na albu, která patří mezi melodicky nejvypjatější okamžiky Earth Omen, zde ovšem jako bonus v editovaném formátu, jako např. Island od Renaissance na prvním albu ve dvou verzích.
GO NOW – Tahle skladba je coververze a byla v polovině šedesátých let velkým hitem britských Moody Blues – nazpíval ji tuším Denny Laine, pozdější kytarista Ginger Baker's Air Force, ale především McCartneyho Wings, který ji taky za jejich doprovodu nazpíval na jejich americkém turné v r. 1975 a objevuje se na trojalbu Wings Over America. Wearing ji zpívá velmi přesvědčivě, rozpoutaně, za sborového doprovodu a přítomnosti Moog synthesizeru, který v instrumentálním vybavení Frijid Pink na albu nebyl v raných nahrávkách přítomen. Dobrý singl.
Netvrdím, že zákonitě musí být Earth Omen nejlepším produktem co Frijid Pink vytvořili, ale mě album oslovilo. Je tady poměrně hodně nepůvodnosti, ale v mých očích je tato nevýhoda vyvažována instrumentálními výkony, ale především výborným pěveckým výkonem Johna Wearinga, pro kapelu je jednoznačným ternem. Dám čtyři hvězdičky.
SKLADBY:
01. Miss Evil (6:20)
02. Sailor (4:19)
03. Earth Omen (3:30)
04. Lazy Day (4:35)
05. Train Woman (3:56)
06. Eternal Dream (3:56)
07. New Horizon (4:18)
08. Rainbow Rider (2:55)
09. Mr. Blood (4:36)
Bonusy – CD REP 4465-WY, Repertoire Records /1995/:
10. Lazy Day (single version) (3:05)
11. Go Now (2:57)
SESTAVA:
John Wearing – lead vocals
Rick Stevers – drums
Larry Zelanka – piano & organ
Craig Webb – lead guitar
Tom Harris – bass guitar
Earth Omen
Frijid Pink
Hard Rock, Psychedelic Rock, Blues Rock
Lion Records
1972
LP
9
CD REP 4465-WY, Repertoire Records /1995/