CD Mellow Records – MMP 186   /1994/
I Cocai pocházejí z Benátek a nezbylo po nich nic, než album Piccolo grande vecchio fiume (Malá velká stará řeka) z roku 1977. Dnes zapomenutost nejhrubšího zrna, dostupná jen jako původní album, nebo na CD reedici z roku 1994. Jiná oficiální vydání nejsou a poslední, dostupné cédéčko se na discogs prodalo letos 6. prosince…
Album Piccolo grande vecchio fiume nese pečeť labelu Style (CT 7165), ale kapela si ho vydala prakticky sama a svoji identitu ukryla pod přezdívky a fiktivní jména. Sestava I Cocai (v benátském dialektu Racek) tak byla po dlouhá léta tajemstvím, ale díky nadšení hudebních archeologů se ji podařilo časem objasnit a konkrétní jména si můžete přečíst dole pod recenzí.
Jsou fanoušci, kteří tuhle nahrávku považují za zapomenutej klenot italské progresivní scény, ale já bych se držel víc při zemi. Muzika je to sice fajnová, pár skladeb je tu dokonce výborných, ovšem kromě art rockových ingrediencí obsahuje aj pořádnou dávku popu. Sice dobového, ale pořád ještě popu a ten se především v druhé třetině desky tlačí do popředí víc, než by mi bylo milé.
Něco málo přes čtyřicet minut dlouhé album je, alespoň částečně, inspirováno tragickou událostí na přehradní nádrži Vajont. Ta leží asi 100 km severně od Benátek a v době dokončení (1961) měla jednu z nejvyšších hrází na světě. Dva roky poté, přesně 9. října 1963 se do vodní nádrže zřítila část hory, která způsobila vzedmutí více než 200 m vysoké vlny. Ta se převalila přes hráz a zpustošila městečko Longarone, včetně několika dalších přilehlých obcí. Identifikováno bylo 2117 obětí…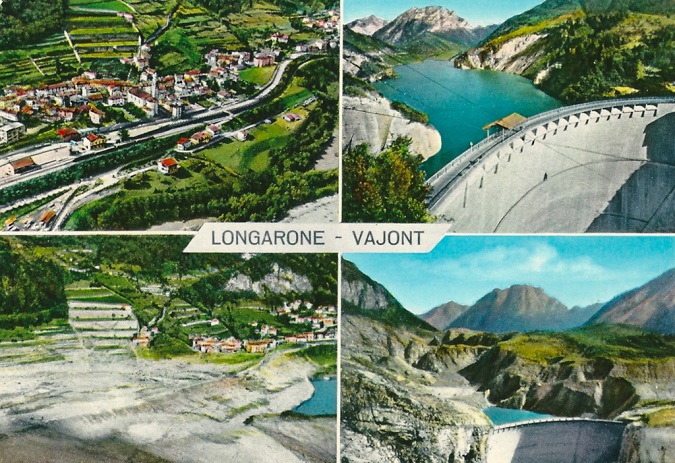 Přímo katastrofy se týkají jen skladby Milioni d'ani fa a titulní Piccolo grande vecchio fiume, ale já bych vsadil svoji umolousanou rádiovku na to, že k nim patří i naléhavě dramatická Le mie storie. Ovšem s největší pravděpodobností bych o ni přišel, protože je – i přes svůj italský název – jedinou s vokály ve špatné angličtině.
Sám pro sebe jsem si celou desku rozdělil na tři (nestejně dlouhé) třetiny a ta, která zahrnuje první dva tracky je určitě nejambicióznější. Nejvíc prog. Ostatně, svědčí o tom i stopáž obou skladeb, protože úvodní Milioni d'ani fa má sedm a půl minuty a následující Le mie storie je ještě o minutu delší. Obě obsahují jímavé melodie a s těmi prastarými klávesami (znějí jak z roku 1971) v sobě mají něco z art rockové vznešenosti. Mám rád obě, ale druhou jmenovanou o chloupek víc. Je o poznání propracovanější a líbí se mi nejenom pěkná flétna, ale i naléhavě dramatická instrumentální vsuvka.
Druhou (pomyslnou) třetinu alba vyplňuje trojice jednodušších a víc do pop music laděných písniček. Baladická Dirò no! potěší pěknými klávesami a energickým závěrem, připomínajícím slavnější krajany Le Orme. Horší už je to s následující Piccolo grande vecchio fiume, která je (na titulní skladbu trochu paradoxně) asi nejslabším kouskem na desce. Vlezlej a veselej refrén by se mohl stát laureátem hlavní ceny písničkového festivalu a k tragédii spojené s přehradou Vajont se vůbec nehodí. Blok tří, poprockových písní uzavírá čtyři minuty dlouhá "tuctovka" Ti amo davvero, ovšem to už se blíží vyvrcholení…
…v podobě uhrančivě atmosférické Le mele mature. Tahle skladba nemá nejmenší chybu a je jasným favoritem celého alba. Jak melodie, tak klávesy jsou tu prostě fantastické a jejich posmutnělej leitmotiv dává vzpomenout na PFM z roku 1972 (Impressioni di settembre, nebo Appena un po´). Neméně zdařilou tečku za celou deskou pak píše podobným způsobem vystavěná instrumentálka Conclusione.
A to je všechno. K nejlepším nahrávkám italské art rockové scény tahle deska nepatří (s nedávno představovaným a stejně starým debutem Locanda delle Fate se nemůže rovnat) a patřit nebude, ale stejně je mi něčím blízká. Kapela musela při jejím vzniku překonat řadu obtíží a sympatické mi je i to její nenápadné a skromné vzezření.
V kostce to bylo asi tak: album se nahrávalo v Boloni pro společnost Fonit Cetra, ale po jeho dokončení došlo mezi objema subjekty k nějakým sporům. Skupina tedy koupila studiové pásy včetně všech práv a desku si vydala v podstatě sama, ve spolupráci s labelem Style. Měla svoji představu o obalu i distribuci, ale všechno to probíhalo v amatérských podmínkách a ve značném spěchu. Album nakonec vyšlo s obalem plným gramatických chyb a bez podpory silnějšího partnera zcela zapadlo. Skupina se následně rozešla a u muziky zůstal jen bubeník Luigi Turin, zbytek sestavy zvolil podnikání v gastru a občanská povolání.
Ať je to jak chce, je to fajn album a byla by škoda ho odzívat. Poslechnout si ho můžete na YouTube, nebo Bandcamp kanále společnosti Mellow label productions. Moje skromně vybavená CD reedice z roku 1994 neobsahuje nic, než potištěnej kotouč a lístek papíru s ofoceným originálním obalem, ale jsem rád, že ji mám.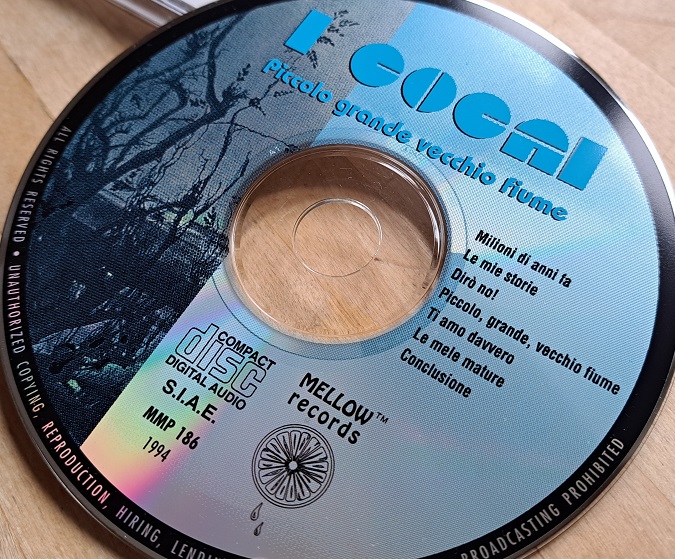 SKLADBY:
1. Milioni d'ani fa  – 7:28
2. Le mie storie  – 8:32
3. Dirò no! – 4:02
4. Piccolo grande vecchio fiume  – 5:28
5. Ti amo davvero  – 3:58
6. Le mele mature  – 5:50
7. Conclusione – 5:10
SESTAVA:
Theo Byty (Amedeo Biasutti) – voce, chitarra, moog
Gigi Pandy (Pierluigi Pandiani) – chitarra, flauto, voce
Stheny (Stefano Biasutti) –  tastiere
Paul Blaise (Paolo Biasutti) – basso, percussioni, voce
Tury (Luigi Turin) – batteria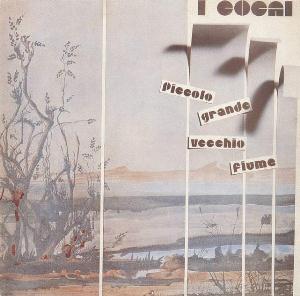 Piccolo Grande Vecchio Fiume
I Cocai
Prog Rock
Style
1977
LP
7
CD Mellow Records – MMP 186 /1994/