Na debutní album kapely Baker Gurvitz Army mám následující vzpomínku. Bylo to tuším někdy v roce 1974. V té době jsem se hodně kamarádil s jistým Jiřím Valterem, řečeným Dratwou, který pak od osmdesátých let až dodneška je znám nejen na naší blackmetalové scéně, ale i v dalekém zahraničí jako Big Boss a leader kapely Root…. 
V té době ale poslouchal rock (Jimi Hendrix, The Doors, Led Zeppelin, Deep Purple, Black Sabbath, Alice Cooper, Wizzard, The Rolling Stones, Iron Butterfly…) a oba jsme měli velmi blízký vztah k The Beatles. (Po letech jsem od něho získal velmi vzácnou knižní publikaci The Beatles: Get Back, přílohu k albu Let It Be, které si velmi cením.) Dratwa byl osobitý kumpán s intelektuálním přesahem a dalo se s ním v hospodách mluvit o lecčems i mimo hudební sféru, jenom musel být člověk opatrný, aby ho neposlouchal nějaký "bretschneider" (estébák), kteří za normalizace chodili do hospod a naslouchali co si lid tohoto státu myslí o husákovské politice. Rok předtím jsem dělal s jeho rockovou kapelou Rhythm And Blues International, přejmenovanou na Nautilus, rockové diskotéky po Brně, ale i na Vysočině a mohl jsem si vychutnat jeho rockové charisma.
Tuším, že jeho švagr byl tehdy profesionální fotbalista v barvách Zbrojovky a občas se mu podařilo vyjet někam do zahraničí na zápas a tak mu tehdy zrovna z Rakouska přivezl tohle zbrusu nové album, které jsme oba (milovníci Cream i Gun) minimálně třikrát za sebou poslechli a oba jsme nad ním byli (pokud se pamatuji) u vytržení.
Dnes už se nevídáme a nevíme o sobě. Já jsem zůstal u hudby šedesátých a sedmdesátých let, on se zcela převtělil do strašidelného derivátu metalu a pokud se ke mně doneslo, slavil s tím úspěch, což potvrdilo jeho ambice, které za minulého režimu nemohl v žádném případě prosadit. Takže, když se řekne Baker Gurvitz Army, je tohle eponymní album spojeno právě s ním a já se k téhle hudbě vracím velmi rád, stejně jako k dávným vzpomínkám tehdejší teenagerské rebelie.
HELP ME – Bakerovské bubenické breaky jsou svou sdělností a kulometnými rytmy čitelné nejen v Cream, ale i na tomhle albu. Melodika není nijak potlačená a jde ruku v ruce s rytmickými postupy s přehledným hardrockovým základem. Jsou tady ovšem i synthesizery, jejichž oscilátory vnímám velmi intenzivně. Přímý tah na branku je sympatický a to už je v popředí Adrian Gurvitz, který mezihru pokryje kytarovým sólem se suverénním podáním. Není to ale jednoznačný hard rock, jak by se dalo soudit i na dobu, ale máme tu vliv postpsychedelického soundu. Zajímavý nástup!
LOVE IS – Druhá skladba je komplikovanější. Rytmické postupy jsou hodně členěné, rozsekaný rytmus do rychlých, ale krátkých akcentů uvede posluchače do jistého vzrušení, navíc zde spolupracuje smyčcový orchestr, jakoby dirigovaný ve stylu známého Paula Buckmastera. Váhám, kam tuhle kompozici zařadit. Není to ani čistý hard rock, ani jazz rock, ani art rock. Progressive rock(?). Skladba má nesporné napětí a vygraduje do bouřlivého závěru. Výtečná instrumentální záležitost!
MEMORY LANE – Zajímavé aranžmá. Velmi přesvědčivě se zde překrývají jednotlivé vrstvy kytarových, klávesových a rytmických partů s doprovodem smyčců. Divoká jízda na chvíli zbrzdí rychlost v zatáčkách a větší důraz se klade na procítěný zpěv. Musím obdivovat Adriana Gurvitze, jak zvládá poměrně náročné kytarové party s vokálním výrazem. Ginger Baker podle svého zvyku vloží do skladby svůj sólový bubenický part. Během let neztratil energii, ani údernost, ale jeho hra není tak úplně vývojová a drží se spíš prověřené formule. Pochopitelně se tomu nedá nic vytknout, ale v téhle době už takový Carl Palmer nebo Billy Cobham nabízeli (domnívám se) kreativnější práci za bicí baterií. Dravý rockový nástup instrumentace se vrací do tématu a skladba se ve své hřmící dynamické smršti pomalu blíží k závěru.
INSIDE OF ME – První výraznější změna. Pomalejší typ skladby nabídne jemnější odstín hudby, kde kytara má jemnější vyznění, ale bubenické eskapády ji vytrhují z letargie, ale pak zase způsobně ustupuje do pozadí. Překrývání kytarových partů v méně zkresleném tónu se dobře poslouchá a i když je snaha dynamicky tlačit na sound, děje se tak v relativně umírněnější podobě. Ovšem Adrian Gurvitz nahrál prozatím asi nejkomplexnější sólo s řadou spojovacích můstků, ale i s jasnou vizí vypointovat celé téma. Závěrečné stupňování harmonie za velké výpomoci smyčců se děje opět ve velkém stylu a sledovat jednotlivé proměny je radost. Prozatím bych řekl, že asi nejsilnější vygradovaný autorský počin na albu!
I WANNA LIVE AGAIN – Začátek skladby zní poněkud nasládle, jako sirupovitá balada. Možná jako zpívaný soundtrack k nějakému milostnému story. Říkám si, jestli těch smyčců není v kompozici moc. Ale přichází sem nový prvek – výtečný sborový zpěv oscilující mezi soulem a gospelem a vedle mužských hlasů slyším i ženské. Tohle není klasický rock, ale naléhavé procítěná balada, kterou jsem v daném typu hudby mohl jen těžko očekávat. Musím přiznat, že i když mě začátek poněkud zarazil, tady v dalších fázích konstatuji, že sborové zpěvy znějí velmi přesvědčivě a aranžmá má přesně to, co daný typ skladby potřebuje. Klidně by ji mohla zpívat i legendární Aretha Franklin.
MAD JACK – Podle hlasu je před mikrofonem Ginger Baker, ale další party přebírají Gurvitzové. Baker je tím "komentátorem", ale ve zpěvu přímo nepůsobí. Ano – tady bychom mohli hovořit o fusion music. Zvláštní rytmické členění bicích Bakera, basů Paula Gurvitze, ale i podíl elektrického piana a clavinetu Johna Normana Mitchella obsahuje jazzrockové prvky. Výtečná unisono nabídne další odlišný prvek hudby. Spousta jemné práce v instrumentaci a neomylně přesné detaily jsou pro citlivého posluchače opravdu lahůdkou. Adrian Gurvitz nastoupí se svým kytarovým sólem další jízdu, v níž výtečně běhá po hmatníku krku a nahrál sem opět zdvojené party. Jedny jsou dravě rockové a druhé rozvibrované tóny. Nechybí zde auto a jeho divoký start, ale pak se v pianissimové části ozve "komentátorský" hlas Bakera. Mírně pulsující rytmika, zahalená dlouhými tóny hammondek, přináší nový hudební útvar, který zvolna, ale výrazně graduje a už se tlačí na dynamiku a máme zde erupci se synthesizery, bicími a kytarami. Rockový základ se sjednotí na průrazném riffu a skladba končí možná trochu nečekaným způsobem.
4 PHIL – Blues. Podvědomě jsem s ním na albu počítal a už jsem se i dočkal. Adrian Gurvitz blues cítí a dává mu tu správnou porci feelingu. Jeho hra je čistá, bez šumlovaní a dotahování. Máme zde také klavír Johna Normana Mitchella a jemně propracované basové party Paula Gurvitze. Blues, které kráčí spíš k jazzu. Nejsou to ani Cream, Groundhogs nebo Savoy Brown. Instrumentálně velmi dobře pojednané téma, které mění svoje zabarvení a v závěru kráčí spíše k rockové podstatě. Cválavý rytmus je další změnou k jazzu. Prostě Baker Gurvitz Army si s tématem pohrávají a chystají nám málem v každém taktu nějaké překvapení a tím uvádějí svoje postupy do kreací, zahánějících nudu nebo pocit nějakého vykrádání nápadů.
SINCE BEGINNING – Poslední skladba je opět změnou. Vokální podíl a sborové hlasy jdou zcela jiným směrem. Výtečně proaranžováno. Bakerovské přechody na bicí neustále pulsují a bzučení synthesozerů a protahované kytarové tóny nabídnou další tvář kapely. Vokální party jsou ale poměrně složitě pojednané. Cítím tady vliv řady vokálně orientovaných kapel. Ať to zní jakkoliv zvláštně, něco je podle vzoru The Lovin' Spoonful, něco podle Crosby Stills And Nash. Do hudby vstupuje vliv fusion music. Téma je zahlceno řadou proměn a nepřipraveného posluchače asi zaskočí, že se tady děje příliš mnoho harmonických a rytmických změn, což formálně působí jako nepřehledná a tím pádem místy nesrozumitelná hudba. Kresba kytarových tónů mi občas přináší vliv arabské hudby, ale i podíl jazzu. Myslím, že soustředěnost všech přítomných hudebníků při nahrávaní musela být velmi koncentrovaná. Další fáze s klavírním podílem zní srozumitelněji v melodickém vyvrcholení s řadou bakerovských drolivých, místy až neurotizujících bubenických breacích.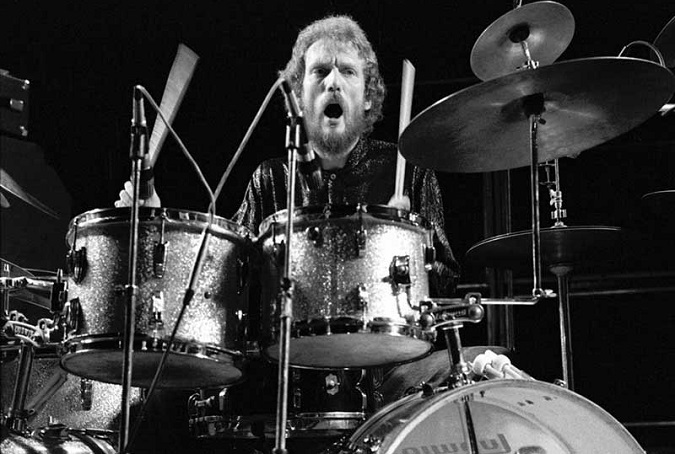 Baker Gurvitz Army je dnes, soudě podle zájmu v mém okolí, zapomenutá kapela. Myslím, že si to nezaslouží. Hráli sice hard rock, který byl v dané době žádán, ale vkládali sem i jiné ingredience a protože nebyli ortodoxní, tak je Black Sabbath, Deep Purple, Led Zeppelin, Uriah Heep válcovali. Jméno Ginger Baker se proslavilo především v Cream a bylo zárukou kvality, ale ani bratří Gurvitzové nebyli žádní nazdárci. Jejich diskografie je rozsahem nevelká, ale patří mezi poctivou muzikantskou kvalitu sedmdesátých let i vedle jejich slavnějších a propagovanějších souputníků. Myslím, že debutové album si sáhlo hodně vysoko. Za tenhle podíl instrumentální, autorské a aranžérské práce nebudu nadsazovat, když nabídnu plný počet hvězdiček!
SKLADBY:
1. Help Me (4:56)
2. Love Is (2:47)
3. Memory Lane (4:46)
4. Inside Of Me (5:33)
5. I Wanna Live Again (4:22)
6. Mad Jack (7:54)
7. 4 Phil (4:25)
8. Since Beginning (8:05)
SESTAVA:
Adrian Gurvitz – guitars, vocals
Paul Gurvitz – bass, vocals
Ginger Baker – drums, percussion, vibes, vocals
+
John Norman Mitchell – keyboards, synthesiser, vibes
Barry St. John, Liza Strike, Madeline Bell, Rosetta Hightower – backing vocals (5)
John Bell, Martyn Ford – orchestrated (2)
The Baker Gurvitz Army
The Baker Gurvitz Army
Hard Rock, Prog Rock
Vertigo
1974
LP
8